Although I adore Roald Dahl's darkly satirical children's book, "Matilda," I am not a fan of Dennis Kelly's musical adaptation. And yet there is much to love about the Beck Center for the Arts' production of it.
"Matilda: The Musical" tells the story of an ignored 5-year-old girl (a delightful and abundantly talented Ella Stec, who alternates performances with Sophia Tsenekos). She uses the power of her mind and her love of books as weapons against the ignorant, demoralizing and vicious adults in her life – namely, her ludicrous parents, Mr. and Mrs. Wormwood (Tim Allen and Olivia Billings, who are hilarious from their huge hair to their flamboyant footwear), as well as the bullying, former Olympic hammer thrower-turned-psychotic headmistress, Miss Trunchbull (a magnificently malevolent Trey Gilpin, whose comic timing is impeccable).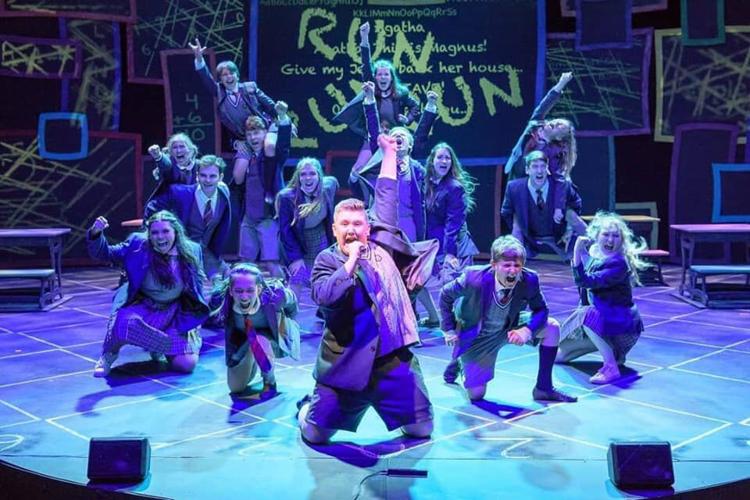 The musical is true to the original work in style and substance, which means that it inherits Dahl's wonderfully warped worldview – which allows for 5-year-olds to be played by older children and older children to be played by young adults – and platform for child empowerment. But it also shares his unpolished prose. This makes for some awkward storytelling that plays better on the page and in one's imagination than it does on stage. And while Tim Minchin's score includes some very entertaining tunes, such as the exuberant "When I Grow Up" and the rousing show-closing anthem "Revolting Children," most are wordy, quirky affairs made particularly tedious by poor sound mixing throughout the opening Saturday night performance.
But director Scott Spence and his designers have mined all the humor, all the heart and much of the naughtiness that reside in this work.
Trad Burns and Jason Taylor's scenic and projection designs create an appropriately playful performance space where handwritten spelling and math problems on enormous chalkboards displayed across the back wall transform into a range of other images throughout the production. Ben Gantose's lighting design and Inda Blatch-Geib's costuming are similarly playful.
Martin Cespedes' high-energy choreography fills the stage with both gorgeous and often roguish imagery, all of which are as instrumental in the storytelling as Kelly's script and Minchin's score. It is executed to perfection in huge production numbers by a terrific ensemble playing younger students (Marissa Dingess, Clara Edleman, Owen Hill, Grace Mackin, Finn O'Hara, Ellie Ritterbusch, Nolan Tiech and Colin Willett) and older students (Piper Bruce, Antonia Cangelosi, Kaelin Curran, Antonio DeJesus, Eli Owens and Sam Sommer) at Matilda's school.
Rounding out the cast of characters are Matilda's angelic school teacher, Miss Honey (an absolutely charming and gifted Samantha Lucas), an acrobat and escapologist (the superb Hope Spinner and Adam Rawlings) in a fanciful story Matilda shares with the local librarian, Mrs. Phelps (a very endearing Neda Spears), and an assortment of wonderfully comedic oddballs, including Matilda's moronic brother, Michael (Lee Price, who nearly steals the show), Sergei, a Russian mob boss (played to perfection by Robert Pierce) and Mrs. Wormwood's omnipresent competitive dance partner, Rudolpho (Joey Carmello, whose posturing in this running gag is hysterical).
Everything on stage is given solid accompaniment by a nine-piece orchestra under Larry Goodpaster's direction.
"Matilda: The Musical's" eccentricities require an exceptional effort by an exceptional cast and crew to pull off. Boy, they get it here.
Bob Abelman covers professional theater and cultural arts for the Cleveland Jewish News. Follow Bob at Facebook.com/BobAbelman3 or visit cjn.org/Abelman.