George Brant's "Into the Breeches!" does what good comedies do – offer sugar-dusted social commentary that, in its current Cleveland Play House staging, finds audiences laughing uproariously through the tears during the performance and lost in thought while heading for the exits afterward.
The play started life as a 10-minute contribution to Cleveland Play House's 2015 centennial season, when 10 local playwrights were commissioned to write short-form stories covering each decade of the company's existence. Brant, who was assigned the 1940s, learned from the CPH archives that the theater did not discontinue production during wartime, instead mining talent from the local community to keep the theater up and running.
Brant's reimagining, which was turned into a full-length play commissioned by and first performed at Trinity Repertory Company in Rhode Island, finds the local men away at war in 1942 and Maggie (Nisi Sturgis) left in charge of the Oberon Playhouse. Rather than board up the doors for the first time in the theater's 26-year history, the tenacious Maggie – wife and long-time assistant to the theater's now-deployed director – decides to move forward with Shakespeare's ambitious history plays, "Henry IV" and "Henry V," and cast the shows with local women.
In a bit of irony not lost on Brant, the plays have only a handful of female roles, all of them marginal and all of them played by men in Shakespeare's day.
The turnout for auditions is disappointing, but the diva Celeste (Tina Stafford) – an actress who long-ago aged out of ingénue roles – would never miss an opportunity to perform and insists on playing young Prince Harry. She is joined on stage by June (Courtney Stennett), an exuberant young housewife, Grace (Elisabeth A. Yancey), a young mother with little self-worth, Winifred (Peggy Roeder), the vacant wife of the officious head of the theater's board (Jeff Talbott) whose casting secures the production's funding, and Ida (Comfort Dolo), the theater's seamstress who dons a costume to help the cause.
And because Maggie could find only five actors to cover dozens of speaking roles, the stage manager Stuart (Brian Sills) – who was given 4-F classification by the draft board and denied military service – portrays the Nurse in drag in the spirit of the all-female casting.
What is particularly clever about "Into the Breeches!" is that the Henrys are all about the costs and glory of war, which allows the play being performed at the Oberon Playhouse to run parallel with the one being performed at the CPH. And by the end of the play, each of the women and Stuart, too, find their own voice – which had been silenced or devalued during this point in history. Brant wraps all this in dialogue that is extremely witty at all the right times in all the right places, which is accompanied by some very funny backstage shtick.
"Into the Breeches!" ends just as the production of the Henrys is about to begin, which is a lovely way to structure a play-within-a-play.
Less clever are the characters we are offered, who come straight out of central-casting and whose dramatic arcs are all too predictable. It is not hard to see their respective brand of personal growth coming long before they do.
Fortunately, director Laura Kepley seems to know this play as well as the playwright, for she recognizes all the dramatic and comedic opportunities created by Brant and has put together a remarkable cast capable of embracing and delicately embellishing each of them.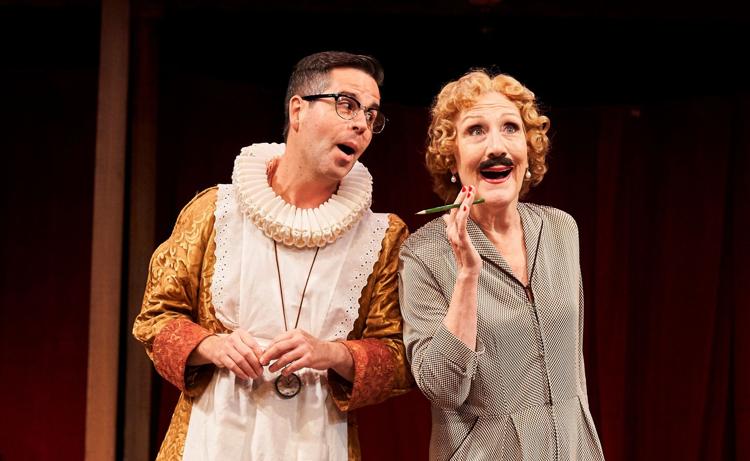 Everyone on stage has absolutely superb comic timing, with Roeder's portrayal of Winifred as Sir John Falstaff nearly stealing the show. And they possess cultivated acting chops that allow their woeful mishandling of acting and Shakespeare-speak during their characters' auditions to transform into a true mastery of them later in the play. While doing so, they imbue their characters with immense charm.
Scenic designer Robert Mark Morgan has provided a near-vacant backstage theater space that allows Kepley to establish a range of other locations by quick-shifting the few set pieces and employing isolating lighting courtesy of Michael Boll. The time period is nicely established by Jane Shaw's lively soundtrack and Angela Calin's costuming.
This Cleveland Play House production is a delightful way to kick off the theater's 104th consecutive season and to serve as a reminder of how it got there.
Bob Abelman covers professional theater and cultural arts for the Cleveland Jewish News. Follow Bob at Facebook.com/BobAbelman3 or visit cjn.org/Abelman. 2019 Ohio SPJ best critic.