If you caught Ensemble Theatre's recent production of Conor McPherson's "St. Nicholas" or Beck Center's more recent production of McPherson's "Shining City," then you know what you are in for when attending the master storyteller's "The Night Alive" at Dobama Theatre in Cleveland Heights. And attend you must.
McPherson's plays – of which there are 15 – tend to be cleverly woven short stories that tell tall tales.
Many, including this one, are one-act productions that take place over a brief period of time, which generates a strong sense of urgency.
Much of the dialogue consists of confessional meditations on life by lonely characters who have given up on it, which overflow with so much lyrical prose and powerful imagery that they resemble poetry.
And lurking in dark corners of McPherson's work is a quirky, other worldly element – vampires or ghosts – that bites at the heels of the play's otherwise sober realism.
Conspicuously missing from the Drama Desk Award-winning "The Night Alive," which premiered in London and then transferred to Off-Broadway in 2013, is the physical manifestation of those things that go bump in the night. In this play, life is scary enough.
This stark piece of storytelling opens with the defeated and despondent Tommy (Joel Hammer) entering his refuse-filled first floor living space in Dublin with Aimee (Anjanette Hall), a young prostitute, in tow. She has been rescued from her abusive boyfriend Kenneth (Val Kozlenko) after being beaten and bloodied, and takes up the offer to crash for a few days to hide, heal and dine on dog biscuits.
There she meets Tommy's judgmental uncle Maurice (Robert Hawkes), who owns the house and lives alone upstairs. She is visited by Tommy's odd-job business associate and only friend, the mentally slow but delightfully solicitous Doc (David Peacock). And, eventually, she is found by the psychotic Kenneth.
This play unfolds as if it were simply a dark drama about broken people who have become entangled, by circumstance and bad luck, in each other's sad and messy lives. And yet, as the characters' vulnerabilities are exposed, as tensions build and as Doc describes dreams that turn deep and dismal, there is the sense that this play is significantly more than it appears.
And then, midway through the storytelling, we hear Marvin Gaye's 1971 hit song "What's Going On?" on the radio.
The Motown music momentarily rouses Tommy from his malaise, Aimee from her misery and Doc from his musings. The three break into a spontaneous dance that is at once awkward in its execution and awesome in its unadulterated jubilation. And the lyrics mimic the question on the lips of theatergoers who have become lost in this story's idiosyncrasies, its characters' eccentricities and the set design's intriguing incongruities, including a stained glass window hanging defiantly above the squalor.
What's going on?
When the song ends it becomes clear that the playwright has devised a cleverly disguised morality play grounded in his Irish Catholic upbringing. He has written a psalm, of sorts, populated by a soul in limbo, a fallen angel, a prophet, a demon and a disapproving deity.  Which character serves which role and their reasons for walking the earth do not become evident until the play's final scene plays out.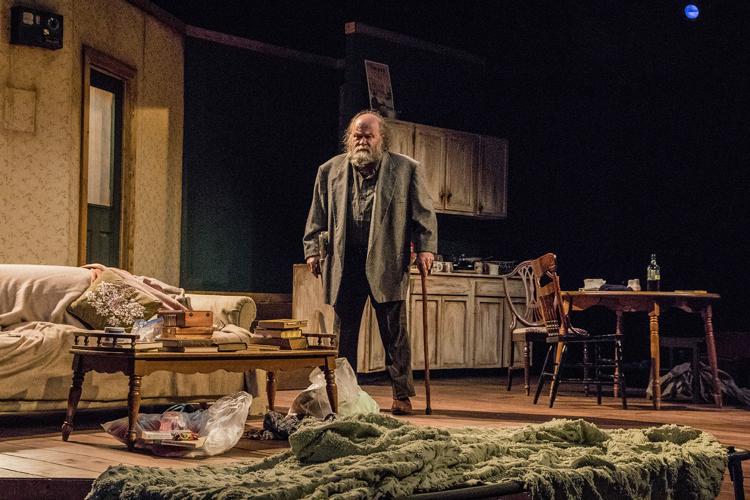 What is also going on are spot-on performances by exceptionally talented actors, who manage to keep one foot in reality and the other in the play's marginalized mysticism without ever losing balance or their Dublin accents.
Director Leighann Delorenzo and her designers Cameron Caley Michalak (scenic), Marcus Dana (lighting), Jeremy Dobbins (sound), Inda Blatch-Geib (costume) and Ryan Zarecki (fight choreography) keep things real without ever tipping their hand to what lies ahead.
"The Night Alive" is an intriguing play and a risky enterprise. This is a remarkable production of it.
---
Bob Abelman covers professional theater and cultural arts for the Cleveland Jewish News. Follow Bob at Facebook.com/BobAbelman3 or visit cjn.org/abelman.