Max Lewkowicz and Valerie Thomas' 2019 documentary "Fiddler: A Miracle of Miracles," which was released in August, opens Sept. 20 at Cedar Lee Theatre in Cleveland Heights. It offers an always engaging, markedly insightful and highly entertaining origin story behind one of Broadway's most beloved musicals, "Fiddler on the Roof."
"The goal of our documentary is to understand why the story of Tevye the milkman is reborn again and again" as worldwide audiences for the last half century – Jew and gentile alike – have claimed the story as their own, Lewkowicz explains on the film's website, .
The creation and longevity of the musical are placed within political, social and religious contexts throughout the film, using archival photos, intimate interviews with actors, directors, authors and scholars, and performance footage from numerous stage productions as well as the 1971 Norman Jewison feature film adaptation of the musical.
Attention is given to "Fiddler's" primary source – the short stories of revered Russian-Yiddish author Sholem Aleichem – to which librettist Joseph Stein added his sense of humor and humanity and from which lyricist Sheldon Harnick, by his own admission, appropriated many of his most memorable phrases.
During this portion of the film it becomes particularly clear that Aleichem's story, though deeply grounded in a specific time, place and people, offers layers of meaning and relevance to anyone, anywhere, at any time who has felt ostracized or alienated and whose identity and community are being obliterated.
The film then explores the musical's creative roots in early 1960s New York when – like the underfed and overworked Russian shtetl of Anatevka in 1905 – tradition was waning and social change was omnipresent. It does so by offering interviews with the show's original creative team, starting with 95-year-old Harnick, who is found on the rooftop of an Upper West Side Manhattan apartment building meticulously playing the show's opening number, "Tradition," on a violin. The film also includes pre-existing interview footage with now-deceased composer Jerry Bock and librettist Stein.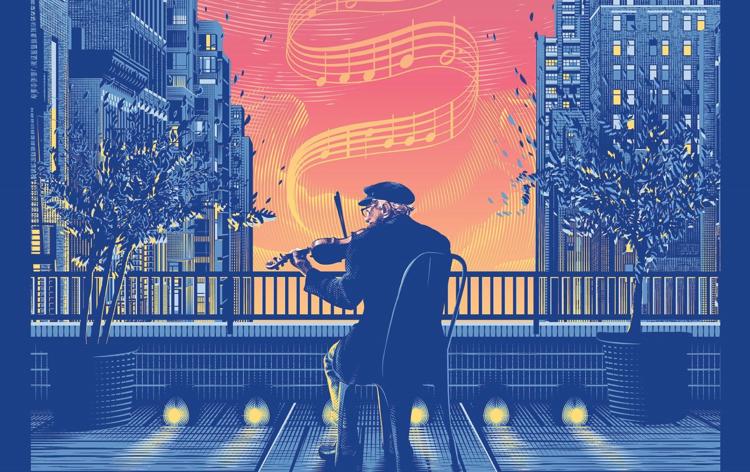 We learn that the musical's original director-choreographer Jerome Robbins, who died in 1998, had complicated feelings about his own Judaism that made him initially reluctant to take on the "Fiddler" project. But a 1958 return to the Eastern European village where he had visited his grandparents as a child, finding the whole town and its people gone, apparently affected him greatly.
We learn that Robbins' inspiration for the musical's famed "Bottle Dance" at the wedding of Tzeitel and Motel came from his attendance at an Chassidic wedding, where one manically dancing participant perched a bottle on his hat in an "ecstatic communion with God." Bartlett Sher, who in 2015 directed the fifth Broadway revival of "Fiddler," describes this musical number as a perfect visual metaphor for the challenge of maintaining one's balance while entering into a life-changing relationship.
Editor Joseph Borruso assembles this wealth of material in much the same way that artist Marc Chagall created a coherent, quasi-cubist narrative in his 1913 oil painting "The Fiddler," which inspired this musical's title. Images are colorful and vibrant yet lovingly nostalgic. And they are presented through a range of perspectives that manage to flow together to form a comprehensive and intriguing whole.
To further reinforce these stylistic similarities, and to help bring some of the film's themes to life, Lewkowicz and Thomas found an animator based in Rotterdam, Tess Martin, who specializes in a process called "paint on glass." These images are woven throughout the film and add a rich, textured and lush look that, according to them, "perfectly expresses the soul of 'Fiddler's' music." And they are right.
This documentary is a treasure trove for musical theater aficionados. But, like the musical itself, it offers a little bit of this and a little bit of that for everyone.
Bob Abelman covers professional theater and cultural arts for the Cleveland Jewish News. Follow Bob at Facebook.com/BobAbelman3 or visit cjn.org/Abelman. 2019 Ohio SPJ best critic.