There is one line within the first few pages of Annie Baker's mammoth 106-page script for "John" that seems to speak on behalf of the Pulitzer Prize-winning playwright when it comes to this 2015 play.
"I can only do build-up to scary, not scary itself."
The play — which takes just over three hours to perform — revolves around Elias Schreiber-Hoffman and Jenny Chung, a young Brooklyn couple on the brink of a breakup who stop at an eerie bed and breakfast in Gettysburg, Pennsylvania, one cold November evening. 
The line is spoken by Elias late at night, as he tries to tell Jenny a scary story to ease her anxiety about the spooky Civil War-era house with its creepy dead-eyed doll collection, peculiar innkeeper, and copious shadows.
Mid-way through his story he stops and admits his shortcoming as a storyteller.  While this signifies one of the many ways Elias fails to satisfy Jenny's needs, it also tips off Baker's cruel and clever intentions as a master storyteller to offer a traditional ghost story without the ghosts.  
In short, "John" is three hours of horror trope foreplay. Muffled noises and the intermittent playing of Bach in the background amount to nothing, scary moments lead to no revelations or reveals, and the meaning of things that might be metaphoric and mystical are just out of reach. The only things that are haunted are the souls of each of the play's troubled characters.
Which brings to mind another line that occurs half-way through the play. "I don't know what it means," says Jenny as innkeeper Mertis "Kitty" Graven sets up yet another red herring by randomly quoting from Psalm 42:7 over a glass of pinot grigio, "but I like it."
Even with its absence of jump scares and abundance of Baker's signature pauses so pregnant they are birthing triplets, the extended exercise in anticipation and futility that is this play is so very likable.
Well, it is for those with the patience of Job and who appreciated the prolonged cicada soundtrack in Dobama's recent production of Branden Jacobs-Jenkins' "Appropriate." Artistic Director Nathan Motta, who directs this Midwest premiere of Baker's Off-Broadway play, likes to push the envelope and, by extension, his audience.
The play is likeable because of the remarkable storytelling.
Designers Cameron Caley Michalak (scenic), Dred Geib (props), Marcus Dana (lighting), Jeremy Dobbins (sound) and Inda Blatch-Geib (costumes) have created a cozy yet cluttered two-story B&B with obsessive attention to detail. Motta cloaks the performance space with a red curtain that Kitty pulls open and closed before and after each of the three acts, which allows the audience to instinctively scan the set for what potentially scary tchotchke or knickknack might have been added.
As Kitty, the flighty and child-voiced proprietress who is also the caretaker for her never-seen husband, Catherine Albers is a treat and the key player in the subterfuge that drives this play. She wears her character's depth on her sleeve, which is occasionally exposed when her voice briefly drops an octave, her eyes glare at the audience, and she adjusts the hands on a grandfather clock between scenes that actually changes the time of day.
It would be impossible to take your eyes off of her performance if not for Dorothy Silver as Kitty's certifiably insane, elderly and blind friend, Genevieve Marduk. Silver sustains a sense of foreboding throughout the play while simultaneously managing to find humor where it is least expected and most appreciated. Even when sitting in the dark while overhearing a vicious fight between Elias and Jenny, Singer is a constant presence.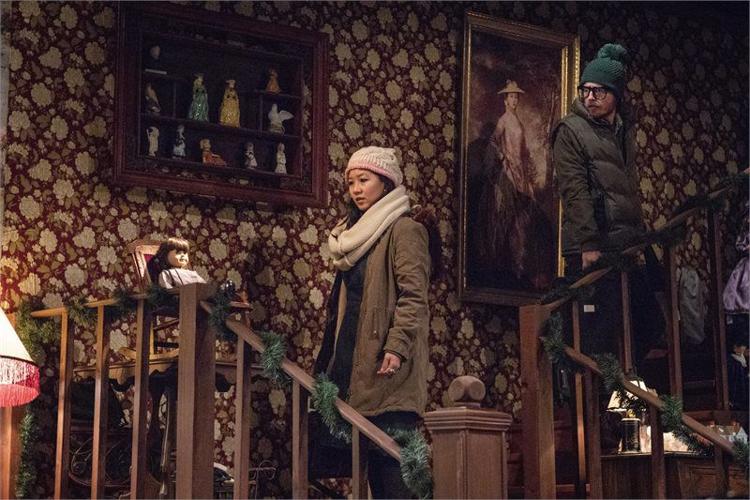 As Elias and Jenny – two mismatched partners who are each psychologically damaged from troubling childhood experiences – Luke Wehner and Kat Shy have perfected their unlikable and defensive cat-and-passive-aggressive mouse relationship and sadomasochistic tendencies. Their inability to leave each other alone or behind is as authentic as it is intriguing.
This challenging play and this brilliant production of it lure you into paying close attention to everything and attempting to make sense of things. Good luck with that.
Bob Abelman covers professional theater and cultural arts for the Cleveland Jewish News. Follow Bob at Facebook.com/BobAbelman3. 2018 Ohio AP Media Editor's best columnist.