Itzhak Perlman is, perhaps, the only living classical musician whose name is recognizable in most households. A true virtuoso, his playing is like "praying with the violin" according to renowned violinmaker Amnon Weinstein.
Perlman has performed with every major orchestra and at every venerable concert hall around the globe. He was granted a Presidential Medal of Freedom in 2015, a Kennedy Center Honor in 2003, a National Medal of Arts in 2000, and a Medal of Liberty in 1986.
And now, finally, his remarkable life – not just his career and achievements – is the subject of a new documentary, "Itzhak," opened on March 23 at the Cedar Lee Theatre in Cleveland Hts. The work premiered at the DOC NYC film festival in 2017.
Filmed during a typically busy year of performances and recordings, which happened to be Perlman's 70th, "Itzhak" is as charming and entrancing as the man at its center.
Filmmaker Alison Chernick has made a name for herself profiling major contemporary artists the likes of Jeff Koons and Matthew Barney. Her documentaries have been screened at various museums around the world, including the five Guggenheims and The Smithsonian.
With "Itzhak," she has created a one hour-20 minute documentary that looks beyond the fame and sublime musicianship to see the Tel Aviv native born to Jewish, non-musical émigré parents from Poland, the prodigy polio survivor, the young man who struggled to be taken seriously as a musician, and the loving husband of 50 years.
The camera crew allows us to overhear conversations between Perlman, his colleagues and close friends, eavesdrop on family members at meals and the hairdresser's, and sit in on master classes, rehearsals and performances.
By doing so, the film gives us a unique chance to experience Perlman's signature sense of humor – he tells a great joke with the poet Pushkin as the punchline – and listen to him discussing Lithuanian-born Russian violinist Jascha Heifetz over moo shu chicken. We get a glimpse of the importance of his Jewish identity and spend time with him as he visits a violin dealer and has a conversation about his favored Stradivarius with an instrument repairman.
Perlman's own playing provides the soundtrack for this film, as strains of Vivaldi, Schubert, Strauss, Wieniawski, and others underscore everything. We not only hear and see him play Max Bruch's Violin Concerto No. 1 in G minor Op. 26 with the Israel Philharmonic Orchestra, we also get "We Didn't Light the Fire" at a Billy Joel concert at Madison Square Garden, and the national anthem at a New York Mets home game.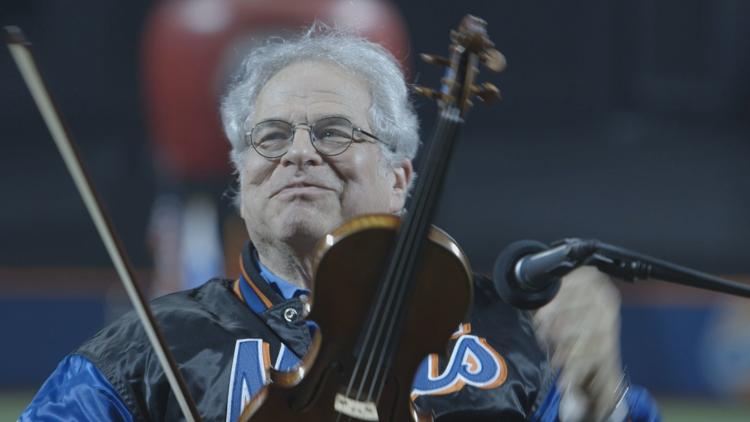 Director Chernick works with an inconspicuous lens, which makes this movie seem casual without ever being cloying. And Helen Yum's editing quickly moves through a significant amount of footage to tell a good story.
This documentary reminds us why art is so very vital to life and how, in the words of Barack Obama half-way through the film, Perlman's playing "gives us a glimpse of something bigger than ourselves." By doing so, adds the former President, "Perlman makes the world a little more beautiful." So does this documentary.
---
Bob Abelman covers professional theater and cultural arts for the Cleveland Jewish News. Follow Bob at Facebook.com/BobAbelman3 or visit cjn.org/Abelman. 2017 Ohio AP Media Editor's best columnist.
---
Related Content