The Musical Theatre Project – which documents and celebrates the history of the American musical theater art form through Cleveland-area concerts and cabaret performances – will be telling the story behind the Tony Award-nominated Broadway musical "Milk and Honey."
Don Appell's romantic 1961 musical, which featured Jewish opera star Mimi Benzell and Yiddish Theatre legend Molly Picon, revolves around a group of American widows who tour Israel in search for husbands. It is set during the state of Israel's bar mitzvah year, amidst the country's struggle for recognition as an independent nation.
With music and lyrics by a then-28-year-old Jerry Herman, who went on to write "Hello, Dolly!," "Mame," "La Cage aux Folles" and others, "Milk and Honey" predated "Fiddler on the Roof" as Broadway's first Jewish-centric musical.
This rarely performed musical was revived off-Broadway in 1994 by the American Jewish Theater, and in 2017, was given a bare-bones concert staging by The York Theatre Company.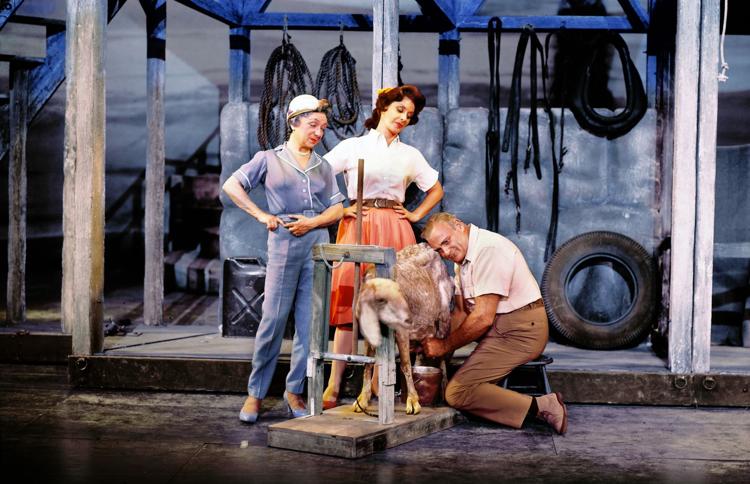 TMTP's multimedia show-and-tell concert is in honor of the 70th anniversary of Israel's statehood and was the brainchild of the Jewish Federation of Cleveland's Stephen H. Hoffman and Hedy Milgrom, who serve as the organization's president and senior VP/chief development officer, respectively. The event is being sponsored by the Federation's Cleveland Israel Arts Connection along with the Stanley I. and Honnie R. Busch Memorial Endowment.
"Hedy approached me with this idea for our next concert and my jaw just dropped because of the weird parallel with how Jerry Herman came up with the idea of 'Milk and Honey' in the first place," said TMTP founder and artistic director Bill Rudman. 
"Herman was approached by real estate mogul Gerard Oestriecher, who said that his dream was to produce a musical set is Israel and could Herman write one. Herman knew little about Israel, but he was convinced he could write this because he grew up in a Jewish home and had a Jewish mother who taught Hebrew music at the YMHA in Jersey City. He ended up bringing a wonderful Broadway sensibility to the traditional music that drives Jewish life." 
Although the original production of "Milk and Honey" was well-received by American Jewish audiences, the press reviewing its revival noted that the show contained a few uncomfortable comments about Arabs that must have been entirely uncontroversial at the time, and that the entire musical felt like an advertisement for the United Jewish Appeal. 
Critics called attention to the lyrics of the title song as an example: "This is the world of good and plenty / Humble and proud and young and strong and / This is the place where the hopes of the homeless and the dreams of the lost combine / This is the land that heaven blessed and this lovely land is mine."
"The show made a very powerful statement," says Rudman. "But by the same token, Herman did not want to write the title song with rose-colored glasses. So, he included a counterpoint in the lyrics: 'The honey's kind of bitter and the milk's a little sour / Did you know the pebble was the state's official flower.' That gives a little bit of an edge to the musical."
 Rudman will be hosting the concert, with new arrangements by local composer Ty Alan Emerson being directed by associate artistic director Nancy Maier. 
Featured performers are Playmakers Youth Theatre director Sheri Gross, The Temple-Tifereth Israel's cantor Kathy Wolfe Sebo, Chardon-based musical theater performer Michael Snider and Greg Violand, a 40-year member of Actor's Equity and SAG/AFTRA. They will be accompanied by an eight-piece orchestra and a 16-member chorus.
---
Bob Abelman covers professional theater and cultural arts for the Cleveland Jewish News. Follow Bob at Facebook.com/BobAbelman3 or visit cjn.org/Abelman. 2017/2018 Ohio AP Media Editor's best columnist.