As if pop star Michael Jackson's tragic life and death had not been sufficiently dissected in the tabloids, in British journalist Martin Bashir's damaging exposé "Living with Michael Jackson" and in Megan Stine's infamous tell-all biography "The Magic, The Madness, The Whole Story," local playwright Logan Cutler Smith has added "The Panther Dancer."
The play is an impish amalgamation of moments that mark the arc of Michael Jackson's rise and fall. His abusive upbringing, meteoric ascent to international stardom and first of many plastic surgeries fill act one while his financial ruin, drug addiction and the allegations of pedophilia are found in act two.
It is receiving its first full production at Playwrights Local after getting a workout at the 2016 NEOMFA Playwrights Festival at convergence-continuum.
"The Panther Dancer's" impishness resides in the parodic tone that touches on each of the brief, offbeat vignettes that makes up this 100 minute, two-act entertainment, as five actors interchangeably play Michael, all the lesser Jacksons, and a slew of Hollywood and Motown luminaries and insiders who served to define Michael's life. Dressed in black shirts and white pants, the actors become characters with the addition of an article of clothing or a bad wig.
Performed on a 16' by 16' stage with limited production values supplied by Chelby Benson (bare-boned scenic design), Wes Calkin (standard lighting design) and Drake Crowind (random but effective projection design), the play resembles – visually and viscerally – an overambitious and underperforming "Saturday Night Live" skit that goes on for way too long. And it is delivered by the newest, most eager members of the "SNL" cast, the ones briefly introduced at the very end of the opening credits.
And like a piece of "SNL" sketch comedy, this production comes across as similarly thrown together and under-rehearsed, as late entrances and minor staging mishaps give way to forced improvisation to fill the gaps.
The entire enterprise feels a little like piling on – as if the playwright was finding humor in an all-too-easy tragic target without something artistic, insightful or otherwise worthwhile to show for it.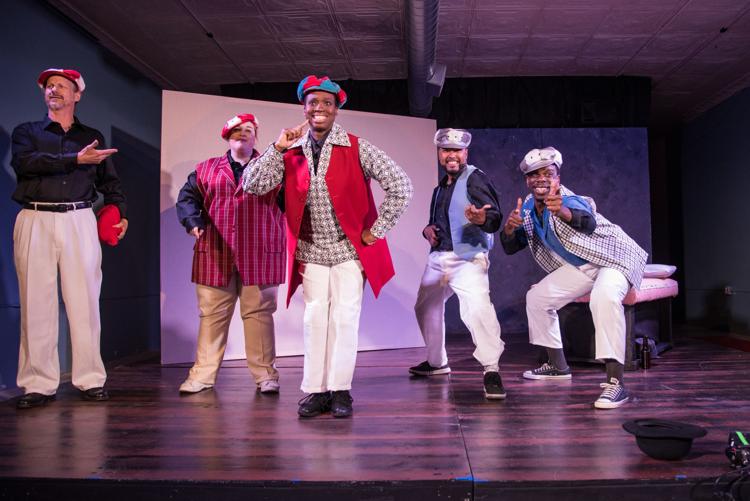 Andrea Belser, Robert Branch, Corin B. Self, Kim Simbeck and Anthony Velez work hard at giving this play life and are always interesting while doing so. And director Jimmie Woody manages to keep things moving at warp speed and with an eye for opportunities to have these players do something stellar.
He scores big when allowing Velez, as Michael, to reenact the highly stylized choreography from Jackson's "Black or White" video in which the pop star transforms into the black panther referenced in this play's title.
He scores again late in the play when Velez, still Michael, is surrounded by the other four performers playing probing British journalist Martin Bashir, who tag-team during a relentless interrogation of the Gloved One's questionable lifestyle.
There is little Woody can do with the play's ending, which uncharacteristically turns serious and reflective, as if to say that all the fun we just had at the Jacksons' expense was just our way of saying thanks for the memories. If the playwright intended to pay homage to Michael Jackson, it gets lost in translation.
Not broad enough to be a farce, not risqué enough to be remarkable and occasionally mean for the sake of a laugh, "The Panther Dancer" can't seem to rise above the sketch comedy mindset that drives it.
Bob Abelman covers professional theater and cultural arts for the Cleveland Jewish News. Follow Bob at Facebook.com/BobAbelman3 or visit cjn.org/Abelman. 2018 Ohio AP Media Editor's best columnist.