Screen-to-stage productions are a mixed blessing and a diverse lot.
While theatrical stagings of live-action films like "Billy Elliot" and "The Producers" need only the addition of a musical score to facilitate the storytelling in the absence of editing, animated films like "The Lion King" and "Aladdin" require elaborate production values to compensate for the lack of computer generated imagery and cinematic artistry.
Try as it might with scenic designer Don McBride's movable set pieces, Brittany Merenda's often animated projections and Steve Shack's lighting, Beck Center for the Arts' production of "Shrek: The Musical" falls short of the film's visual majesty and the higher-budgeted Broadway and touring production's bells and whistles. Rented costumes, augmented by costumer Betty Pitcher, help fill the void but only to a point.
Not a problem, for this staging more than makes up for the deficit in so many other ways.
Playwright and lyricist David Lindsay-Abaire stays true to the source material – the popular, Oscar-winning DreamWorks film about a lovable but lonely ogre and his talkative sidekick, Donkey. Together they rescue the feisty Princess Fiona from a dragon-infested tower and the height-challenged Lord Farquaad and, along the way, discover everlasting friendship and ever-after true love.  In fact, Lindsay-Abaire sticks so close to the original screenplay that the actors should sign quotation marks with their fingers when delivering the dialogue.
As such, the actors have little choice but to mimic the work created on celluloid by Mike Meyers, Eddie Murphy, John Lithgow and Cameron Diaz in the lead roles.
Their familiar and fully-formed characters win over an audience before stepping onto the stage. So it is an added bonus that Gilgamesh Taggett as Shrek, Remell Bowens as Donkey, Brian Altman as Farquaad and Natalie Steen as Fiona add immense charm, humor and unique quirks to their characters. And their singing is superb.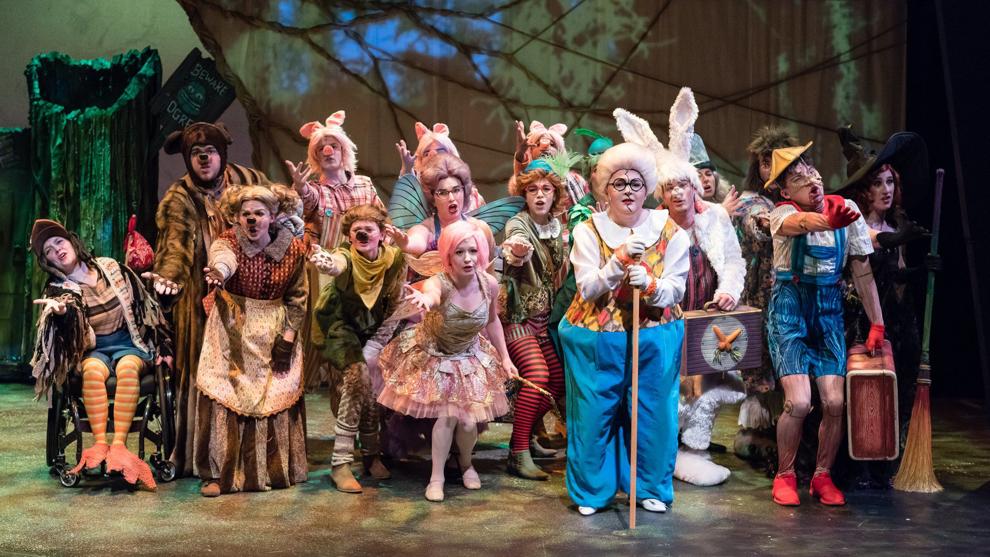 The show's 19 original songs by Jeanine Tesori embrace the wonderful fractured fairytale edginess of the film, which not only pokes fun at the iconic bedtime-story creatures who populate this world but gives them their own production number ("Story of My Life") and boldly revels in their differences ("Freak Flag"). By the time the competitive gas-passing by Shrek and Fiona gets turned into an adorable musical number called "I Think I Got You Beat," it is clear that "Shrek: The Musical" has shed the sanitization evident in the film and has set its own course.  
Under Scott Spence's fun-forward direction and with Martín Céspedes' joyous choreography that is perfectly in sync with the show's orchestrations, the uninhibited and gifted ensemble takes us on a thoroughly enjoyable adventure. In fact, every ensemble number is a celebration, complete with exceptional vocal talent, remarkable dancing, and contagious exuberance. And while every ensemble member is superb, Meredith Aleigha Wells as the Ugly Duckling, Hallie Walker as the Sugar Plum Fairy, and Antonio Dejesus as Pinocchio are particularly so.
Standout performances are also delivered by seventh grader Jordyn Freetage and eighth grader Pilar Lee as younger versions of Fiona in the musical number "I Know It's Today." Sydney Thomas' performance as the on-stage singing voice of a three-person Dragon puppet is so remarkable that one wishes the role were larger, her stage-time was greater and her songs were more plentiful.
The show closes with a roaring rendition of "I'm a Believer." By that point in the production, everyone in the audience truly is.
Bob Abelman covers professional theater and cultural arts for the Cleveland Jewish News. Follow Bob at Facebook.com/BobAbelman3 or visit cjn.org/Abelman. 2018 Ohio Media Editors best columnist.