"Million Dollar Quartet," which opened on Broadway in 2010, reenacts that storied Tuesday afternoon in 1956 when a young Johnny Cash, Jerry Lee Lewis, Carl Perkins and Elvis Presley happened to gather at the Sun Records studio in Memphis, Tennessee for an impromptu jam session for the ages.
Patrons of this Great Lakes Theater production should know that what appears on stage is more of a musical revue than a theatrical bio-musical. Only a tissue-thin back story about the boys' early days with the record label, written by Colin Escott and Floyd Mutrux, is delivered between musical performances and directly addressed to the audience by an exuberant James Ludwig, who plays Sun Records owner and producer Sam Phillips. Phillips serves as our conduit to the four rock 'n' roll legends-in-the-making throughout the evening.
While bio-musicals are usually grounded in more truth than fiction and more story than songs, "Million Dollar Quartet" was written with ample creative license. So much so that the fact that a young Cash, Lewis, Perkins and Presley happened to gather at Sun Records one day in Memphis may be the only fact to be found.
Even Marilyn Evans, the Vegas dancer who was Elvis' arm candy during the jam session, has been replaced by a chorus girl named Dyanne (a delightful Kristen Beth Williams) to provide a sounding board for Phillips to break up the monotony of monologues, showcase the randy side of Jerry Lee Lewis, and perform two wonderful numbers in addition to adding sweet harmonies to several others.
And most of the rock 'n' roll, gospel, bluegrass and country songs that were actually performed that day by the million dollar quartet have been swapped with popular tunes more closely associated with the singers, such as "Who Do You Love," "Great Balls of Fire," "I Walk the Line" and "Hound Dog."
While historical accuracy shouldn't be expected (though Lauren T. Roark's costuming is spot on), capturing the musicians' look, manner and legendary musicianship is a must. Anything less is merely impersonation. Worse, it's imposture. And the true litmus test is if an audience leans in during the performances to get just a little bit closer to the genius that made this remarkable music, as if it was actually in the room.
This happened during Cleveland Play House's 2012 production of "One Night with Janis Joplin" featuring Mary Bridget Davies, during the 2016 national tour of The Four Season's bio-musical "Jersey Boys," and just a few months ago in The Beck Center's production of "Lady Day at Emerson's Bar & Grill" with Nicole Sumlin as jazz great Billie Holiday.
And it happened on opening night at the Hanna Theatre.
Each of these extraordinarily gifted actors/musicians have already walked a mile in their characters' blue suede shoes in prior professional productions of "Million Dollar Quartet." Gabe Aronson has portrayed Jerry Lee Lewis in Las Vegas at Harrah's Casino, Sean Michael Buckley has been Elvis Presley on stage for Norwegian Cruise Lines, Sky Seals was Johnny Cash in nine other regional productions to date, and James Barry portrayed Carl Perkins on the national tour that came through Cleveland in 2014. And it shows.
Magic happens when they pick up their guitars and sit at the piano, joined by Eric Scott Anthony on stand-up bass and Dave Sonneborn on drums. Mastering their instruments in the style of the original musicians, each actor channels the essence of their iconic counterparts. When the music flows, gone is the formulaic pretense of a musical revue or anything particularly theatrical. And the semblance of a storefront record studio that is clearly built and lit by Adam Koch and Kirk Bookman, respectively, for jamming serves its true purpose.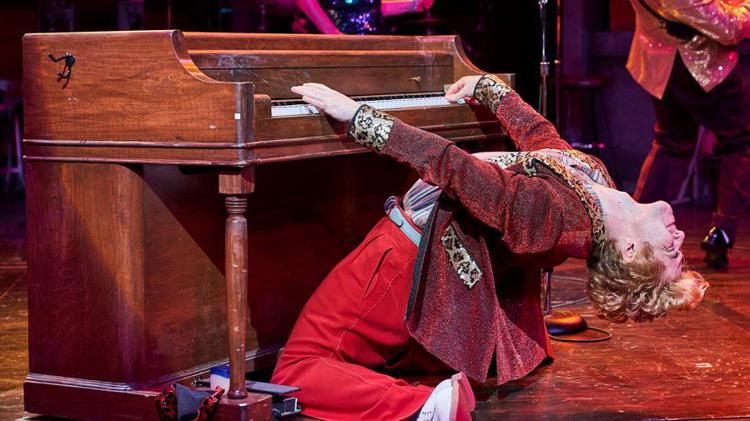 For the final two songs, director Hunter Foster encourages the fellows to sing and play their hearts out as Cash, Lewis, Perkins, and Presley in concert, interacting with the audience rather than hiding behind a fourth wall. It is then that the audience truly leans in and "Million Dollar Quartet" is worth every penny.
Bob Abelman covers professional theater and cultural arts for the Cleveland Jewish News. Follow Bob at Facebook.com/BobAbelman3 or visit cjn.org/Abelman. 2018 Ohio AP Media Editor's best columnist.