"Yee Gods!"
That's more than young Zaneeta Shinn's trademark expression of elation in Meredith Willson's "The Music Man." It's the sound of astonishment coming from audiences during Great Lakes Theater's remarkable rendition of the musical.
"The Music Man" took home nearly every Tony Award, including Best Musical, when it premiered on Broadway in 1957. The reasons why – the sturdy story set in a nostalgic time capsule, the remarkably hummable music with particularly memorable lyrics, the romanticism seasoned with comedy at the expense of but never insulting to Midwestern sensibilities – are all on display at the Hanna Theatre. So is the meticulous execution and the wealth of exceptional talent on and behind the stage that has given this classic musical its long legs and abundance of heart.
Director Vicky Bussert delivers everything with a spellbinding up-tempo that keeps audiences gasping for breath and absolutely mesmerized when not breaking into spontaneous applause.
The musical tells the wholesome tale of a small, simple Iowa town in 1912 that is set upon by a charismatic conman named Harold Hill (an abundantly charming and delightfully roguish Alex Syiek). Posing as a professor of music, his plan is to convince the stubborn, skeptical but hopelessly naïve townspeople of River City that they desperately need a boys marching band and then sell the rubes instruments, uniforms and music books, but not the skills to use them. His exit strategy is an outbound train before anyone is the sadder or wiser.
In true musical comedy fashion, the town is rejuvenated by Hill's lust for life and the flimflammer's askew moral compass is realigned by the love of a good woman, the librarian Marian Paroo (a strong-willed and silver-throated Jillian Kates). In this production, the chemistry between Syiek and Kates seems genuine, which allows vulnerability to show through Hill's hard confidence-man veneer and Marian's time-tested defenses. Their 11th-hour "Till There Was You" is magical.
As with all classic pieces of musical theater there are moments that have, over time, become iconic and whose proper execution serve as a litmus test for every subsequent production. "The Music Man" is chockful of them.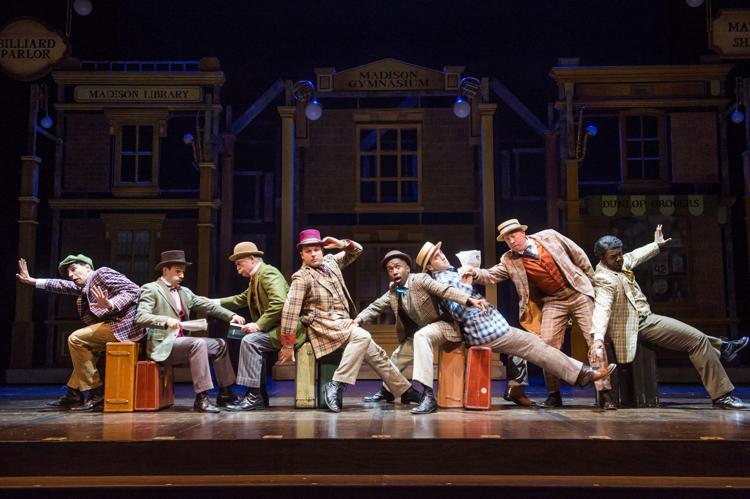 The first is the opening number, referred to as "Rock Island," in which a train car full of traveling salesmen discuss their trade in acapella syncopation with the accelerating steam locomotive. Many productions find the rapid-fire pacing and requisite pristine pronunciation elusive, but not here because it is anchored by veteran Great Lakes company members Lynn Robert Berg and David Anthony Smith, who are performing in "Julius Caesar" in repertory. Their comfort with Shakespeare's iambic pentameter transfers nicely to the singspiel required by Willson.
Other moments are the clever musical segues provided by the town's make-shift Barbershop Quartet (Elijah Dawson, Enrique Miguel, Mack Shirilla and Boe Wank), who Hill created as a distraction. Their spot-on harmonies and their performance of Jaclyn Miller's charming period- and character-appropriate choreography are production highlights.
Miller's high-energy ensemble work, which taps the exceptional dancing abilities of Baldwin Wallace University-trained players (particularly Andrew Nelin, Claire Soulier, Ally Carboner and Jahir Hipps), raises the bar of every production number. This is most evident in Hill's snake-oil sermon "Ya Got Trouble," the elaborate "Marian the Librarian," and the effervescent "Shipoopi" (delivered by an adorable Marcus Martin as Hill's sidekick, Marcellus).
Richly drawn supporting roles are instrumental in a show like "The Music Man." Here, the portrayals are so dimensional and interesting that these characters deserve a musical comedy of their own. This includes Marian's mother, the Widow Paroo (the lovely Carole Healey), the comically pompous, word-mangling Mayor Shinn (a brilliant David Anthony Smith), and the hilarious Ladies of River City (Shelby Griswold, Laura Welsh Berg, Jessie Cope Miller, Erin Niebuhr and Jodi Dominick as Eulalie Mackecknie Shinn, the over-starched wife of the Mayor).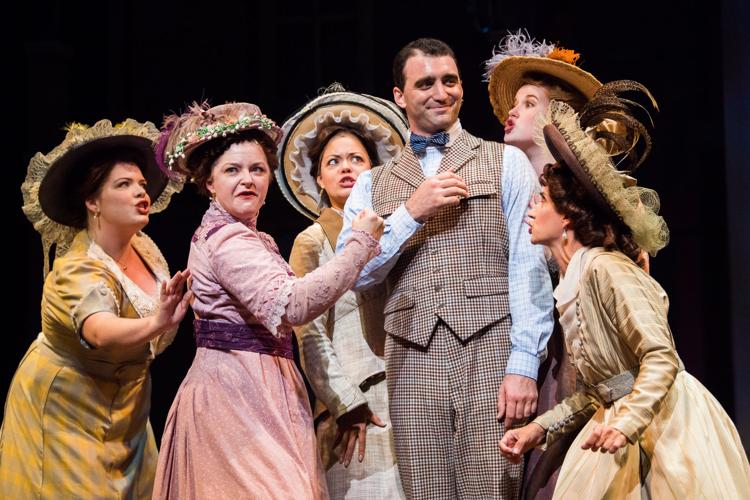 This musical requires a minimum of two children – Marian's brother Winthrop Paroo (Ian McLaughlin) and Marian's piano student Amaryllis (Brenna Sherman) – and most productions are happy to leave it at that. Here, there are the River City kids (Marlowe Miller, Owen Mills, Avery Pyo, August Sumlin, Chase Christopher Zadd and Sun-Hee Smith) who actually act like kids in turn-of-the-century Iowa and are highly disciplined performers. Add child-whisperer to director Bussert's skill set.
Everything in this production is enriched by Tracy Christensen's eye-candy costuming, musical director Nancy Maier's exceptional orchestra with David Gotwald's sound design, and the nicely romanticized store-front of River City designed by Jeff Herrmann (scenic) and Jesse Klug (lighting).
Yee Gods!
Bob Abelman covers professional theater and cultural arts for the Cleveland Jewish News. Follow Bob at Facebook.com/BobAbelman3 or visit cjn.org/Abelman. 2019 Ohio SPJ best critic.