We did it!
My husband taught me: If you don't ask, you don't get.
So I asked and you gave. And you're still giving. Wow!
To celebrate my 25th cancerversary, I hoped to raise $25,000 in 25 days for The Gathering Place to create a traveling wig salon. The Sisterhood of the Traveling Wigs will bring wigs to women in underserved communities and to women too medically fragile to come to TGP.
The first week, we raised $15,000. By day eight we had $17,000. By day 12, we hit our goal.
We're continuing to collect donations to buy the van, retrofit it and fill it with wigs.
A big thanks to all of you who donated. Thank you for your generosity. And if you haven't donated, there's still time.
A huge thank you to Danielle Wiggins, anchor and reporter at WKYC in Cleveland. Danielle joined our campaign, which now officially ends on her one-year cancerversary, which is March 22.
I worked with Danielle at NPR affiliate WKSU for three years. She produced "The Regina Brett Show," then moved onward and upward to a TV career in Cleveland. She's one of the most vibrant, joyful, faith-filled women I know.
Because of my constant pestering, she started doing breast self-exams. Last year, she felt something. Her medical team at Cleveland Clinic removed the cancer through surgery. They caught it early, at Stage 1. A breast self-exam and mammogram were the keys to early detection for her.
Danielle was diagnosed at 40. I was diagnosed at 41.
She's now best friends with NED – No Evidence of Disease. That first year is the hardest. The shock of having cancer, the fears, the tests, the surgery, breaking the news to everyone you love, especially your children. Danielle has two.
We can't cure cancer, but Danielle and I want to spread the word about early detection to save lives, and to use The Sisterhood of the Traveling Wigs to reach women most at risk who might not get information about early screening and detection.
On March 3, I attended the seventh Annual Cancer Disparities Symposium presented by Case Comprehensive Cancer Center's Office of Community Outreach and Engagement at Case Comprehensive Cancer Center in Cleveland.
It was great to see so many people dedicated to curing cancer. The bottom line of the presentations? Disparity equals death.
Minority populations don't always get the information needed for early cancer detection, don't learn about early screening, and don't have insurance to cover testing and treatments.
A late-stage diagnosis means high mortality rates. The mortality rate for Black women diagnosed with breast cancer is 41% higher than white women.
Trust and access to care are the biggest obstacles.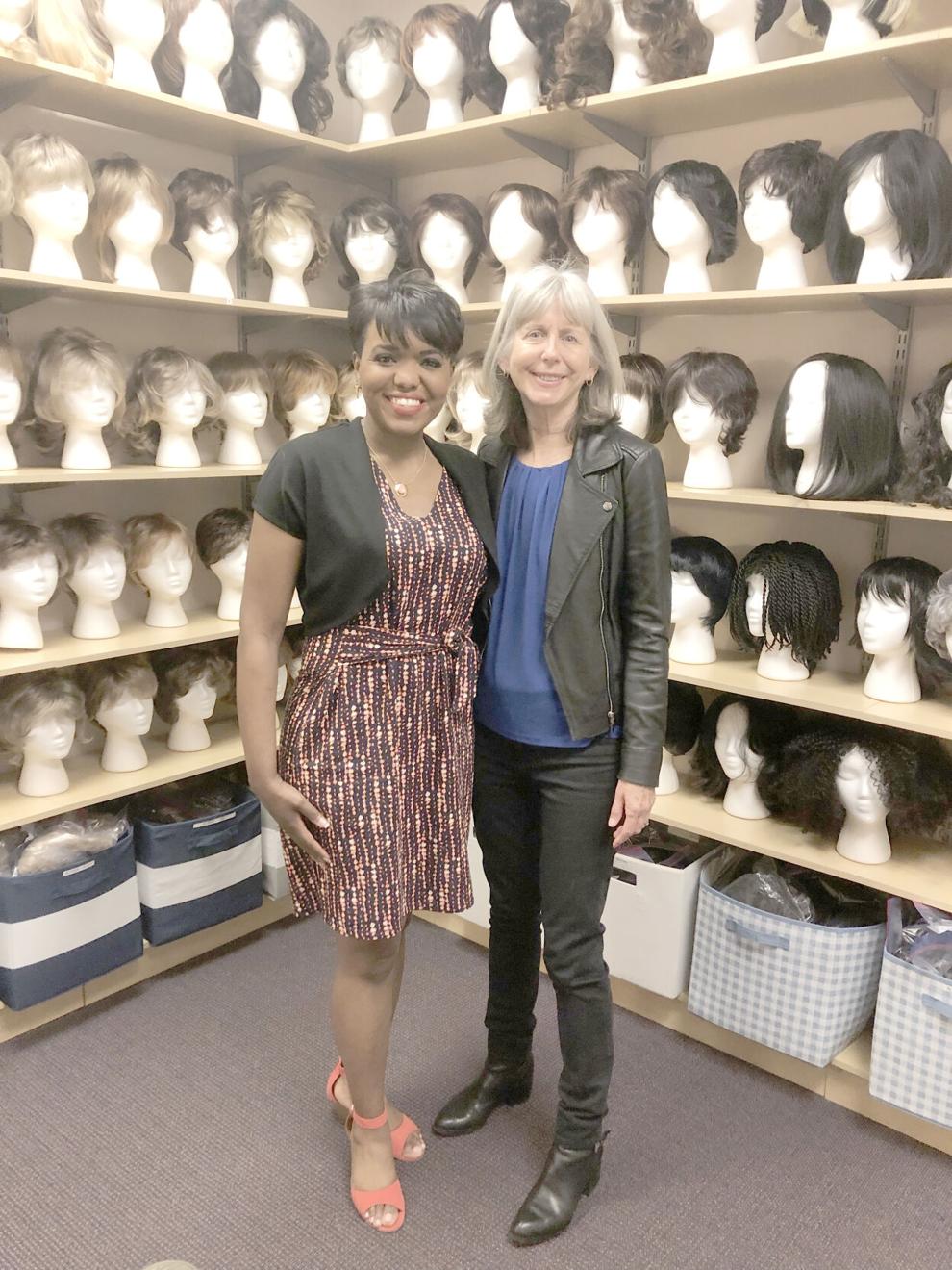 Our wig salon will travel into the community, bringing wigs plus life-saving information to spread the word about early detection, screenings and treatment for cervical cancer, breast cancer, lung cancer, colorectal cancer and prostate cancer.
The Traveling Wig Salon can go to libraries and community centers in the inner city where people can easily walk or take a bus to get there.
The Gathering Place CEO Michele Seyranian painted a picture of what health disparities look like. When her daughter was 4 and had cancer, they lived at the hospital for months. Michele never forgot the children who were alone because their parents couldn't afford to miss work to stay with them.
"For me, this is personal," she said. "It's my community."
The cancer community is our community. Cancer doesn't care where you live. What race you are. How old you are. How wealthy or poor you are.
Information saves lives. It saved mine. I took home a free shower card from a health fair to remind me to do a breast self-exam. One night my fingers found a lump. Turns out it was the size of a grape. Turns out it was Stage 2 cancer.
Turns out it had already spread to one lymph node, which means the cancer had left the breast and could travel anywhere. I found it, treated it and got to live 25 more years.
If you have cancer, you want to find it early.
So let's get – and keep – this wig van rolling. Any money beyond our original goal will help keep the van filled with wigs and other services.
Please donate to the Traveling Wig Salon to extend the reach of The Gathering Place. You can visit bit.ly/3k2NhzP and donate by Venmo, credit card or bank transfer. Or send a check to The Gathering Place, 23300 Commerce Park, Beachwood, OH 44122.
Thanks for helping us save lives.
---
Connect with Regina Brett on Facebook at ReginaBrettFans and sign up for her weekly newsletter at reginabrett.com.