In an era of increasing gun violence, Milton Maltz made a call for action Nov. 24.
"We are faced with increasing gun violence, especially the use of assault rifles that shoot 100 bullets in one minute of time," Maltz said in accepting the Lifetime Achievement Award given at the Cleveland Jewish News 18 Difference Makers on behalf of his wife, Tamar, and himself, before about 500 people at Landerhaven in Mayfield Heights.
"As a result, innocent children and adults across the United States from Pittsburgh, Pennsylvania, to Lakeland, Florida, were murdered, innocent victims. These killers, according to my insight, are the equivalent of Nazis. Anti-Semitism is rampant. A number of swastikas have been drawn on our Temple building. The time has come to demand that our government take action to stamp out intolerance and move toward investigating the NRA.  Who are they? What are they? It's time to act, regardless of political parties."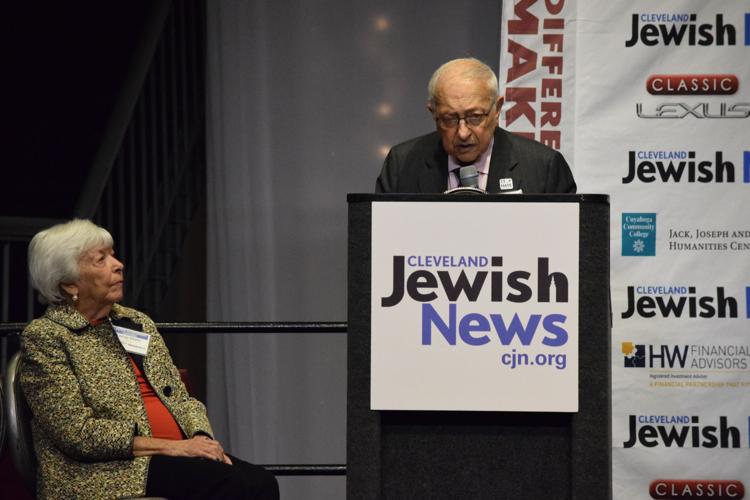 Maltz owned Malrite Communications Group Inc. and with Tamar, founded the Maltz Museum of Jewish Heritage in Beachwood as well as the Spy Museum in Washington, D.C. In addition, the couple's family foundation donated $30 million to The Temple-Tifereth Israel in Cleveland, converting the building into the Maltz Performing Arts Center. The couple started and annually fund the Stop the Hate Essay Contest for students in Northeast Ohio as well.
David R. Hertz II, Cleveland Jewish Publication Co. board chair, and Kevin S. Adelstein, president of the Cleveland Jewish Publication Company and publisher and CEO of the Cleveland Jewish News, welcomed guests and presented awards to Difference Makers, to the Maltzes and to Dan Moulthrop, who received the Civic Achievement Award.
Moulthrop spoke of the place of debate in the culture of Judaism and in the United States.
"I want to take just a moment to talk to you about this work of disagreement and contention," said the CEO of the City Club of Cleveland. "I think part of what has drawn me to this work of bringing people together across differences is because I am a Jew. We are after all the people who love to argue, who love to debate, who love ideas, and more than we love ideas, we love the clashing of ideas. We argue over everything. We are as likely to argue over the best route to drive to an Indians game as we are to argue over politics."
He spoke of Moses and Abraham's arguments to G-d.
"So arguing's kind of in our DNA and I'm sure there are a number of you – particularly the rabbis – who are disagreeing with me right now," Moulthrop said to laughs.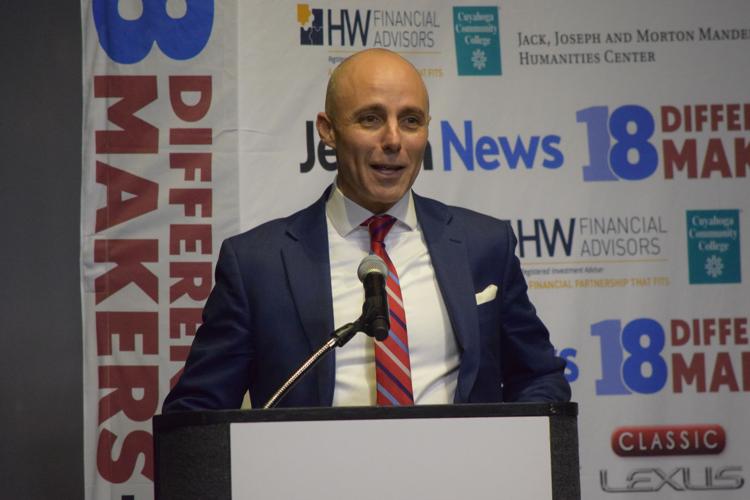 He acknowledged that it is hard to find hope in today's world of divisive political environments, fragile democracy, "And our community, this community of Jews throughout America,  so threatened by the hatred that Kevin (Adelstein) spoke of before. But America's America because we argue about it – our Constitution, our laws and precedents that come from our courts, the White House policies that last the longest – they are all negotiated settlements of adversarial process that's at the heart of what we do as Americans. And as you all know, it's a process that relies on freedom of speech so all of us can participate in the dialogue that creates those outcomes. Because we are Americans, we can lift our voices and call on those who represent us to do a better job. And because we're Jews, we're not afraid to do that."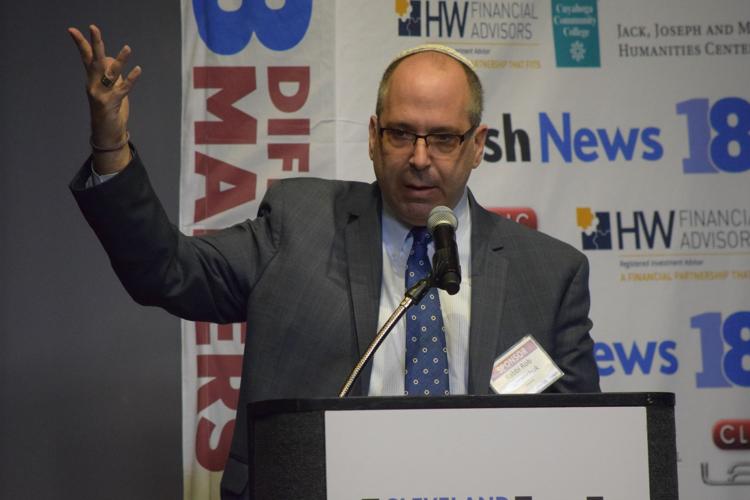 Rabbi Robert A. Nosanchuk, senior rabbi at Anshe Chesed Fairmount Temple in Beachwood, delivered the invocation.
He related a favorite midrash, ancient story, in which an entire kingdom builds a human ladder to try to capture a colorful bird for the king. A young girl climbs to the top, on the backs of those gathered, and reaches her highest.
"The rabbi who taught me the story said that that is where it ends, that young woman represents us all, caught up in a moment of amazement and wonder," Nosanchuk said. "That's how I feel looking out at you tonight. You should only see yourself. I'm honored to know most of the people who are being honored tonight."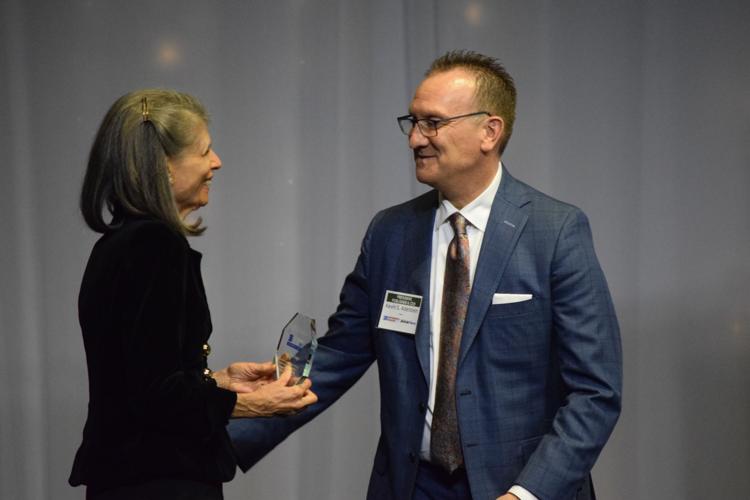 Nosanchuk called on those gathered to consider the human traits of the honorees: "your honesty, your empathy, your goodness and decency."
Nosanchuk said one honoree called him a week ago to offer friendship and sustenance "at one of my weakest moments." He started rabbinical studies in Jerusalem with another. 
"A third… at the conclusion of my career, may it come many years from now, I will be able to look back and say, for a decade of her 40 years at Fairmount Temple, I stood next to Cantor Sarah Sager. That will be a privilege." There was applause. "But all of you are an inspiration to us."
In his introductory remarks, Adelstein spoke of the mission of the Cleveland Jewish News to report both tough news and controversies as well as the good news in the Jewish community. 
"When pillars within our community pass away such as Mort (Mandel), just a few weeks ago, and now Barbara Mandel, just two days ago, we mourn their loss and our loss, yet, we celebrate the time they had with us and the enormous impact they had in creating a better, more positive world for each of us," he said. "And we also realize our role in playing a positive role and nurturing effect by accentuating the true happenings in our community, of which most are truly positive."
Of the honorees, he said, "They've found a way to channel their skills, experience and interests into addressing a pressing need in our community, and often beyond."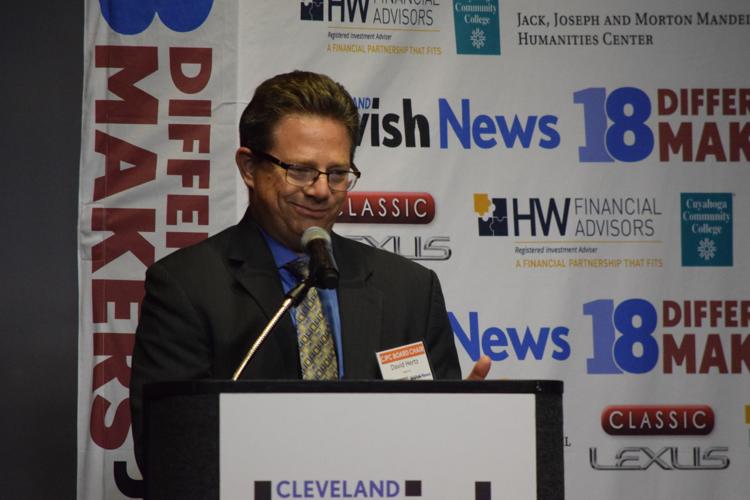 Hertz spoke of the anti-Semitic attacks of the last year.
"It has been slightly more than a year since the atrocity at the Tree of Life Synagogue, down the road in Pittsburgh," he said. "The cover of the CJN from that week still sits in my office. I can't seem to recycle it. It is only seven months since the attack in Poway (California). Attacks such as these rip at the fabric of America. The missiles that rain down in Israel strike at our collective hearts.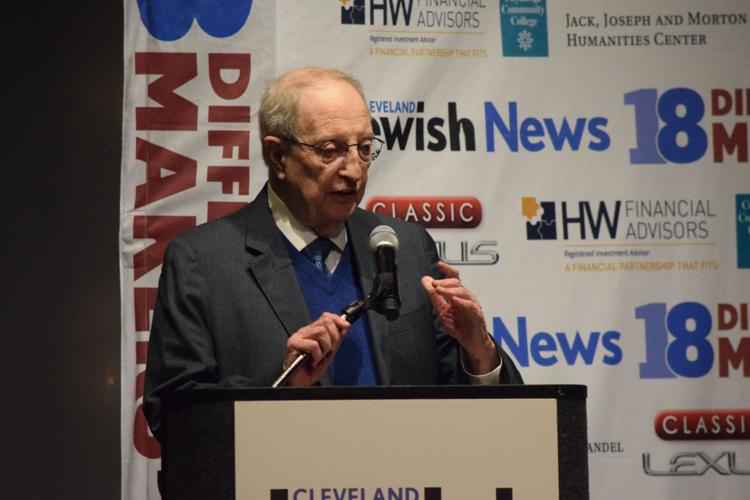 "In these times, it is incumbent upon the (Cleveland Jewish Publication Company) to be a difference maker, to engage with the local, national, even international communities," he continued. "We have utilized powerful communications tools all year to fulfill this mission, using our news pages, website and social media channels to inform and energize. Tonight, we will do so again, with you."
Hertz asked those in attendance to send a message that conveyed "a sense of community and pride" via their cellphones.
While Adelstein and David Kaufman, president of the Cleveland Jewish News Foundation, introduced Moulthrop, Albert Ratner praised the work of the Maltzes.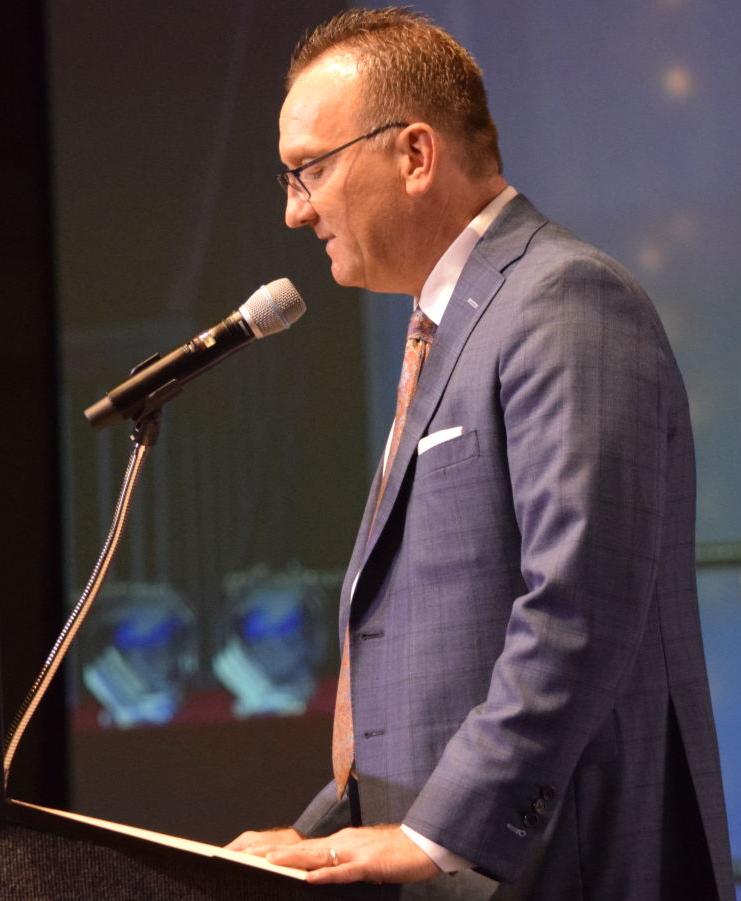 Adelstein spoke of asking advice from Moulthrop prior to publicly interviewing Washington Post journalists Bob Woodward and Carl Bernstein at the 50th celebration of the Cleveland Jewish News in 2014.
"Dan's office walls were something I'd never quite seen before," Adelstein said, describing Post-it notes covering the walls of Moulthrop's office. "I thought to myself, was this an antiquated way of organization or simply a well-organized leader who was plotting a plan for one of the nation's oldest continuous independent free speech forums? It's clear that we all know the answer to that one."
Adelstein said Moulthrop has taken the City Club into the future, expanding its membership from 770 to more than 900, and expanding its programming from its cornerstone Friday forums, "targeting and attracting a younger demographic."
"You could argue that there's never been a more important time in our society where Dan's work has ever before been more critical and needed," Adelstein said. 
Adelstein also thanked the Maltzes for their generosity to the Cleveland Jewish News.
2019 Cleveland Jewish News 18 Difference Makers
"Now, why do they do this?" Ratner, co-chairman emeritus and former CEO of Forest City Realty Trust, asked in his introduction of the Maltzes. "The first thing is their love for America, their love for Jewry and their love for Israel. There is no conflict. Anybody thinks you can't do all of those things, just look at the two of them.
"All of us in our lifetimes try to be difference makers," he said. "They don't try to be difference makers. They are difference makers. That's their DNA."
Three videos were screened in Landerhaven's Grand Ballroom during the event highlighting the achievements and philosophies of the honorees. Difference Makers included Mindi Axner, Andrew Brickman, Jessica Cohen, Marc W. Freimuth, Michael Davis Hoenig, Ira C. Kaplan, Elizabeth Klein, Thomas A. Lockshin, Lawrence A. Mack, Michal Marcus, Jared Miller, August Napoli, Carole Schwartz Rendon, Cantor Sarah Sager, Michele Weiss, Rabbi Lauren Werber, Sally H. Wertheim, Ph.D., Steven Willensky and Judy Klein Willensky.
Honoree Michele Weiss was out of the country and unable to attend the event.