The Cleveland Jewish News honored the 2022 class of 18 Difference Makers at its signature annual event Dec. 8 at Park Synagogue East in Pepper Pike with an estimated 325 in attendance.
Kevin S. Adelstein, president of the Cleveland Jewish Publication Company and publisher and CEO of the CJN, opened the event, which featured remarks by CJPC Board Chair Paul J. Singerman and an invocation by Rabbi Joshua Skoff of Park Synagogue. It was the second in-person Difference Makers event since the COVID-19 pandemic, as the event was held virtually in 2020.
Philanthropist Lois Goodman was honored with the Sam Miller Lifetime Achievement Award. Among her contributions to the local Jewish community was a $2 million donation to the Maltz Museum in September.
The Generation Award honored the Yanowitz family, Donna Yanowitz, her sons Alan, Jerry and Joel, and daughter-in-law, Dara Yanowitz, Alan's wife, who have been longtime volunteers and ardent supporters of many organizations in Greater Cleveland, including the Jewish Federation of Cleveland and Gross Schechter Day School in Pepper Pike.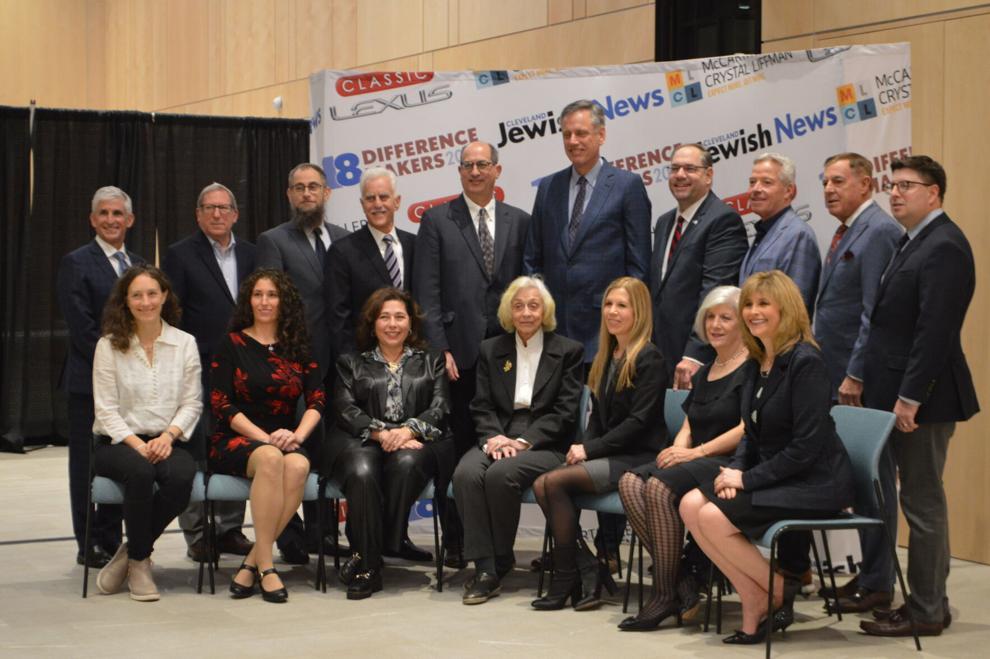 The 2022 class of CJN 18 Difference Makers includes:
• Rebecca Bar-Shain, Certified Financial Planner/Partner, Cedar Brook Group
• Julia DiBaggio, Program Director, Ohio-Israel Ag & CleanTech Initiative, The Negev Foundation
• Rebekah Dorman, Founder/Principal, Kadima Consulting LLC
• Aaron S. Evenchik, Partner, Hahn Loeser & Parks LLP
• Rabbi Yossi Freedman, Director, Downtown Chabad
• Robert T. Glickman, Managing Principal, McCarthy, Lebit, Crystal & Liffman Co., LPA
• Len Gold, Retired Senior Cost Accountant, BASF Construction Chemicals
• Todd E. Gurney, Partner, The Eisen Law Firm Co., L.P.A.
• Stewart Kohl, Co-CEO, The Riverside Company
• Susan Krantz, Partner, Zinner & Co.
• Eliana J. LeVine, Community Volunteer
• Andrew Mizsak, Principal Consultant, Main Street Consultants
• Andrew E. Randall, President and CEO, Cleveland Private Trust Company
• Alan Rosskamm, Community Volunteer
• Heather Schlang, Volunteer, National Council of Jewish Women/Cleveland
• Dr. Daniel I. Simon, President, Academic and External Affairs and Chief Scientific Officer, Ernie and Patti Novak Distinguished Chair in Health Care Leadership at University Hospitals Health System; Professor of Medicine and Senior Associate Dean for Academic Affairs at Case Western Reserve University School of Medicine
• Jim Strassman, President, Strassman Insurance Services
• Neil M. Tramer, Partner, Tramer, Shore & Zwick.
Joining the CJN in honoring the Difference Makers were partners: Presenting sponsors, Classic Lexus, the Cleveland Jewish News Foundation and McCarthy, Lebit, Crystal & Liffman Co., LPA; supporting sponsors, the Feldman, Wehn family, shark&minnow and Chuck Whitehill; Generation Award sponsor, Krause Family Foundation; cocktail sponsor, Cleveland Jewish Funerals; video sponsor, Cleveland Foundation; and venue sponsor, Park Synagogue. The event was catered by 56 Kitchen Catering and Kantina.