Kevin D. Moss, a senior associate at CBRE Group Inc., is working on the high-profile Market Square project across the street from the West Side Market. 
The former Beachwood resident spoke with the Cleveland Jewish News about the $200 million project of Chicago developer Harbor Bay Real Estate Advisors, which involves relocation of tenants and demolition of an existing shopping center and construction of a mixed-use project. Market Square is set to open in 2021 and his perspective on real estate and Cleveland. Fresh out of college, Moss lived downtown and said he enjoyed that lifestyle. 
What do you do?
I am a real estate broker with CBRE, my focus is retail related commercial real estate.  My responsibilities range from helping retailers and restaurants find space to lease, help landlords find tenants for their buildings, sell land and vacant buildings to developers, and help developers find sites to build.
What is your role at Market Square?
My role will be finding tenants to bring to the project. It's a mixed-use project, featuring 60,000 square feet of retail, 150,000 square feet of office, and 260 apartment units. The idea is to bring new to market retailers and restaurants to the growing Ohio City, downtown, Tremont market, and other urban neighborhoods. The great aspect about this site is this is ground zero for Cleveland. The West Side Market's been around for over a hundred years, and have 1.8 million visitors. People know the West Side Market. We have data that shows that people drive two-plus hours to come. … And really this market's been underutilized with all the new residential happening and all the "gentrification" of some of these inner ring neighborhoods. People with money are coming here …. but there's nowhere for them to shop.  So, our goal is to try to find those tenants and to bring them to an unrealized market. 
How did you decide to go into real estate?
I was part of the Jewish Federation of Cleveland's internship program. They set me up with Landmark Management, they own apartment buildings downtown and that was my first taste of real estate and getting to know and love Cleveland. Working downtown in college was really great and gave me a springboard into commercial real estate. My first job out of school was working for a group out of Beachwood, Chase Properties. They own shopping centers throughout the Midwest, and I was doing leasing and renewals for existing tenants. And I did that for almost two years and then I decided at the age of 23 that I wanted to go off on my own and try to become a real estate broker.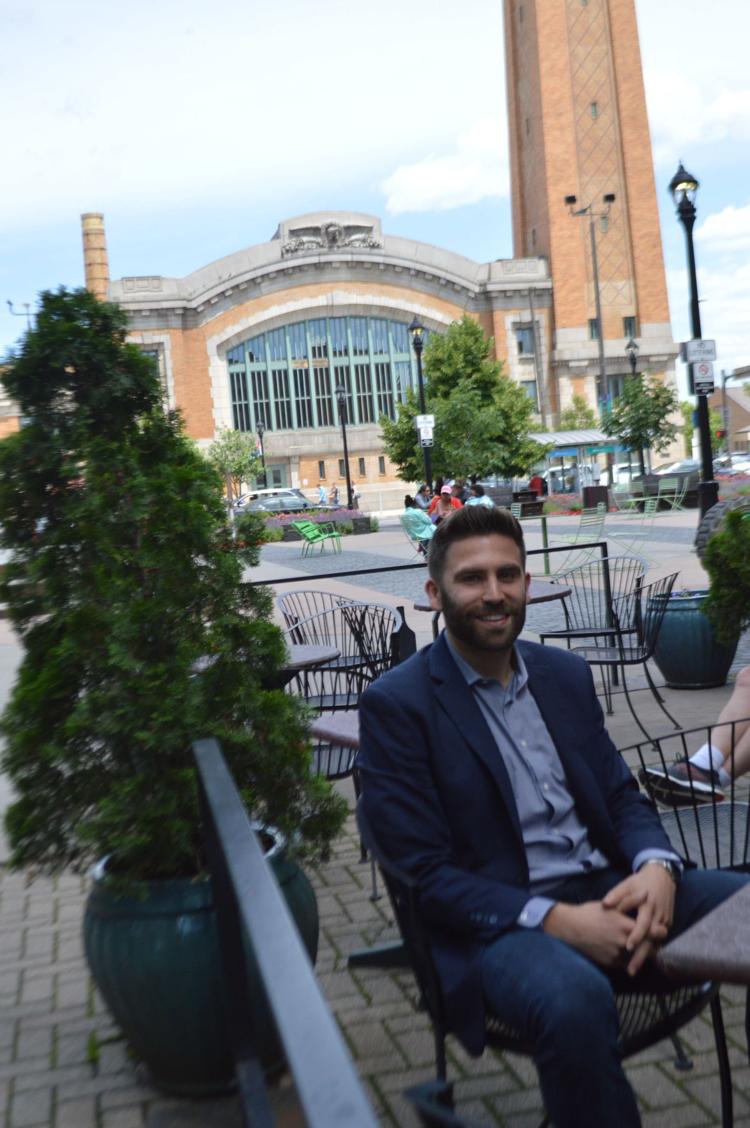 What's your perspective of Cleveland?
I love Cleveland. I had the opportunity to move outside of Cleveland after graduation. I'm always pro-Cleveland. Actually, one of my biggest complaints is that everyone who moves out of Cleveland is pro-Cleveland from afar, and would move to big cities like Chicago and New York, instead of Cleveland. They didn't want to take the initiative and be pro-Cleveland on the ground level, so it's been refreshing to see over the last six years since I graduated that there's been a huge push of young professionals moving to the city. From the business climate, when you're young, living in big cities, you don't get exposed to decision makers, you're just another number, you're just low on the totem pole, but here you get exposure, and it's easier to connect with business decision makers and will go out of their way to help you. From a personal level, I just love that you've got your big-city amenities for a fraction of the price.