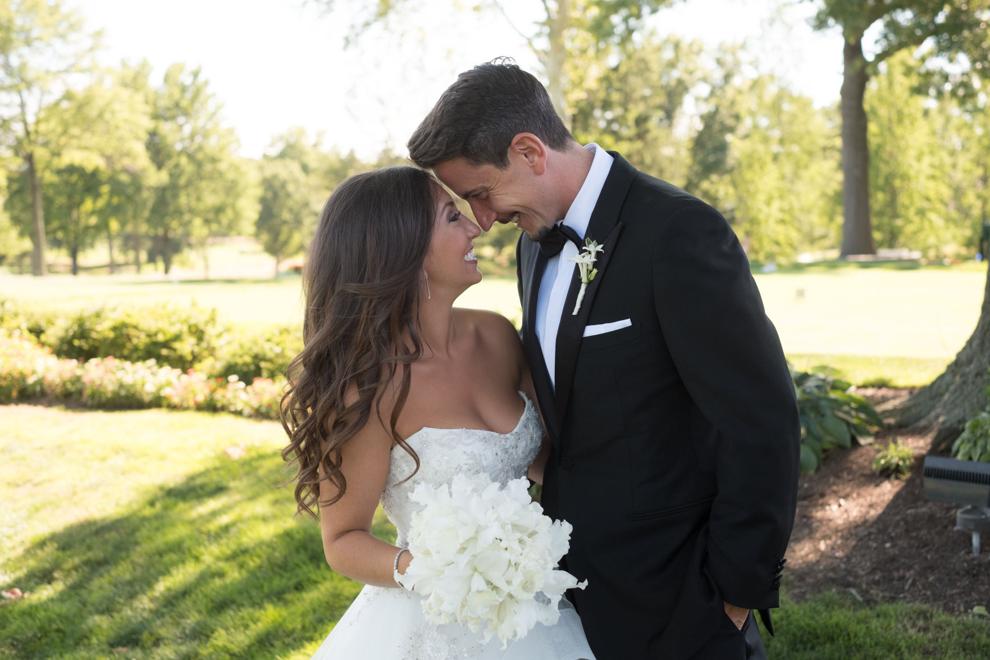 Hillary Elk Jovic and Michael Jovic seem like they've known each other for a lifetime.
The newlyweds effortlessly finish each other's sentences and light up when speaking about their relationship. Humor also takes center stage in their relationship, with the two often teasing one another in a playful manner.
Hillary, 29, of Moreland Hills and Michael, 33, of West London instantly bonded over their shared traits and common values when they met in 2008. They also shared a love of the arts.
Hillary, who has a master's degree in creative production, was part of the original cast on Broadway and the West End of "Memphis, The Musical." While Michael manages his family's real estate business in London, he also has a master's degree in documentary film making and used to work as an assistant director on various commercials and videos.
After surviving a long-distance relationship, living on two continents and successfully planning three weddings in three different countries, Hillary and Michael have proven they can handle any challenge together.
A chance encounter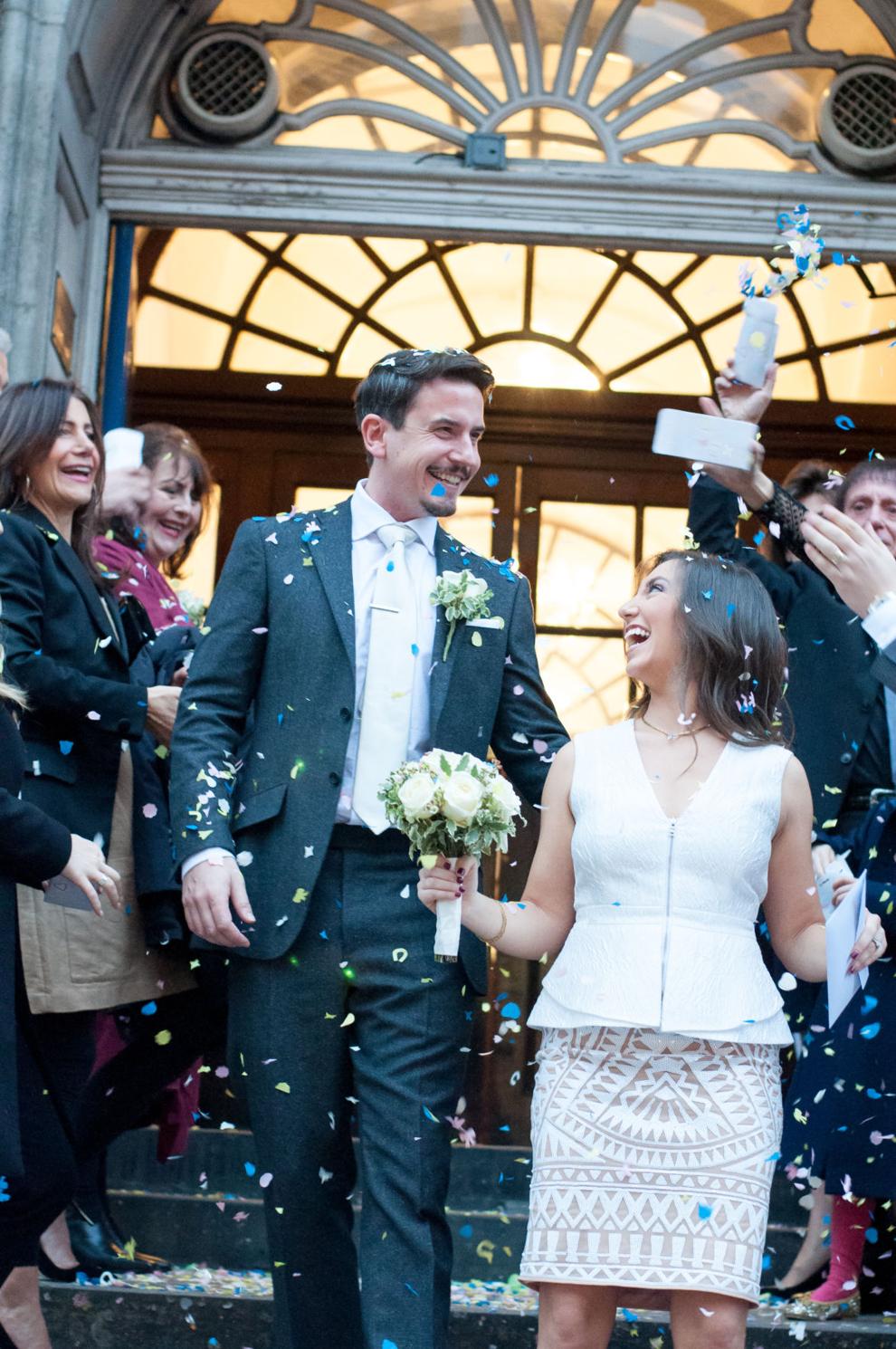 On one of her first nights in London after temporarily moving there in 2008 to study Shakespeare at the Royal Academy of Dramatic Art, Hillary went out with a group of friends to Bloomsbury Bowling, a retro-style bowling alley. While ordering drinks at the bar, she bumped into Michael, who was also at the bowling alley that night to celebrate a friend's birthday.
The two chatted briefly and exchanged numbers. After becoming friends on Facebook, Michael and Hillary began to speak with each other more frequently and arranged to go on several dates that summer.
Once Hillary completed her course in London she returned home, causing her and Michael to begin a long-distance relationship.
"We really got to know each other and spend a lot of time talking with each other during that time," Michael said. "Although it was only a year of doing long distance, it was like we were together longer because you really got to know each other on a one-to-one basis."
Michael and Hillary relied heavily on Skype to keep in contact with each other. However, that proved to be difficult when Michael would visit his family's holiday home in Montenegro.
"Back in 2008, internet connections weren't exactly perfect," Michael said. "Wi-Fi wasn't everywhere, so I had to go to the internet cafes because I used Skype to talk to her. You have to travel up a lot of steps to get to the old town, about 300 steps.
"I would have to climb all of those steps to go talk to her, and by the time I reached the top I would be drenched in sweat. I remember meeting her mum one time (via Skype) and hoping she didn't think 'Who is this strange, sweaty Englishman talking to my daughter?'"
Hillary said she and Michael saw similar traits and values in each other, such as having close relationships with their friends and families, being positive and having a vibrant social life. These shared values helped to deepen their connection.
"When you meet someone, you don't meet their family right away, but you start meeting some of their friends," Hillary said. "It's just so important to see what a guy and his relationships with his friends are like. That really said a lot to me about what kind of person he is and what kind of friend he is to a lot of people."
"Hillary was always so bubbly, always so nice and happy," Michael said. "At first I thought, 'Wow, she's amazing, surely she can't be like this all the time.' But she was. What you see is what you get."
After booking a role in the Broadway production of "Memphis, the Musical, Hillary moved to New York. As a result, Michael decided also to relocate to New York in 2009 to pursue his master's degree. Once Michael received his degree and Hillary finished her role on Broadway, the two moved to London in summer of 2012.
A Paris proposal
Paris holds special meaning for both Hillary and Michael. It was the first place Michael told Hillary he loved her. It also was the location Michael chose to propose to Hillary.
After moving into their apartment in London, Michael suggested that he and Hillary take a short trip to France to get away for a few days. He recommended they spend a few nights in Paris as well.
"I can't believe I didn't catch on," Hillary said while laughing. "I was just like 'Yeah, sure, let's go to Paris. That sounds amazing.'"
Once in Paris, Michael took Hillary to the Pont Alexandre III, a stunning bridge that spans the Seine and overlooks the Eiffel Tower.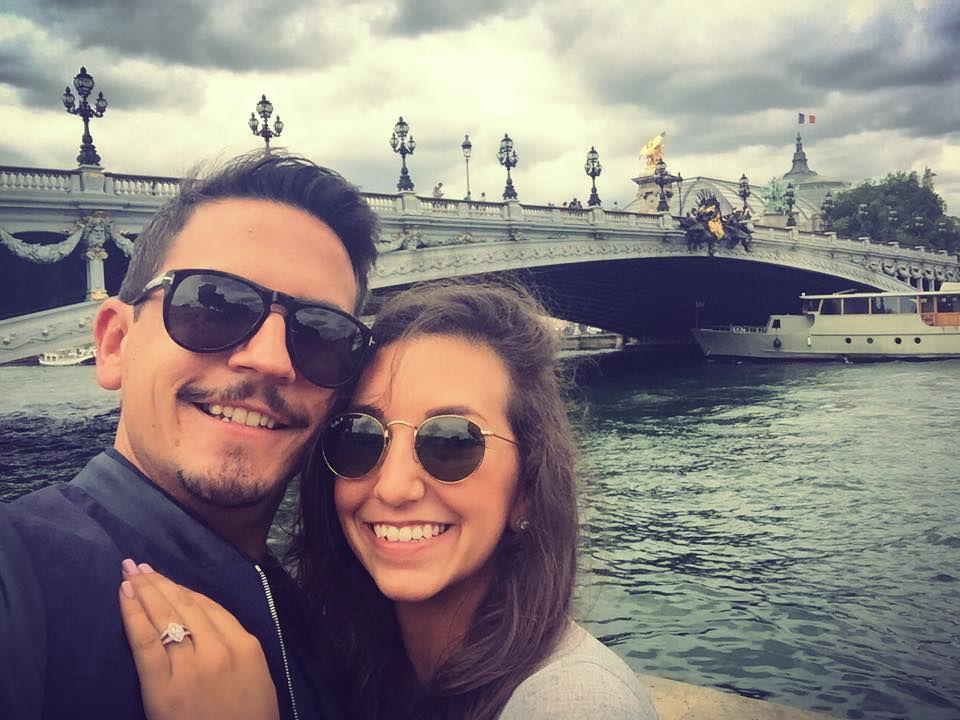 "So she's looking at the Eiffel Tower, and as she looks around I get on one knee, get the ring out, propose to her and thankfully she says yes," Michael said. "It was lovely. There were a lot of people around us clapping and cheering."
Unbeknownst to Michael, the date of their proposal, July 13, 2015, held special meaning to his family as well. Not only was it the same day as Hillary's younger brother's birthday, but it also was the exact date that Michael's grandfather had proposed to his grandmother, something Michael called a "complete coincidence."
An international celebration
While most couples are busy enough planning one wedding, Hillary and Michael found themselves planning three.
In order for Hillary to remain in London, she had to acquire a marriage visa, which meant she and Michael had to get married before 2016.
The two exchanged vows Dec. 5, 2015, at the Kensington and Chelsea Register Office in London. The intimate ceremony included Michael's immediate family, his best friend and his friend's wife, and Hillary's parents.
"It was lovely. It was kind of nice to do that bit. It wasn't just logistical, it was special as well," Michael said.
Hillary and Michael decided it was best to plan two weddings – one in Cleveland and one in Montenegro – so that their family and friends wouldn't have to miss out on attending their special day.
The second wedding took place Aug. 6, 2016, at Beechmont Country Club in Orange. The Jewish ceremony was officiated by Rabbi Howard Apothaker of Columbus.
"The cool thing about that rabbi was that he actually married my parents in 1983," Hillary said.
Michael, who is Christian, said planning the second wedding provided him with an insight into Judaism.
"It was nice to learn more about the Jewish faith and the traditions for matrimony and preparations to get married," he said. "He (Rabbi Apothaker) is just so nice and really got to know me. … He said such moving and beautiful words during the service as if we'd known each other for many years."
The third and final wedding was held Sept. 3, 2016, in Montenegro at Our Lady of the Rocks in the Bay of Kotor.
"I've been going there since I was a child," Michael said. "Even before I met Hillary I'd say to people, 'That's the church I hope to one day get married in.'"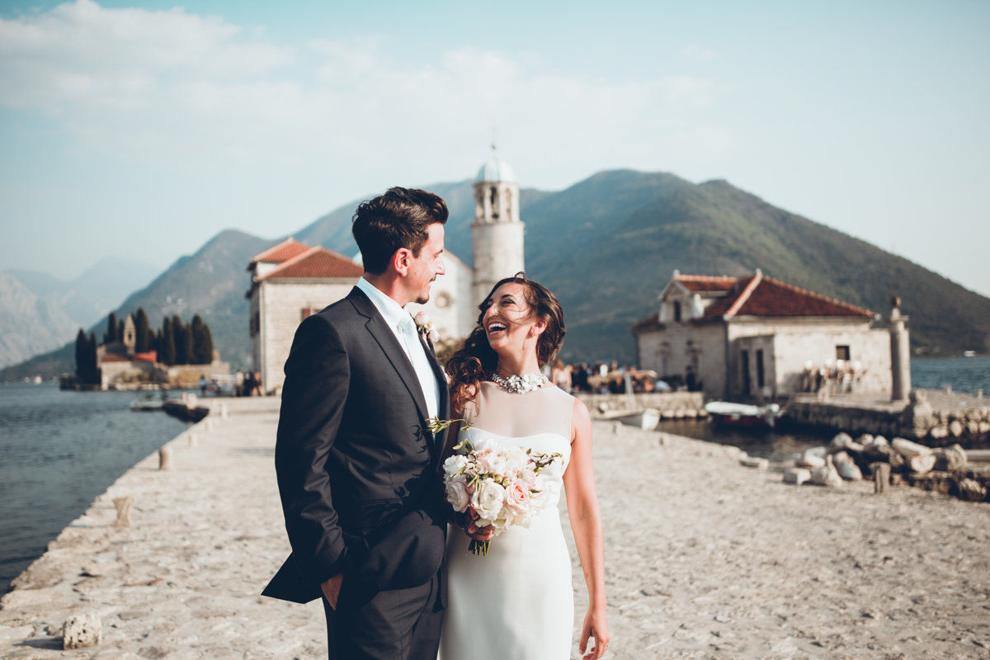 While planning three weddings may seem overwhelming to some, Hillary said she and Michael enjoyed the process and made sure to work together as a team. They also were pleased that they got to incorporate important traditions into the weddings.
"For the Cleveland wedding, we got to be put up on the chairs and we did Hava Nagila and we smashed the glass," Hillary said.
Michael added, "In Montenegro, we had the traditional Serbian gypsy band, where there's like 15 people with all the trumpets and the brass band and everyone dances around you. It had a nice ethnic feel to it."
Blending faiths
Planning multiple weddings gave Hillary and Michael the chance to gain insight into each other's religions.
Although the priest that Michael grew up with couldn't officiate their wedding in Montenegro, he was able to offer them guidance throughout the process, Hillary said.
"He spoke to me about what the service would entail and a bit more about the religion. Seeing his and Michael's relationship and how he's just been such an advocate of Michael's, it was so sweet," she said.
While Michael was used to attending Shabbat and High Holy Day services with Hillary and her family, having the chance to sit down with a rabbi and learn more about the Jewish faith and its traditions was important to Michael.
"Getting to know a little bit more about the stations of progression to where we get to the point that we can actually get married and explaining each different part of it and what it means to the Jewish faith and the Jewish people, it was lovely," he said.
Now that wedding planning is officially finished, Hillary and Michael are looking forward to returning to their normal routines, settling into their apartment in London and seeing where life may take them next.