Laura German and Zachary Lawrence had no idea the time commitment they were about to undertake when they set up their first date in 2016. 
It started off as any first date would. They decided to have brunch at Adega in Cleveland at 11 a.m. After sitting there for at least an hour after finishing their meals, Zachary suggested going up to the 12th floor and enjoy the view from Azure Rooftop Lounge.
After another couple of hours there and, wanting to keep hanging out, they did a quick bar hop to Wild Eagle Saloon in Cleveland. It wasn't until they returned back to Cleveland's Little Italy neighborhood, where they both were living at the time, that they realized it was already 10 p.m.
"We had an 11-hour date, but it never occurred to me to look at a clock or anything," Laura said. "We had the most magical, best, fun first date."  
There was a clear spark between the two, who were students at Case Western Reserve University's School of Dental Medicine. Zachary, 28, graduated in May 2018 and is a resident in the department of orthodontics and Laura, 27, plans to graduate this May.
Early in their relationship, the couple had their separate realizations that they had found the one. 
For Zachary, he felt a connection with Laura he had never experienced in previous relationships. For Laura, it came when she was comfortable brining him over for a Shabbat dinner with her family.
"I knew if I brought Zack for either a holiday or Shabbat dinner, like that was it, he's in," she said. "I was a little nervous. I made sure my aunt and uncle were there, too, to make sure no one got too excited about Zack and scare him away."
An engagement in the Flats
The proposal, which came after about a year of dating, didn't go as Zachary originally planned. 
He was in the midst of telling a friend how he was going to take Laura to Chagrin Falls and pop the question only to find out another friend had the same plan for the same day. 
"I was like, 'Alright, I have to come up with a different plan,'" Zachary said.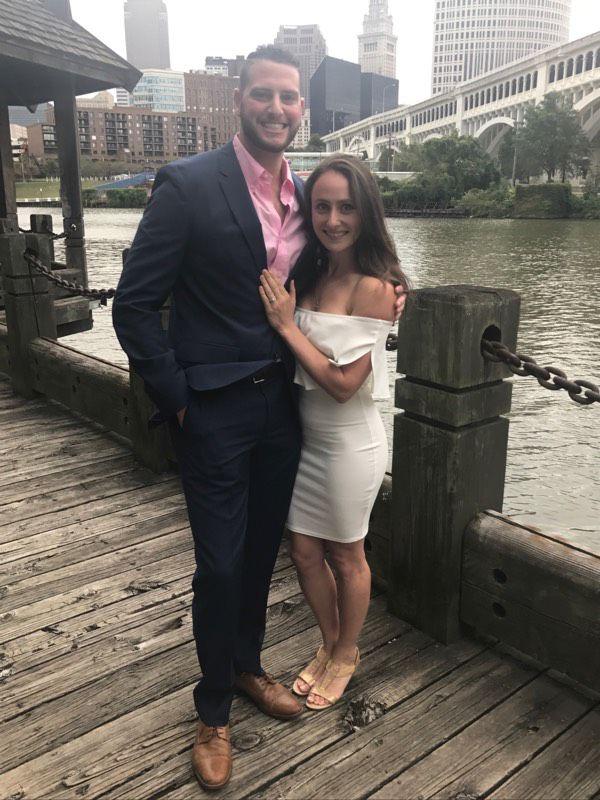 While they were dating, Laura and Zachary spent a Valentine's Day dinner at Luca Italian Cuisine in the West Bank of the Flats in Cleveland. Zachary knew Laura would want to be dressed up when they got engaged and getting dinner at Luca would give them an excuse to do so. The view from the side of the water with Cleveland's skyline also provided a picture perfect backdrop for the photo Zachary's sister was going to take afterwards.
"I thought it would be really cool to go down by the water beforehand ... it'd be romantic," Zachary said. 
He said he tried to be sneaky about the proposal but the couple arrived 40 minutes before their reservation, giving Laura a little hint of what was about to happen.  
"I was like, 'I think I know it's coming,'" Laura said.
As Zachary positioned them near a gazebo by the shore and was about to do down on one knee, a crew team rowed by, which only slightly disturbed the scene. 
"It was funny," Laura said. "While Zack was talking to me, there were people that were practicing rowing like right in front of us so they had the megaphone, they were like yelling at each other ... and Zack's like, 'It's so beautiful.'"
Even after the comical turn of events, the night was "amazing" nonetheless. After Laura said yes, the crew team came back on its second lap and one of the crewmates yelled a congratulations through a megaphone. In the end, the change of course from Chagrin Falls to the Flats was the right decision.
"It was amazing," Laura said. "They had a performer that night (at Luca), so there was somebody singing that came over and asked for our names and incorporated our names into the song. It was really fun."
Wedding day  
Laura and Zachary were married Sept. 2, 2018, and both said the day was nothing short of perfect. The ceremony was on the golf course at Kirtland Country Club in Willoughby with the reception following under a tent by the clubhouse. 
Leading up to the big day, the forecast predicted nothing but rain, which caused some nerves for the soon to be newlyweds.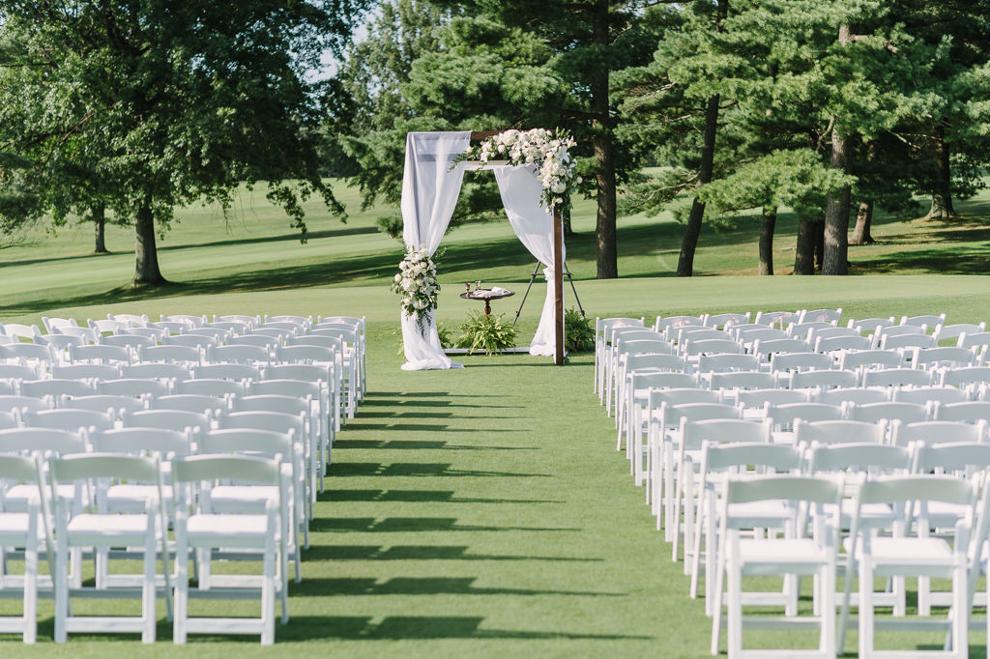 "But then the weather cleared and it ended up being absolutely beautiful," Zachary said. "But it was like almost 100 degrees."
Even though the ceremony was outside, Laura wanted to enter through something before walking down the aisle. To help her do so, Zachary built a standalone double door. He was also inspired to build the chuppah they were married under with the help of his friend after he saw the special meaning it brought Laura's brother-in-law, who built his own chuppah for his wedding.
"(After their wedding) he used the wood and repurposed it for a bar in their house, so it's something they still have with them," Zachary said. "We really liked the idea of doing it ourselves and I had a vision in my head of what I wanted it to look like. ... We still have it, our plan for the chuppah — I'm going to turn it into a backyard porch swing." 
Laura said she comes from a more Orthodox background, so the couple did a tish and bedeken, which was a first for Zachary.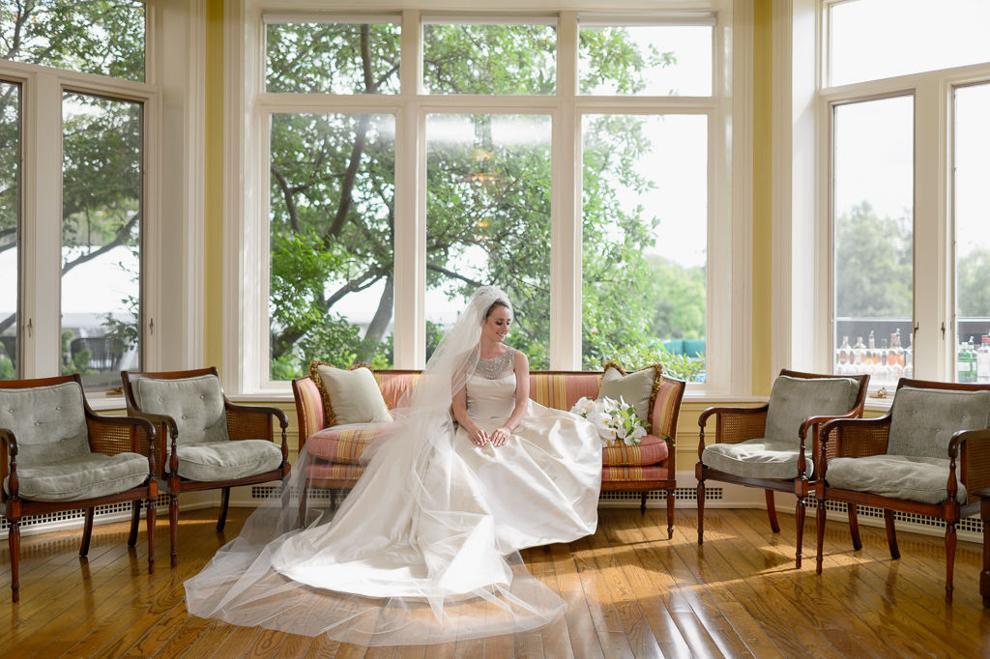 The bedeken took place in a pastel room with panoramic windows behind Laura and she waited on an antique sofa while the women stood waiting to whisper Laura advice and toast champagne. However, the men in the other room were a little more rowdy during the tish.
"They had a kings table with little  mini shot glasses and they would do little l'chaims every time someone would shout out advice," Laura said. "The bedeken was a little more calmer for sure."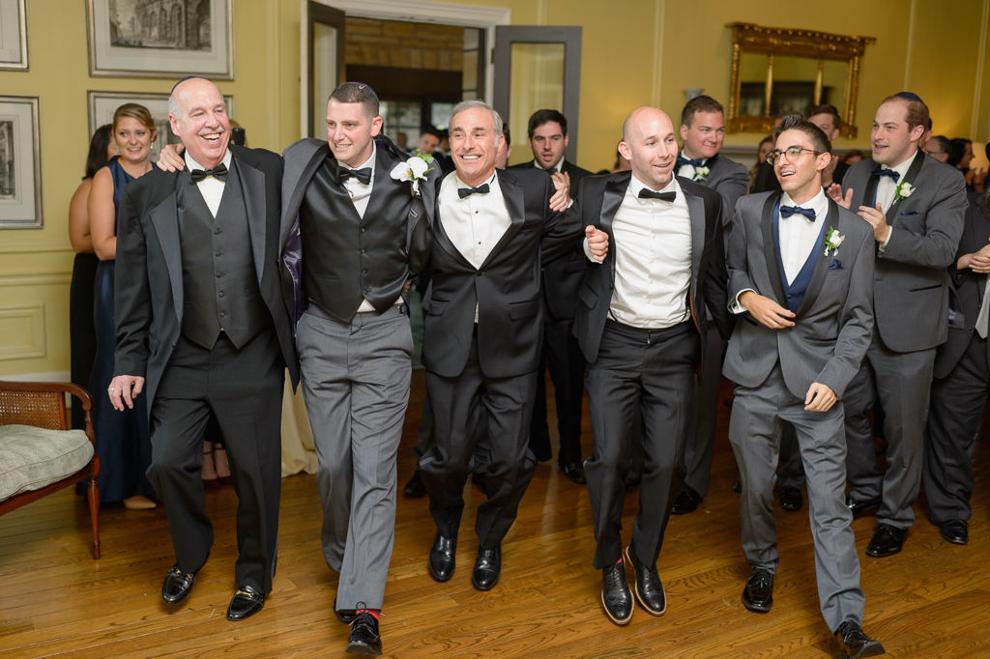 After about 45 minutes, the Yiddish Cup Klezmer Band they hired for the day led the men around the building and came into the bedeken. 
"All the men were dancing, the Klezmer band was playing, everyone was shouting and cheering and we did another toast," Laura said.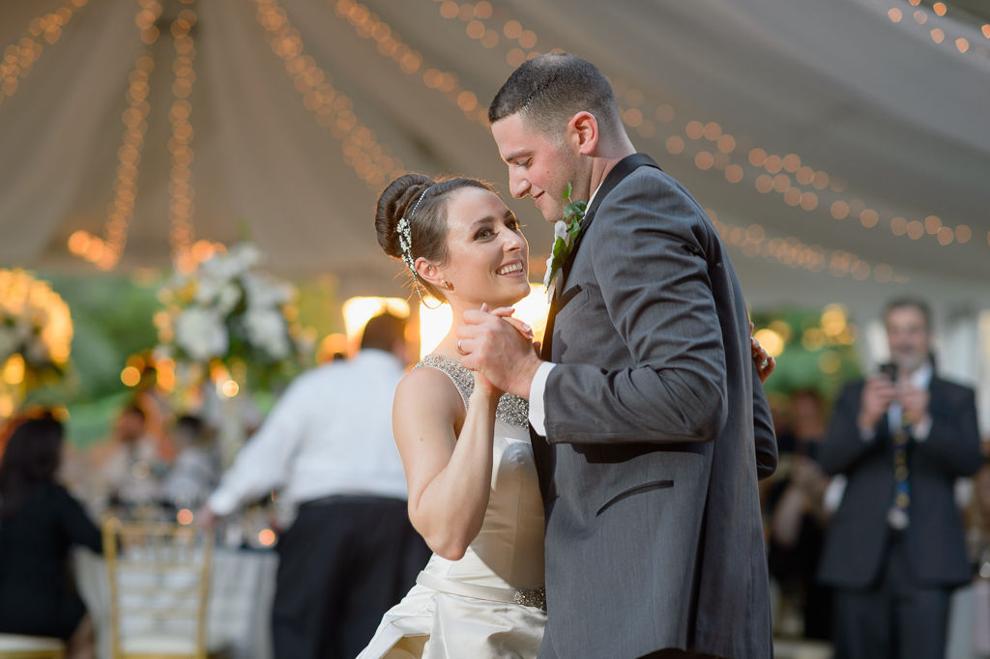 Zachary and Laura then signed the ketubah with 250 people around them. The Klezmer band continued playing during the ceremony and Zachary's cousin, Rabbi Daniel Utley of Temple Emanu-El in Dallas officiated.
"I grew up with him, we were very close growing up, so it made it a little more special," Zachary said. "I knew I wanted him up there with us."
A snowy honeymoon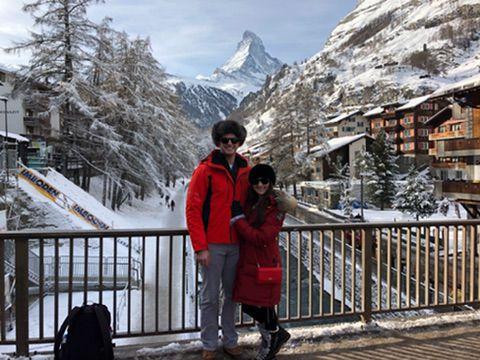 The couple looked all over the globe for their honeymoon. They were searching for someplace neither of them had been before and liked the idea of exploring new places. Laura isn't quite into tropical destinations and because they were going on their honeymoon in December, they thought a winter location would fit best.
Thus, they headed to the mountains of Switzerland and spent 10 days exploring Zurich, Zermatt and Interlaken, some of which they was done on skis.     
Skiing has played a role in the couple's relationship since the beginning. Laura comes from a family that often spends time on the slopes in Park City, Utah, and it would be a deal breaker if Zachary didn't at least try to learn to ski.  
"I was like, OK, skiing it is," Zachary recalled. "I just kind of kept with it and now I love it. I'm still in my beginner stages but it's been a lot of fun."
Skiing wasn't the only activity on the list during the honeymoon. They also did a helicopter tour of the Matterhorn mountain in the Alps – and landed on the mountain to drop off a skier – enjoyed plenty of hikes, restaurants and views.
Planning for the future
The couple has since settled in Lyndhurst. Zachary, who is from the area, has family in the city and Laura's family, who is from Dayton, has slowly moved to Northeast Ohio so everyone is in a 40-minute radius of the newlyweds.
"It's incredible that we have our families here but we have to divvy up holidays so we do celebrate between the families all the holidays and we're able to go to my family's house for Shabbat dinners," Laura said.
The couple is also expecting their first fur baby named Furi, a Siberian husky named after their favorite ski spot on the Matterhorn. 
Zachary plans to finish his residency at the end of 2020 and Laura plans to start her residency at the Louis Stokes Cleveland VA Medical Center after her graduation. Once they begin their careers, they don't see themselves moving far from the area.  
"We love Cleveland," Zachary said. "This is where we want to be."