"No risk, no reward" fits Polly Karr and Stacey Steggert well.
Karr and Steggert, The Temple-Tifereth Israel congregants who became one of the first same-sex couples in Cuyahoga County to marry on June 26, 2015, embrace challenge. They have coped with and even relished adventure – from a horrific first date to a drug dealer sprinting into their apartment and flushing his wares down their toilet.
After a lifetime's worth of excitement, from Steggert being one of the only "out" teenagers in her rural community to the couple taking on three children in three years, many might decide to settle down for a little while.
Not this couple.
Steggert is department chair of special education at Shaker Heights High School, teaches religious school at The Temple-Tifereth Israel, and runs a garden in Beachwood and Cleveland, and is working on her dissertation. Karr is kept busy caring for their three children: 4-year-old Noa and 1-year-old fraternal twins Jonah and Sam.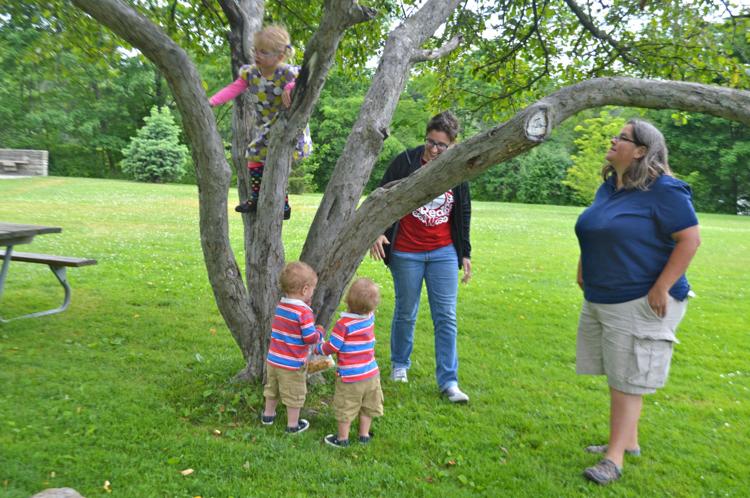 "We go on adventures every day," Karr said. "We're not a stay-at-home family."
Literally – the couple just moved from Cleveland Heights to a foreclosure along Martin Luther King Drive in Cleveland.
The couple saved plenty financially from the move. They were able to pay cash for their new home, and their yearly tax payments are one mortgage payment at their old house.
Karr said she also likes the "street cred" she gets from living on Martin Luther King Drive. Perhaps, most important, the city of Cleveland offers a wide variety of public schooling options, including charter schools and STEM schools.
"There's a lot to look at," Karr said. "At first, you'd think that it wouldn't be appealing, but there are good choices out there."
Somehow, they ended up choosing a house without a kitchen, however, and with holes in the roof.
"It's a real mess," Steggert said.
"Stacey gets these ideas in her head and then she sits there and ruminates on them," Karr said. "She'll go, 'Let's buy a foreclosure and move to Cleveland,' and I'm like, 'Wait, what, that sounds crazy.'"
Nor is the adventure over. Already, Steggert is talking about buying neighboring lots and turning them into an urban farm.
"I have no problem with an urban garden – or an orchard would be nice," Karr said.
"An orchard would be nice," Steggert agreed.
And once again they're off.
Karr and Steggert have lived a life defined by an awe-inspiring willingness to take on change and risk.
Maybe that's natural when you're a gay adolescent in the 1970s and 1980s in Wheeling, W. Va., Karr's hometown, and Baldwin, Pa., Steggert's hometown. Maybe that's what happens when you lead lives largely independent of family. Karr said her family tends to be pretty independent, regardless of sexual orientation. Steggert said her family took a little time to get used to their relationship.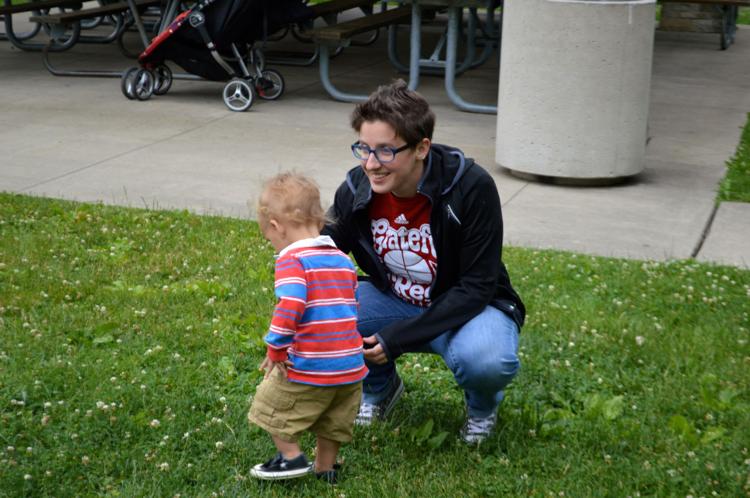 "We've had to just be scrappy from the minute we got together," Karr said.
Those risks started right away with their first date, the first of many adventures, although this one was not necessarily the good kind.
"It was awful," Karr said.
Steggert admired Karr, the barista in a Pittsburgh coffee shop Steggert frequented, but was nervous about asking her out.
"She's just totally cute and funny and smart," Steggert said.
"And I made good coffee," Karr added. (She still does.)
Steggert fretted to her friends: I have to ask her out. She's so cool.
Finally, on their way out of the coffee shop one night, Steggert's friends convinced her to ask Karr on a date – with the understanding that a rejection might lead to a different coffee shop in the future.
"I felt very lucky you said yes," Steggert said.
As grueling as the task was, the follow-up required 23-year-old Karr to call 18-year-old Steggert at her parents' house.
The first date might have been worse. It marked Karr's first date with a stranger. The only day both had off was July 4, and naturally nothing was open on Independence Day, except for a diner that didn't quite make the Michelin curve. When Steggert asked Karr if she was "always this quiet," that didn't help matters.
Why stop now?
That wasn't their last non-Michelin meal.
One time, the couple ventured off to San Francisco, airfare and lodging set, but with just $18 in pocket. Dinner that night? A Subway sandwich. Thankfully, a payday fell while they were there, so the next night, they splurged on street tacos.
Then, there's the matter of the Oakland, Pa., apartment they lived in while Steggert was at the University of Pittsburgh. One time, a drug dealer sprinted in, in the midst of a major drug raid, and flushed his wares down their toilet prior to his arrest. Helicopters hovered overhead. Karr and Steggert were forced to crawl around the floor to avoid being shot. Next, a chop shop moved in.
That wasn't enough to make them break their lease.
They even stayed after their landlord, in installing a fire escape, tore a gaping hole in their wall in December. The hole was covered only with tarp for several months, allowing the delightful sight of snow falling into their very own kitchen.
That turned out to be rather useful, since part of their new home, purchased in September 2014 fresh off foreclosure, had holes in the roof. Indeed, Karr walked into their new "makeshift kitchen" one day to see snow blowing in and a raccoon peering down at her.
"I think (our Oakland apartment) prepared us for our new foreclosure," Karr said. "(Our new place) didn't have a roof on the back of the house when we first moved in."
"It had a roof," Steggert said. "It just had big holes in it."
Between Oakland and Cleveland's Martin Luther King Drive, the couple moved to Dayton, where Steggert got her first job teaching special education (she had taught social studies), and from there, they went to Cleveland, where Steggert first got a job at the Berea Children's Home, now called Guidestone. Friends and work drew them to Cleveland, and the city's diversity of events, ideas and people has kept the couple in the area.
Decades later, the couple is still taking on one adventure after another.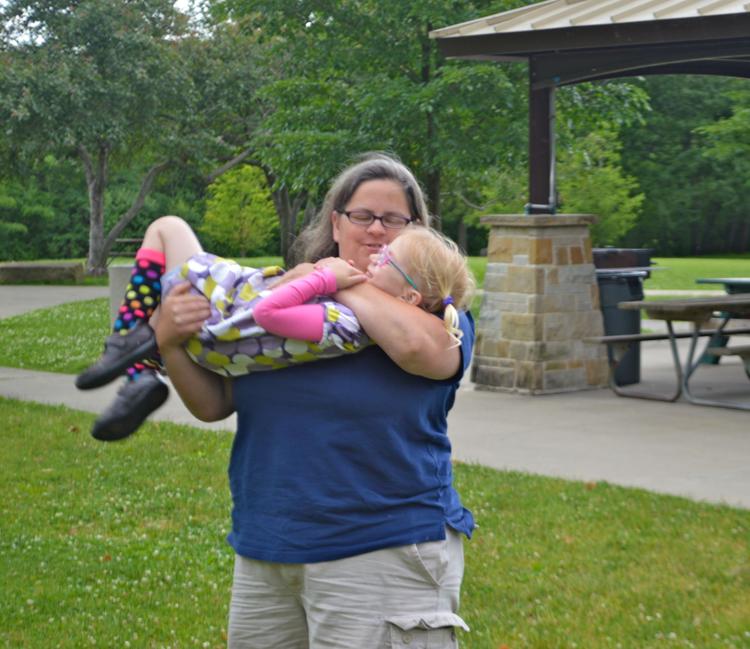 Their first child, Noa, was followed by two more, Jonah and Sam. Steggert said she could envision a fourth in the future. (This was around when Noa came up, offering the reporter a flower. "It's from the ground," she said with a smile.)
Just as they were closing in on their latest project, the foreclosure on Martin Luther King Drive, Jonah and Sam came along. They were born in November 2014 and the family moved to their new abode in December.
A move, two new children – it was a lot for a family to take on.
Not long after, they became one of the first same-sex couples to be legally married in Cuyahoga County following the Supreme Court's historic ruling June 26.
Just like scheduling their first date on July 4, 1997, when there were no restaurants open, their wedding day took some quick thinking. The day before, as the Supreme Court neared its historic announcement, the couple talked and asked the critical question: "Should we?" They had long talked about getting married, but they wanted to be wed in Ohio, and with one "heartbreak" after another in the battle for legalization of gay marriage, the issue had fallen to the back burner.
"It's not something you really wanted to plan out too much, because it kept being heartbreaking every time something didn't happen," Karr said.
Suddenly, history beckoned.
The next day, they were standing in front of Judge Anthony J. Russo with their three children in tow.
"As soon as the announcement was made, we were like, 'OK, let's go,'" Steggert said.
(Steggert still wants a more formal ceremony, whereas Karr is just fine with avoiding the large party.)
"It was romantic, it was a big deal," Karr said of their downtown Cleveland wedding before Russo. "I'm covered. I don't like dressing up."
"You're taking an oath and that's a big deal," Steggert agreed.
For a long time, Karr, upon meeting someone, would refer to Steggert as "Noa's other mom." She was never comfortable with the terms "girlfriend" or "partner." "Wife" sounds right, however.
Moreover, Karr has health insurance for the first time, on Steggert's plan.
Today, while Steggert works one of her numerous jobs, Karr has the responsibility of raising a whole new generation of risk-takers. They go everywhere, Karr said, from the museums to Indians games to their favorite haunt along Horseshoe Lake in Shaker Heights.
At that favorite spot, on a nippy yet sunny June day, it seems clear that the risk-taking genes have been passed on. Four-year-old Noa climbs to the top of a small boulder before falling off the rock and knocking over 1-year-old Jonah like a bowling pin. There are no tears – and the children don't stop. Noa goes back to climbing. Jonah toddles around. A family ethic perseveres.
After a lifetime of risk, one big risk – Steggert asking Karr out – has turned into a nearly 19-year union and now marriage.
"I think our meeting was beshert," Steggert said. "It's meant to be."