When Alan Silverman operated his business, Silverman's Discount Department Stores, he had a location in East Cleveland. Spending so much time in that environment, he noticed many families struggled to provide their children with clothing, shoes and school uniforms. 
This realization began his volunteering journey, which led him to create a nonprofit and collaborate with others.
CJN: Tell me about your volunteer activities.
Silverman: The biggest thing I still do is with Shoes and Clothes for Kids. Twenty-eight years ago, I started my own charity called Uniforms for Kids. When I had my own business, it was easy to operate the charity because I used my own staff to help me. 
After I retired, I did it for a year on my own and it was a lot of work. So, I merged with Shoes and Clothes for Kids. It came about because we had some meetings with the Cleveland Browns, who wanted to do something to help the Cleveland Metropolitan School District. The schools invited me because I was supplying uniforms to their students. Shoes and Clothes for Kids were invited because they were also supplying various products to Cleveland kids as well.
So, we met at the meeting and got to know one another. Following that, we merged.
I was also a founding board member and treasurer of the Cleveland Kids in Need Resource Center, which provided school supplies to teachers to help kids succeed in school. But, in 2017, we merged with Shoes and Clothes for Kids. Now, the organization provides school uniforms, shoes, clothes and school supplies to Cleveland students in need. 
The synergy made sense. We were all trying to serve the same kids. Now, we're making a difference. There is a significant improvement in school attendance after we provide students with shoes, clothes, uniforms and school supplies. It's made a difference as we remove these barriers to education for families living below the poverty line.
I also serve as the treasurer of Dunn Hardware, owned by my children, Abby and Jamie Stadlin. I go in a few hours every day and write the checks and handle insurance.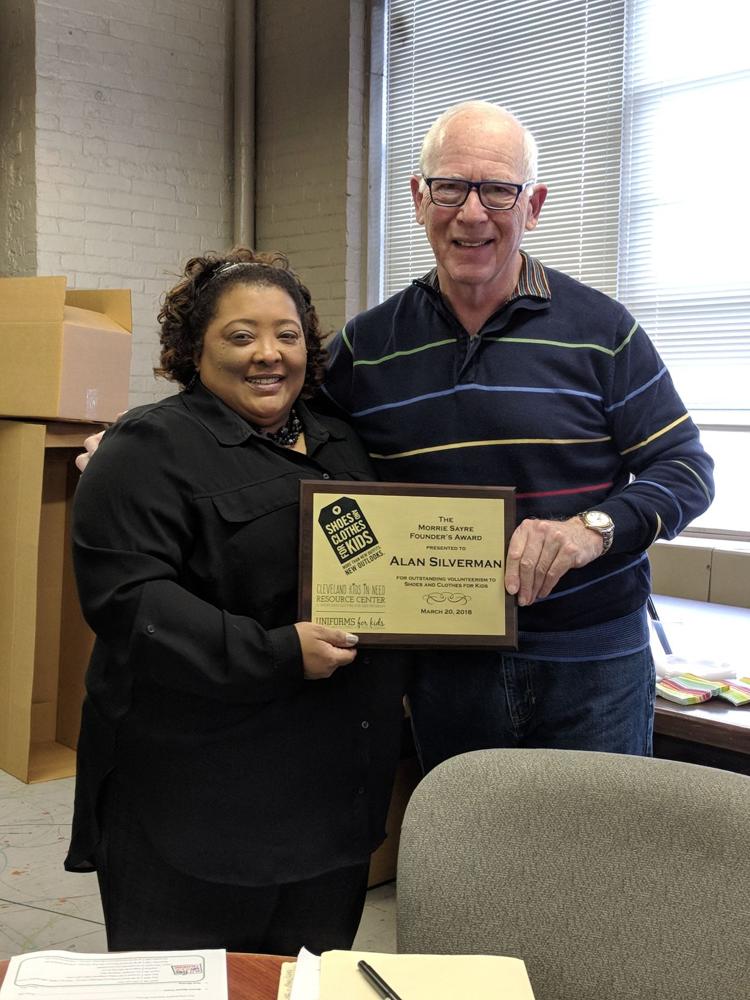 I have also won some awards, including being made a four-star general in the Cleveland Metropolitan School District's Army of Believers, Shoes and Clothes for Kids' Volunteer of the Year and The Christ Child Society's Man of the Year. I don't typically seek recognition, but the recognition tells us what we're doing is worthwhile.
CJN: Why did you decide to focus on helping children?
Silverman: In running our business for 43 years, our stores were running in neighborhoods with pockets of poverty. When you see people coming in to buy basic items and when the cashier rings it up and they don't have enough money and they have to start putting things back, it's terrible. These are the basic needs that suburbia doesn't think about. You realize how difficult it is. So, I assist in distributing school uniforms, underwear, shoes, socks and school supplies to students from those low-income households. Having these 'basic' needs lets the kids focus on learning.
CJN: How has volunteering affected your daily life?
Silverman: I've met a lot of new people. With Shoes and Clothes for Kids, they have a large board of committed people from various backgrounds, people that I would've never met any other way.
CJN: What inspired you to volunteer in the first place?
Silverman: The incidents at the store and dealing with customers, you see the need firsthand. That kind of inspired me to get involved. 
Also, my parents were always involved in Jewish welfare. I don't volunteer per-say, but my wife, Tammy, and I are supporters of the Jewish Federation of Cleveland. But, giving tzedakah goes back to my Sunday school days. So, all this was a natural thing. As you have more resources and time, it's only natural to direct yourself that way.
While Silverman said volunteering in the community is "very heartwarming," he finds himself finding joy in other parts of his life.
"I also took up golf and other hobbies as well," he explained. "I built a lily pond this summer too. I do a lot of things with my hands. I'm enjoying all those things, volunteering and otherwise."