Candace "Candy" Anker-Roehl spent her working years as a teacher, passing on knowledge and inspiring young lives in area schools.
Now, having been retired for nine years, Anker-Roehl spends her time giving back in a different way. She volunteers as a docent at the Maltz Museum of Jewish Heritage in Beachwood and participates in various committees at her temple, The Temple-Tifereth Israel in Beachwood. Anker-Roehl also mentors a Nepalese family.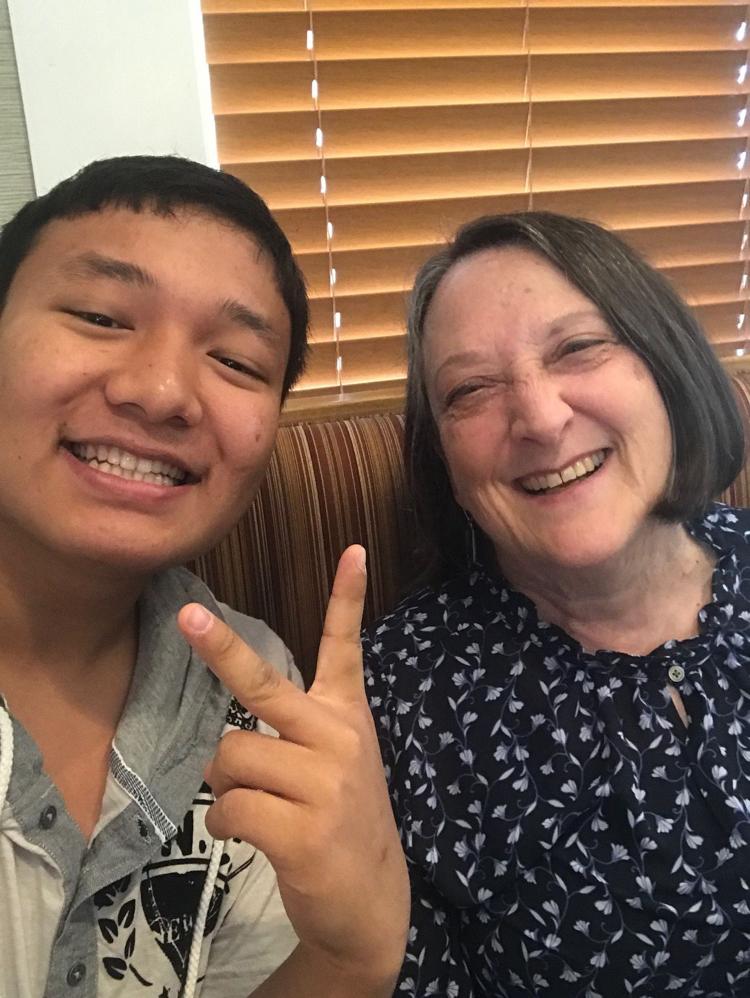 CJN: Why did you decide to get involved with the Maltz Museum?
Anker-Roehl: It was a natural transition. It was what I started doing when I first retired, summer of 2010. There was a lot of advertisement for new docents. It was a natural kind of transition with teaching. It allows me to be a teacher. And oddly, I thought I'd most like to work with young children, but it's not. It's the older kids and the general public that I love giving tours to now.
I like talking about the works in The Temple-Tifereth Israel Gallery, too. It's interesting to share a religion with non-Jewish people and people who are interested in the history and the Judeo-Christian ties we have.
It is interesting because it does give me a chance to share personal things with a variety of people and traditions. I like doing all those docent jobs. It's a chance for me to learn, too. When you retire, it's wonderful to be stimulated. I love history, especially biblical history.
CJN: What inspires your mentoring work?
Anker-Roehl: The Jewish Federation of Cleveland's IMPACT program matched me up to Sahil Angdembe and his family. His mother came to the U.S. from a Bhutanese refugee camp, which was in Nepal.
It is the only family I've ever mentored, but it started out because I wanted to do some volunteer work and share with others on a more personal level than teaching in a classroom. I didn't want to go back to a school.
CJN: What does the mentoring entail?
Anker-Roehl: I started out meeting with Sahil twice a week to tutor him, especially with American history and English. And that was helpful because the way kids learn is related to their culture. He learned by memorizing everything (in Nepal). But in the U.S., we teach children to think for themselves as part of studying and learning. So, he had a hard time making inferences and learning to respond to questions with his own ideas. 
But, we also become friends, the family and I. His mother asked me to help her learn how to drive. Sahil and I also had a lot of interesting cultural discussions and I got to watch him acculturate to American customs. So, I've seen him grow a whole lot.
He graduated from Cleveland Heights High School last month and he asked me to help him write essays for college applications. He'll be going to Miami University in the fall.
It's almost like I'm part of the family and it's lovely to be included.
CJN: How has community involvement impacted you?
Anker-Roehl: For one thing, volunteers need to enjoy what they are doing. They get as much out of it. I have gotten so much out of all my volunteering, especially with Sahil's family.
And I'm happy to share and give what I can. I also enjoy the kind of teaching that I do at the Maltz Museum. It's a chance to use my teaching skills as well as providing the information and fun. I love what I do, and if you love what you do, you love your life.
I want Sahil to know that Americans are welcoming and that the new ideas he brings here enriches our culture and makes life better for everyone. 
CJN: Was volunteerism something you were taught from a young age?
Anker-Roehl: Sharing what you have with those who have less is a core value of Judaism, and that is important to me. Not only to believe it and say it but to do it. Sharing myself is a good way to volunteer, that's all.
It's what we're taught and it's a two-way street. You get a lot and you give a lot.
Looking ahead, Anker-Roehl is excited to spend more time volunteering and getting to know the Angdembe family.
"I would like to maintain my relationship with Sahil and his family," she said. "And there is a lot of variety in the other programs I do, and a lot of cultural experiences that I am exposed to."
Anker-Roehl added retirement is exciting and is like a fresh start.
"What there is here is a community," she said. "When you retire, it's like starting over with new friends. You get to start a new community of people around you that you enjoy interacting with. And it's great, especially when there are a lot of learning experiences involved. I'm very happy with my life."