Long before Elizabeth (Lee) Warshawsky retired, she was a volunteer through and through. Out in her community while still punching the clock, it only made sense for her to continue that endeavor into her retirement.
"This is something I've always done," she said. "I've been fortunate, even though at various stages of my life I worked full time. But, I always found time to volunteer. There is always time. You can always make time to do a little more."
Now 15 years into retirement, Warshawsky volunteers with various community organizations. At the Cleveland Chesed Center in Cleveland Heights, she makes deliveries to community members that can't make it to the drive-thru service at the center.
"There are some families that have medical situations or without transport so they can't get food," she said. "So, about 10 to 15 of us make deliveries. With the snowstorm on Dec. 1, I drove on Nov. 30 to make the deliveries early so the food wasn't missed."
At her temple, The Temple-Tifereth Israel in Beachwood, she is involved with several committees, like the social action committee.
With The Friends of Art volunteer organization, she helps promote and support the department of art history and art at Case Western Reserve University in Cleveland through advocacy and educational activities. There, she said her favorite part is meeting new people, especially the young students.
Warshawsky also knits scarves for local students.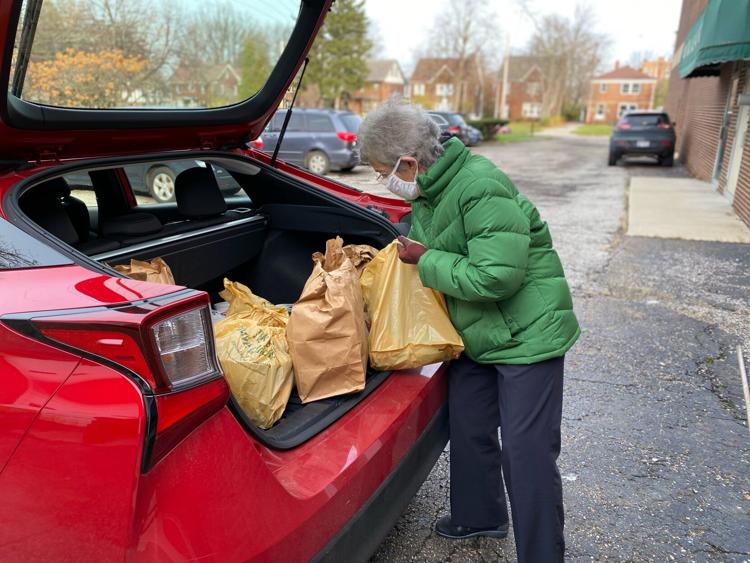 CJN: What made you choose these specific causes?
Warshawsky: I'm not a cook, but I've been doing food-related causes for years. I packed with the Greater Cleveland Food Bank for years because I realized very early on that the food bank has a great ability to leverage whatever you give them into an amazing amount of food for those who are hungry. I'm privileged as I've never been hungry, but I wanted to help people who are. When I was asked to work with the Chesed Center, I jumped on it because it is the same kind of work I've always done. But, it's safer as the food is in a cart and loaded into my car. And then I just go and deliver. There is less contact.
With The Friends of Art, I had a minor in fine arts in college. When the opportunity came, I met a wonderful woman at CWRU, Harriet Wadsworth, who worked in the development office. She and I hit it off, and I made my first gift to the university and I decided to direct it towards fine arts. I met with their department and asked where this money would best help – and they told me an organization like this would help greatly. It's 15 years old now, and it's been wonderful.
CJN: How has volunteering impacted your life in retirement?
Warshawsky: For me, it is all about the "other." It is not about me at all. It's about being able to help others and as a result, you feel so much better about yourself. There is nothing new about that. It is just what human beings do – we help each other. It makes me feel good. Doing good makes you feel good. It is that simple.
CJN: Was volunteering something you always saw yourself doing in retirement?
Warshawsky: I'm very aware that as I get older, I come from a family that has always volunteered and married into a family that has always volunteered. So, this is nothing new for me.
CJN: How does your faith factor into volunteering?
Warshawsky: Being Jewish has had a big thing to do with my involvement. I try my best to lead an ethical life. I've been fortunate in knowing a broad spectrum of people in the community, both Jews and gentiles. So, it has been important for me to do what is right and what I feel is right. It's just imperative for me to carry my weight. I know I need to do more and be more. I had all this goodness in my life, and it is only fair to put that back out into the world. I like to think that has happened, too.
Reflecting on the past year, Warshawsky said she hopes to see the end of the pandemic soon so she can safely get even more involved in her community.
"I hope to do more volunteer work, specifically in person," she said. "I look forward to spending time with my far-flung family and do some traveling. As long as the knees still bend, I have some other places I'd like to visit and things I'd like to do. And one of the most exciting things is you never know what is around the bend. So, I know my real golden years will come in ways I have no clue about. And I find that kind of exciting."