After retiring in 1993, Ellen Vendeland did a few things to pass the time. Whether that was reading or playing games with her friends, she wanted more.
That was when she decided to volunteer with the Hillcrest YMCA, teaching an aqua aerobics class – for 23 years. Though she doesn't teach classes anymore, her friends at the YMCA refer to her as "the matriarch" of aqua aerobics.
All the while doing that, and helping out at her synagogue whenever she can, Vendeland set her focus on one more thing – volunteering at the Maltz Museum of Jewish Heritage in Beachwood. She has been involved since the museum opened in 2005.
"I've been a volunteer at the museum since the day it opened, even before," she said. "I am a docent there and I lead tours for school-aged children and young adults, as well as adults seniors and church groups. You name it."
CJN: Why do you volunteer at the museum?
Vendeland: As a former teacher, I was a history and a geography teacher. And with me, teaching Sabbath and Sunday school, it was a natural thing. I enjoyed teaching and I like being with people. I like to inform them what is happening in the world yesterday, today and even tomorrow.
So, I've been with them so long because that is when they were screening for docents. There must have been something in the Jewish News or something. It was close to home and I thought it was something very doable.
As for my connection to this endeavor, I was born in Nazi Germany. My parents and I were refugees to the United States. So, this is all very personal to me. At that time, Jews were told to get out, take everything and anything except money and jewelry. So, my parents packed up our things and sent it to my dad's uncle who was going to help us. And when we got here, through uncle Joe, they rented an apartment in a Jewish-German enclave in Cleveland.
All these victims, that could've been me if it didn't work out. We did lose family in the Holocaust. My parents wrote their siblings to get out and go anywhere they could. Some survived, but others said they wouldn't leave. That the Nazis had to come and get them, so they did. So, of course, we lost so much.
It's important for me to do this opportunity because these stories need to be told.
CJN: Do you have a favorite volunteering memory?
Vendeland: As a matter of fact, I do. There was a non-Jewish couple who came from Akron. They came not once, or twice, but three different times when we had a special exhibit. They always asked for me. We developed a rapport. They loved Jewish people, and for whatever reason that was, I don't know or care. They had the right attitude. So, I remember them very clearly and dearly.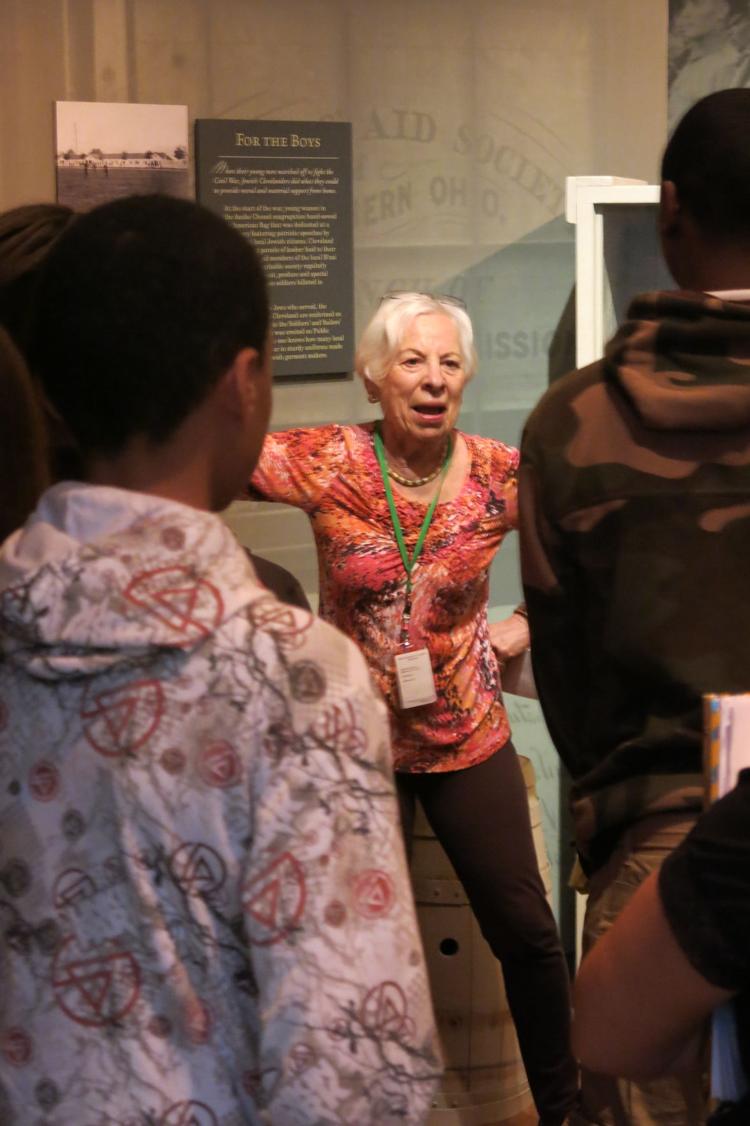 CJN: How does volunteering like this positively impact a community?
Vendeland: It's important not only for Jews to know their own history and to know what has happened through the ages, but also for non-Jews who don't really know anything. They need to recognize that, especially during the Holocaust, that Jews weren't meek and marched to the gas chambers on their own volition. There was always resistance no matter what they were forced to do. That was knowledge ingrained in my generation and my parent's generation. I don't know about generations afterwards, because when you ask them questions, they don't understand or know. That's sad. Nothing is too harsh or too extreme to share.
So, this is an important role to fill. It's an important role to me especially, and it's very gratifying to do whatever I can to help the cause. As an educator by trade, I want to impart whatever knowledge I have.
CJN: Why should others volunteer during their retirement?
Vendeland: Let me put it this way, I have never said the words "I'm bored." I think you hear that a lot with retirees, that they don't know what to do with themselves. Rather than sitting at home and looking at four walls, get out and help others. It'll make you feel better in the long-run.
When she isn't volunteering, Vendeland is going on cruise trips with her husband. She said they've gone on at least 50 cruises to places like Europe, Asia, Japan, Hong Kong, Australia and New Zealand.
"There is always time and room for one more," she added. "But, I want to do this as long as I can, mentally and physically. This is something I want to continue."