Jackie Wiesenthal said she always has considered herself a behind-the-scenes-type of person with a passion for helping others. The Lyndhurst resident and Congregation Shaarey Tikvah member's volunteer efforts revolve around history as a special education instructor or her synagogue.
"Within Shaarey Tikvah, I'm kind of a behind the scenes person for the Face to Face Holocaust program," she said. "When I retired, I started out as a docent. That was a twice-a-week commitment. I wanted to have some flexibility to do other things and not to be tied down to just that."
Wiesenthal said the director of volunteers recognized that she had a van and could help gathering supplies and snacks for the students who visit the Face to Face program. She also then helped facilitate creating the memory bags with an adult day program at Menorah Park.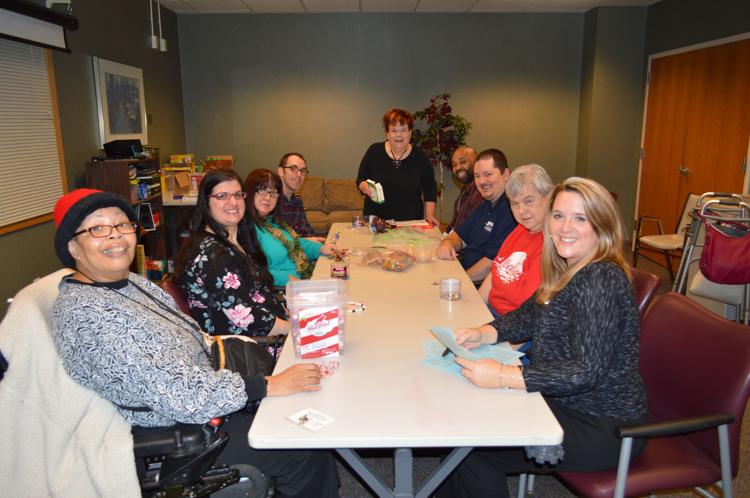 CJN: Along with your volunteer work with Face to Face, where else to you volunteer?
Wiesenthal: So, when Face to Face first started, the little bags that were done were made in house. It was a big job to keep going, and previous to me, they found that Menorah Park had their "Looking Ahead" program, which was a re-employment program for those suffering from brain injuries. I liked that idea because they were young adults and they would sit down once a week and put the bags together for us.
That program continued into Club Fusion. That's an activity that some of these people have been doing for many years and some new people have come too. It's a nice time to feel good. I think that's probably the most beneficial use of our time and their time at the adult day program.
I also assemble and mail out Passover boxes to our college students. They are full of Passover treats and we send them to college students that will be away from home during the holiday. It helps the students get the home feeling while they are away because some of them might not have access to Passover treats in their area.
I am also a surrogate parent for children in the foster care system. These kids have special learning needs and usually their foster parent can't sign off on IEP paperwork. Individual teachers contact me and set up the meeting just to make sure there is an extra set of eyes. I do this about six to eight times a year.
CJN: What inspired you to volunteer at these places? Was is it your career?
Wiesenthal: I would say so. I just wasn't ready to give it up, especially at the board of disabilities. I like what I do for them and I especially like the comradery and the involvement with young adults at Club Fusion. A few years ago, there was an article about Menorah Park's Looking Ahead program and I would like (Club Fusion) to become something like that.
I think doing what I did (in my career) sparked an interest in volunteering. I remember being involved with my Girl Scouts troop in middle school as well. I don't think my volunteering necessarily started when I retired, but it was developed in areas that are important to me – like Face to Face and surrogate parenting. 
CJN: What does volunteering mean to you? Has that view changed?
Wiesenthal: I wouldn't say it changed, but it has become more diverse civically. If something else came along that sparked my interest, I'd love to go further to something else. But basically, I'm not really tied down anywhere and that gives me flexibility.
If it became too much, I don't know where I'd cut something – or if I'd even want to. I just feel as though volunteering is me. It's part of me. I think I am a bit busier now than when I was working, but it's doing what I care about.
Wiesenthal said volunteering always will be part of her and that it's her future.
"I don't foresee myself slowing down, maybe even adding some new activities," she said. "I leave myself open for new opportunities and don't see myself stopping anytime soon."