Inspired by her lifelong experience with children, family and food, Leslie Kleinman spends her retirement channeling it all.
Volunteering at places like The First Tee of Cleveland, National Council of Jewish Women/Cleveland's Open Table foster child program, the Cleveland Metropolitan School District and Greater Cleveland Congregations, Kleinman explained it all started at home.
"Somehow, cooking has ever been a place of fun, exploration and a way to give for me," she said. "It was in my DNA from my dad's mother. Because of that, I began cooking with my great-nephews, nieces and godchildren when they were very young."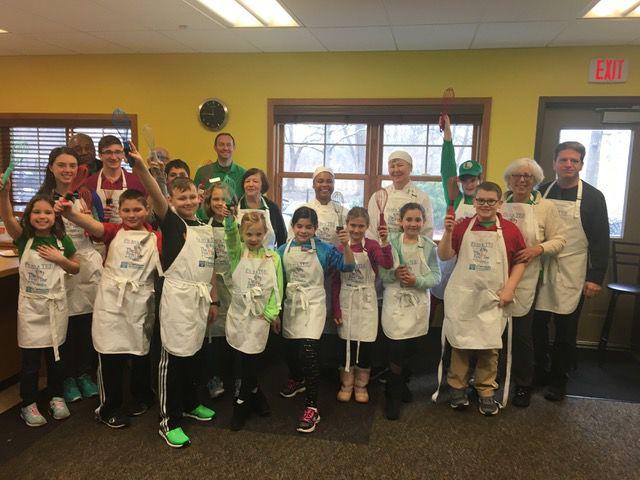 From matzah balls and charoset to birthday cakes and Chanukah cookies, she said cooking and its relationship to her loved ones motivates her.
"Cooking with (my family) became the building block to a lot of my programs," she said.
CJN: Why did you want to do community work in retirement?
Kleinman: I was raised in a home that lived by the old saying of, "To those who have been given much, there is a sense of a need to give back." The family I was raised with has done all that on both sides.
The sense of joy I get when I am able to see young people reach their potential and see that spark, it's amazing. 
I originally started as a teacher, so my teaching passion is very that – watching and waiting for that "aha" moment. I love being present in those moments.
All these different organizations that I choose provide that kind of opportunity for young people to do that.
CJN: What inspires your continued work with children?
Kleinman: Of all the populace, it is the most hopeful. It's the place where we create new opportunities. It's within that population that the world grows, heals and creates new things. So, that enables us to see fresh ideas.
I've always loved the line in the Jewish prayer book, "If we could all live forever, it would mean there would never be a new idea or another generation to bringeth fresh ideas and move forward." That is why youth is so important to me.
Also, it keeps me going. The idea of not being in contact with the next generation is not ideal for me. I don't have grandchildren, so being around the next generation is critical. I wish more seniors would participate in programs with young people. It gives to them and returns to us in equal quantities.
CJN: Why is volunteering important?
Kleinman: It's hugely important. It's vital in terms of bringing experiences and learning about different populations so we don't live in a bubble.
One of the things about volunteering is that you get out of your bubble. You're working with populations that you're not ordinarily a part of. That is something that is terribly missing in today's world.
CJN: Do you have a favorite volunteering memory?
Kleinman: At First Tee, there was a young woman whom I met many years ago, she came to the program because her mother said she had to. ... There was a moment when she tried (something differently) and it worked. I saw that light turn on. She would tell me, to this day, that moment changed the course of her life.
It was a silly thing, telling her to try something a different way than she'd done before. But, she did it and got a positive response. That positive response led her to be willing to try that in all kinds of areas.
That spark is what keeps me trying to find ways to get kids to do that in whatever I'm doing. That interaction keeps me wanting more.
As she continues her retirement journey, Kleinman still has much she wants to do. With volunteering and her love for traveling, she's always busy. 
"There never seems to be enough time for me," she said. "Boredom is something I know nothing about. Anyone can do this stuff. It's all over Cleveland, you just have to go out and find it."