When asked what motivates her to volunteer, Marilyn Bilsky – as she baked challah – said everything revolves around food. 
Her father was in the restaurant business and knew what it was like to grow up without food, and made sure his children knew the power food held.
"He would deliver food anonymously to people in our neighborhood," she said. "So, food has a strong theme in my life."
Keeping these lessons close to her heart, Bilsky has a hand in various local organizations, whether it's Menorah Park or in the kitchen at Anshe Chesed Fairmount Temple in Beachwood, where she's a member.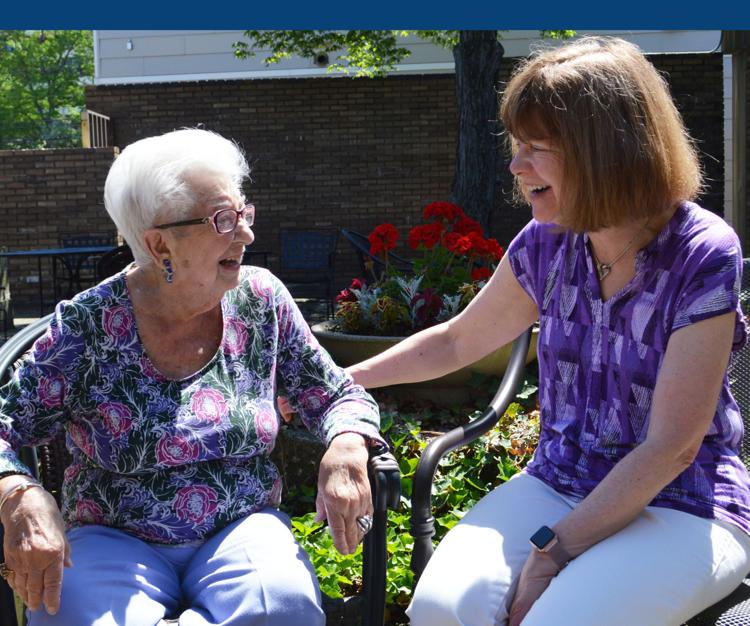 CJN: Tell me about your volunteer endeavors.
Bilsky: I just celebrated 35 years at Menorah Park. Short of marriage and childbearing, that is my longest commitment. It is a continual growing experience. It's all about what I've learned from who I've been with. 
I also do simple things like baking with them. The stories it evokes are amazing. But now, one of my favorite activities is being in the Menorah Park Singers. Music, no matter the level of cognitive ability, just shines through. (Residents) don't have to be specifically paying attention, but they find themselves tapping their feet to the music. Music gets to our spirit.
As for my temple, I've been in Anshe Chesed Fairmount Temple's sisterhood (Women of Fairmount Temple) for quite some time now. I have been president twice in different stages of my life. I've helped in the gift shop and the community kitchen. We prepare cookies to be delivered to families observing shiva or cooking meals for people who have left the hospital. It is a cooking experience that engages people in conversation and fulfills a mitzvah.
I also volunteer with my family at the Greater Cleveland Food Bank. Every time I hear of a school closing, I think those kids aren't going to eat. I have also volunteered through the (Jewish) Federation (of Cleveland) during winter break to serve lunch to kids who also need to eat.
CJN: What inspired you to volunteer to Menorah Park?
Bilsky: It started with a phone call to join the then-Women's Association Telethon. I was 36 years old. I realized I had never even been in the building. I heard stories of my great-grandmother, who passed at Menorah Park's precursor.
I was going by there and there was a blood drive, which they do yearly. This was 1983. I thought, "Gee, I joined this association, but what exactly did I join?" I came to donate blood and found so much vibrancy. I can still see the happy faces of all those people. So, I contacted them and decided that I would do this.
It started out as simple as entering the building. The rest is history. 
As for why I stay, if you meet someone and engage with them and see them decline, you realize they still deserve attention. They are human. People sometimes talk to the person who is pushing a wheelchair rather than the person in the chair. We, as a community, we try to treat people with the same dignity we want. That is why I stay.
CJN: Have you always been inclined to help your community?
Bilsky: I keep thinking a lot of what I'm doing is a direct result of my grandmother. She would give to charity and to people even when she was the one who needed charity herself. The sense of no matter what you have or how little you have, that you share that with others is important. It's like I've had the opportunity to do what my grandmother wasn't able to do.
I don't know if I appreciated how much I learned from her at the time, but in a way, I'm paying forward her lessons. And seeing it reflected in my own sons, I think that is what it is all about.
CJN: What pushes you to keep going?
Bilsky: I've gained so much. I love the people I volunteer with and the people I help. From the laughably shy kid I was to now, I have learned if you feel something, express it. If you think a nice thought and don't share, it doesn't make a difference. 
As far as specific to Menorah Park, I like to think that I treat people the way I'd like to be treated if I was in their situation. As long as you're living and breathing, you're part of the fabric of the community. I want to make sure people know that.
Outside of volunteering, Bilsky has an "artsy streak" and loves to bake and create. She once thought she was going to be a librarian. Life had other plans.  
"I've never regretted anything I've ever studied or done. It's all been amazing for me," she said. "I've met a lot of great people in my life. I'm not bored and I can't imagine ever being bored. I value time and I run out of it before I can finish projects. I would never want to change what I'm doing. I'm fulfilled by my volunteering and hobbies. Every day you meet a new person and find a commonality. That in itself is amazing."