Natalie Barr has never let her busy life get the best of her. No matter how many projects she's taking on, whether it is volunteering or helping a loved one cook for an event, Barr always finds the time.
Volunteering at organizations like the American Cancer Society, The Gathering Place and her synagogue, Congregation Shaarey Tikvah in Beachwood, it's hard to get Barr in one place for very long before she's off to her next activity or lunch with friends.
CJN: Tell me about your volunteer activities.
Barr: I was a volunteer for the American Cancer Society, where I visited women with breast cancer. After working with them, I started volunteering at The Gathering Place. I also used to volunteer for the Community Partnership on Aging, where I facilitated their trips. I also volunteer at my synagogue in the kitchen. At R.H. Myers Apartments, I volunteer in the lunchroom. I also used to do a baking class at the apartments for many years called "Baking and Shaking with Natalie."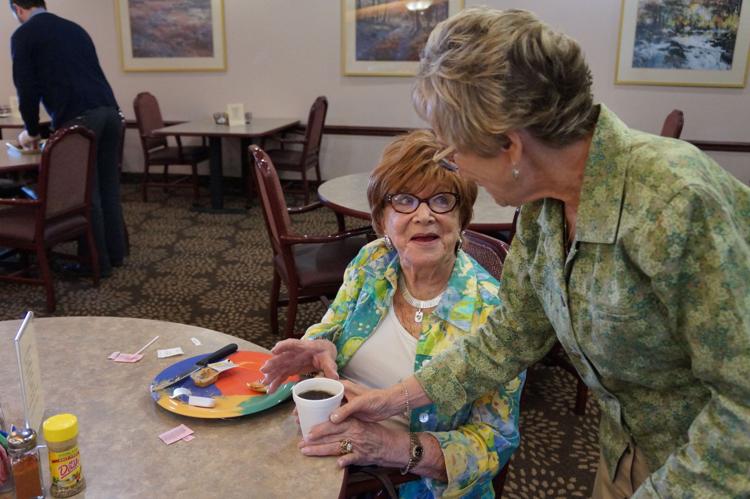 CJN: Why is cancer outreach and education important to you?
Barr: I'm a breast cancer survivor and had a modified radical mastectomy. I felt that I wanted to give back because of that. The thing is, I had such a good outcome. When you look at me, you can't tell anything happened. I thought to help others going through this was beneficial, and it is because they see that being alive and well is possible. I spend my time talking with them, and I hope I touched the lives of many women.
CJN: Have you always volunteered?
Barr: I've done it for a long time, but the only problem before retirement was that I was working long hours every day. I had a family and a full-time job, and it was hard to get away. My personality led me to volunteer when I had the time. Retirement has really freed up my time and given me the ability to finally give back in a larger capacity. I am one to volunteer and help out when I can, even back then with my busy schedule.
CJN: Has volunteering changed the way you see retirement?
Barr: It makes me happy. I love giving and doing things to help other people. It's gratifying to volunteer. It fills a void in my schedule because I live alone. I might as well do something constructive with my time instead of sitting around doing nothing. I feel as though volunteering gives me a purpose in life. I'm a total people person. 
CJN: What is your favorite volunteering memory?
Barr: I'm not sure if it's my favorite, but it sticks out a lot. I remember one time this woman asked me how much she owed me after I sat down with her and spoke with her about my experience with cancer. I looked at her, laughed and told her she didn't owe me anything. It was my choice to visit with her. In general, it made me feel good that somebody who may have been very down felt better after I spoke with them. They see me walking around and OK, and they feel as though they have a chance of survival too.
Barr said as long as she's able and health permitting, she wants to continue volunteering. 
"I'm still living in my own house and taking care of my house," she said. "I don't have anyone at home anymore because I'm a widow. I don't have any plans to change my volunteer status."
Besides volunteering, Barr said she finds joy in the simple things like spending time with her friends, having company over and listening to music. She also likes to attend events that have to do with interfaith, as her family has a few interfaith marriages.
"I'm very busy and that's the way I like it," she said. "I don't like sitting around. I always say that I need an appointment book now. When I worked, I didn't. There wasn't much in my schedule to write down. I enjoy it, being busy. It's fun for me. I have a great family and a great life. I wouldn't trade any of it away."