Sydelle Zinn had a busy working life, serving as a medical technologist in clinical and research labs, and later switching to administrative work as a budget analyst for the National Cancer Institute. While working there, she met her husband and moved to New Orleans when he accepted a position at Tulane University. Following a job offer from Case Western Reserve University, the couple moved to Cleveland in 2000.
"Neither one of us are from this area at all," she said. "I grew up in Charleston (S.C.) and him in Brookline, Mass., and we met in Washington, D.C."
After moving around for their careers, Zinn retired in 2008, finding that she had a lot of time to spare. Naturally, she said, she felt the call to give back.
Involved with the Maltz Museum of Jewish Heritage as a docent, Zinn also lends her skills to her synagogue, Park Synagogue, with their Mitzvah Meals program volunteering to cook meals and freeze them for members in need. With NCJW/Cleveland, she volunteers with its eighth–grade book group.
"I'm able to share my love of reading with young girls," she said. "We give them books and then talk about them a month later, like a book club. They're learning about how to read a book and really think about it. So, I've enjoyed that so far."
CJN: How did you become involved in these activities?
Zinn: With the Maltz Museum, I've always liked history and thought it was something I might enjoy. When I had been to the museum myself before volunteering, I thought it was well put together. So, I thought I would try it. You know, when you first start something, you'll never know if you'll like it. But, I feel like it has all worked out very well.
As for NCJW, I had other friends who had been volunteers there. They seemed to like it and I looked online to see what activities they had, and they had a large variety. I thought they did great things for the community and not just the Jewish community.
CJN: How does your volunteer work impact the community?
Zinn: For those of us who volunteer, many of us are retired, or like for NCJW, there may be some stay-at-home moms who have time during the day. It really adds another element to all of those organizations that always need help. It's hard for them to find it. ... It's hard for nonprofits to get money and it's a difficult time in our society for them. There are more nonprofits now, too, but they are all serving the greater good. For me, I feel like I'm doing something for the community, but I'm also doing something for me. I get as much as I think I give. For example, when I give tours at the Maltz, I often run into people who know something I don't know. It just adds to my life and understanding of the world.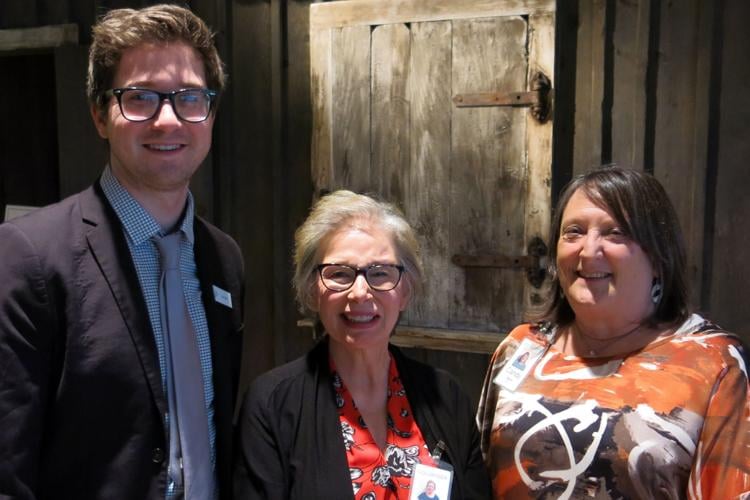 CJN: What made you want to volunteer in retirement?
Zinn: Actually, I did a lot more volunteering when I was single and living and working in Washington, D.C. I did a lot there and that became a sort of social circle. Volunteering can not only make you feel like you did something good in your community, but it can also add to your life by introducing you to different people. Whatever time I had, I would try to do something that would just give back to the community. I just think it's a good thing, it's how I am.
CJN: What has been the best part of your volunteering?
Zinn: I would say at the Maltz, being a docent and being part of some of the special exhibits they have. Specifically, the "This Light of Ours: Activist Photographers of the Civil Rights Movement," which was a photographic exhibit from 1964 of the effort to register African-Americans to vote in the south. I heard about it and I was certainly caught in the middle of it even though I was only about 12 at the time. So, I didn't get exactly what was going on. To me, as a 12-year-old, I thought, "Of course, everyone should have the right to vote, so what's the problem?" But in hindsight, looking at this exhibit and talking to the curator, you learn even more. I thought it was such a deep, worthwhile and powerful exhibit.
Also, through one of the tours, people were going through and seeing the pictures, remembering what they went through. We were able to talk about that part of our lives. It's the interaction of meeting different people and learning more things I didn't know before.
Throughout her life and community involvement, Zinn said no matter where she lived, she was inspired by the idea of tikkun olam, or repairing the world.
"Trying to save one person by doing something good," she explained. "I believe in the power that one person can have in our world if done properly. There is a whole group of people who are really avid volunteers, people who strongly believe in things. We're no longer in the workforce, but this is another way to still do something for our community and ourselves."