The son of a doctor, Harlan Diamond credited a restaurateur uncle with giving him his first break in the business.
With partner Bill Metz, Sam Diamond owned seven Tasty Shops in Greater Cleveland, and he hired Harlan Diamond to be a counter man during Harlan Diamond's college days.
On his first day on the job, he drank the last milk available to soothe his ulcers, leaving none for a customer's milkshake. The manager fired him.
His uncle placed him at a different shop, where Diamond later became head dishwasher.
"And then I asked my uncle if I can become a pot washer," Diamond said. "And he said, 'What do you mean a pot washer? Who wants to wash pots?'"
Diamond said he wanted to learn about the business and that cooks trained pot washers, not waiters.
"And next thing you know, I was going with him on all of his appointments, setting up parties, booking business," Diamond said. "He taught me how to order and how to work the worksheets."
His uncle, he said, taught him not to compromise on quality or quality of service.
"One of the things I learned from my uncle," he said. "You quote a price. And the price then goes out the window. You do the party. No matter what the party is, no matter what you quoted, you do the party to the best of your ability."
Diamond, who stood at the helm of Executive Caterers at Landerhaven in Mayfield Heights, sold the building after 70 years in the catering business. Driftwood Restaurants & Catering bought the building and site Aug. 31 for $2.5 million in a deal that did not include the catering business.
From his Bratenahl apartment, with views of his beloved native city to the west and Lake Erie to the north, he recently spoke to the Cleveland Jewish News about his career.
Early years and first job
Diamond had other jobs prior to his uncle's restaurant. His first was shoveling snow and mowing lawns in University Heights and Shaker Heights, because the tips were better.
His second was as a page at the Cleveland Heights-University Heights library system. He was good enough to be loaned to the main branch of the Cleveland Public Library, a place he called magical.
He also worked for Korman's Restaurant on East 9th Street in Cleveland as a captain.
Diamond's first years were spent in the Glenville neighborhood in his maternal grandmother's home, which housed three families. In his early childhood during the Depression, Diamond's grandmother, Matilda Rosen, fed most of the people on the street dinner in shifts lasting from 6 p.m. to midnight.
His parents both grew up on that street, South Boulevard, and had known each other as children.
Diamond liked all of his jobs and has always liked working, partly because of the independence it afforded him.
He celebrated his bar mitzvah at the then-new Park Synagogue in Cleveland Heights in 1947. After graduating from Cleveland Heights High School, he studied management at Florida State University in Tallahassee, Fla., for a single semester. A bar fight in which he pulled a knife from the back of a Marine ended his Florida studies.
Marriage and divorce
He returned home and studied psychology at Western Reserve University in Cleveland and got a job catering, again with his uncle at Park Synagogue, where he spotted a woman he described as cute by the name of Sue Weinstein. The two were married in 1958 and had a daughter, Michelle. They divorced about five years later. Diamond married a second time, Harriet Bubis, a second marriage for both, and divorced in 1973.
He had a 30-year companion in Jane Belsito, who was vice president of catering at Executive Caterers. She died in 2010.
Michelle married Jim Baker and lives in Fort Collins, Colo. The couple has two sons giving Diamond two grandsons, Cameron and Andy.
How he started
Diamond began his first catering business from his mother's basement on Channing Road in University Heights. His mother, Babe Diamond, kicked him out of the house and into the garage because his business was not kosher. Decades later, she helped out her son in business, and he quipped she was a better truck driver than he.
"Let's put it this way: I was in the industry for 70 years," he said. "Sixty years, I was in business for myself."
With two business partners, Phil Kaufman and Willie Kahn, both seasoned bar and restaurant owners, the three operated Park Lane Villa on East 107th Street as a bar, restaurant and catering operation.
"I think we put up $400 each or $600 each, I can't remember, and we went in business and the rest is history," Diamond said.
In 1960, Diamond moved the catering operation to the Executive Club on Chagrin Boulevard in Woodmere. He called the company Executive Caterers, holding events on site.
Later, when the owners of the building ran into financial straits, he bought the building from the bank.
At the health facilities which the Executive Club had at the time, members of the Cleveland Cavaliers, Cleveland Indians and Cleveland Browns worked out, and Diamond said he brought the Nautilus system to Cleveland.
On a parallel track, Diamond was catering at many synagogues in Cleveland, but stopped doing that catering after buying Landerhaven Country Club in Mayfield Heights in 1983.
Purchasing Landerhaven
When he bought Landerhaven, Diamond said the venue nearly sunk him.
"Landerhaven was never a success," he said of the country club. "All the previous operators there went broke. We were on the verge of it too."
As configured, he said, Landerhaven had too little usable space for a caterer to turn a profit.
He asked the city of Mayfield Heights for permission to reconfigure the property and ended up in court over the zoning.
"We showed the court that we can take down 5,000 square feet and add 30,000 square feet and we can have a building that would be profitable," he said.
He won and built that venue.
In 1986, the groundbreaking was held for the multimillion dollar expansion Diamond envisioned, which included Landerhaven's ballroom, a flexible space with a movable wall that seats close to a thousand.
"We broke the zoning out there," said Diamond, leading to development of the surrounding corporate park.
In 1989, the Mayfield Heights mayor's advisory committee awarded Executive Caterers at Landerhaven a beautification award for landscaping features, including a pond and waterfall at what became the destination banquet hall.
Kosher catering
It was a call from then-Jewish Federation of Cleveland President Stephen H. Hoffman that spurred Diamond to re-enter kosher catering about 15 to 20 years ago.
"I started as a kosher caterer," he said. "I came from a kosher home. I grew up in my grandmother's house. That was kosher. My mother kept a kosher home after my grandmother passed away. I knew kashruth and I respected it."
Diamond said he initially didn't do kosher catering at Landerhaven because he did not keep shomer Shabbos, meaning he worked during the Sabbath.
Hoffman told Diamond, "We need you to become a kosher caterer. If you'd like, we'll finance it," recalled Diamond, adding he turned down the offer to underwrite the cost, but that he would appreciate business referrals.
To cater on site, Diamond formed a company called L'echaim Kosher Caterers, under supervision of Reliable Kashruth. He redesigned one of the kitchens at Landerhaven, putting all of the equipment on wheels and installing quick disconnects. Then he bought a second set of equipment with the same features for the kosher operation that was stored in a trailer outside the kitchen.
"They had great patience," he said of the rabbis from Telshe Yeshiva in Wickliffe, which supervised the operation. "They bothered to train my people. They were willing to give the time and attention."
Kosher events were never a majority of Landerhaven's business, but they made up 15% to 20% at some points, Diamond said, with many events taking place on weekdays and Sundays, which helped fill the calendar for the banquet hall.
Celebrity status
As he began to rub elbows with politicians, from mayors to presidents, Diamond became something of a celebrity himself – sometimes being asked to emcee and as the years went by, racking up honors and awards that fill a memory book. Among them, he received the Lifetime Achievement Award by the Cleveland Jewish News at the inaugural CJN 18 Difference Makers event, at Landerhaven, in 2015.
His Irish wolfhounds became mascots attaining celebrity status as well, with the last, Connor, garnering invitations to weddings.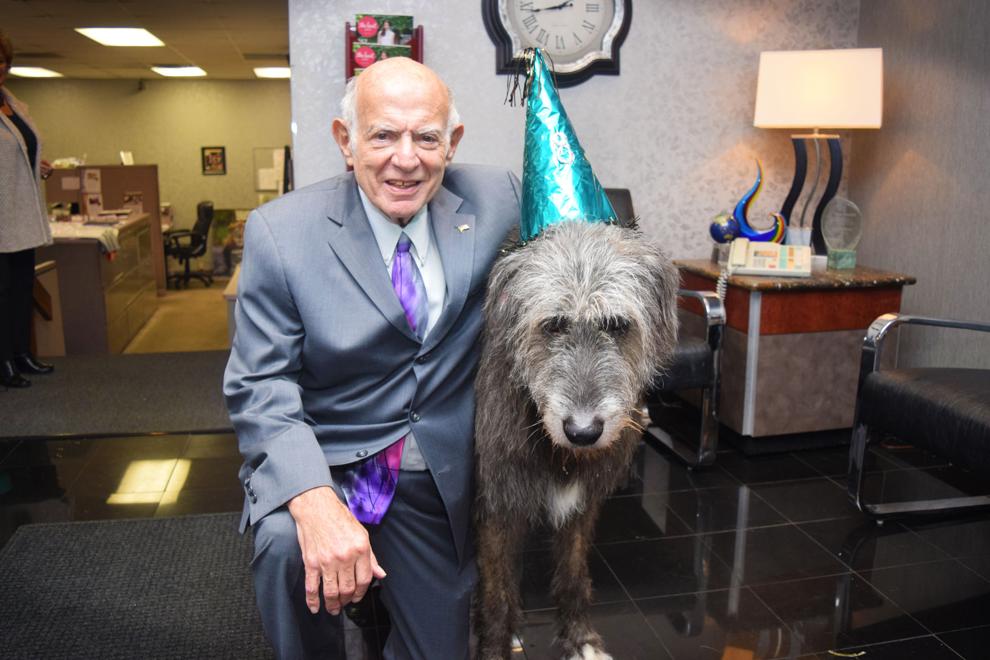 Among his favorite people: former U.S. Sen. George Voinovich and his family.
"He's a super human being, a great public servant, a man of great integrity and he had a super family. And he was my personal friend," Diamond said of Voinovich, who died in 2016.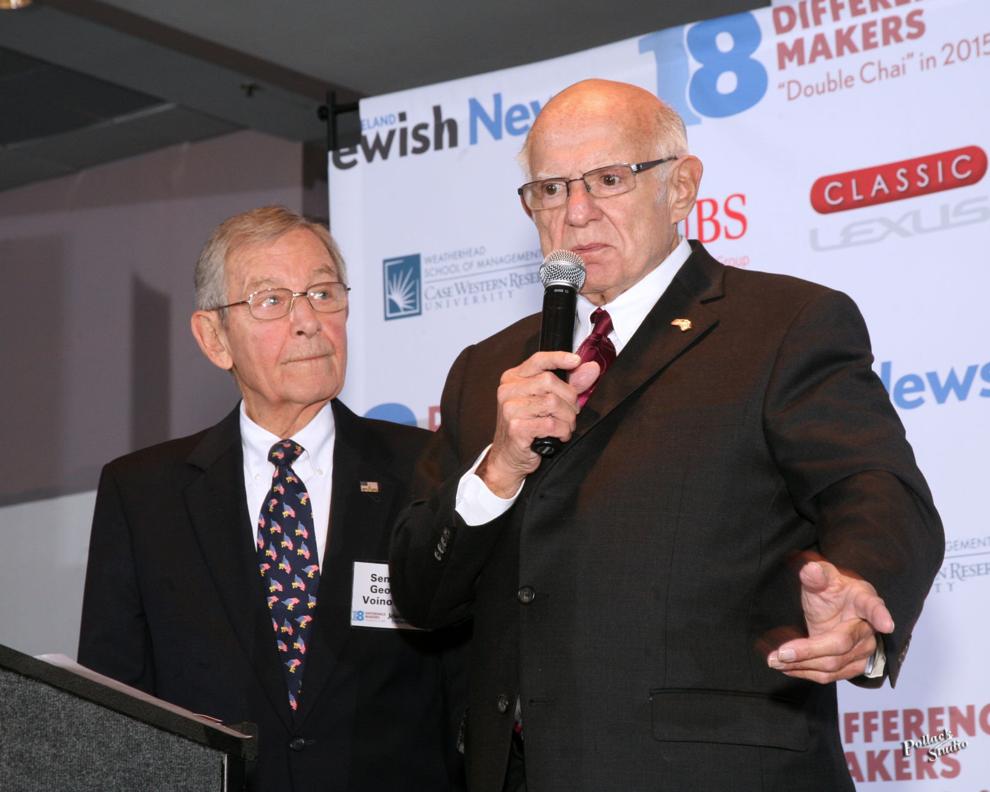 In addition, he named former Cleveland Mayors Carl Stokes, Michael White and Jane Campbell and Mayor Frank G. Jackson, former Cleveland City Council President George Forbes as likable personalities.
He also gave high marks to former President Bill Clinton, who liked Executive Caterers' chocolate chip cookies.
"The person I thought was the coolest: Laura Bush," he said. "She was not only beautiful, she was smart. She was classy. She had dignity. And she held up a whole reception line until I got there so I could be in it too. How can you not love her?"
A brush with the law
Diamond had one public brush with the law in his career.
According to investigators, he illegally aided former Cuyahoga County Commissioner Jimmy Dimora in billing costs from a 2006 party for Dimora's wife as part of an invoice for a campaign fundraising brunch.
He pleaded guilty to mail fraud in U.S. District Court in Akron and was sentenced to one year of probation.
"By law, I couldn't have liquor licenses in my name, and I had four or five of them," he said. "And Ohio Department of Liquor Control changed the law ... to accommodate me. That's pretty cool. They were outraged by the results too."
Cleveland and beyond
Diamond calls himself a caterer, not a businessman, and he was sought after for off-site catering at the openings of buildings in downtown Cleveland and catered at the Governor's Mansion in Columbus and beyond.
In addition to Landerhaven, he owned two party centers in central Ohio, Stoney Creek Country Club in Columbus and Aladdin Shrine Center in Grove City.
Diamond also designed corporate hospitality for the auto racing industry, building the chalet village concept at Cleveland's Grand Prix auto racing events at Burke Lakefront Airport, which served 40,000 people in the 1980s. He held licenses in seven states to cater auto racing events.
Employee loyalty
Diamond downplays his own role and credits the people he worked with at Executive Caterers – he said he did not create elegance.
"My people did," he said. "Don't forget I basically had a female-run company. Women have a taste for that."
In the 1960s, Executive Caterers became a union catering company. Diamond said he offered employees benefits to those who averaged 30 hours a week during the busy season and continued that support during the slow season.
Many employees stayed for decades and some brought their children and grandchildren into the business.
"I'm proud of all the generations of people that worked for us," he said. "People bring their great-grandson to introduce him to me. I'm pretty proud of that. We've had generations of families work for us."
His employees, he said, really made the business what it was.
"I'm not as nice as they are," he said. "I'm not as honorable as they are. And I'm not as honest as they are. There's a whole world of people who are really close to being perfect as possible. You got to get lucky to find 'em."