Can business and economic growth be the great equalizer among different religious and ethnic groups?
If the turnout and sponsorships for the recent "Honoring Lauren Simmons, the Lone Woman on Wall Street: Empowering Minorities" event is any indication, then the answer is a resounding "yes." An estimated 200 young professionals gathered in Center City Philadelphia on July 31 for the program.
"It was an amazing event. Seeing all the people there and hearing about how they overcame different obstacles or stereotypes—be it gender, race, age or background—was just inspiring," said Tova Herskovitz, 28, founder of the Branding Stylist, a digital-marketing company and an Orthodox Jew from New Jersey who was one of the night's speakers. "The grit and determination people had, instead of just accepting when people said 'You are reaching too high,' showed real resolve."
Co-sponsored by the Orthodox Jewish Chamber of Commerce, the African American Chamber of Commerce, Modern Wealth Concepts Executive Services Group and the Hispanic Chamber of Commerce, the program included a panel discussion on women in business and a talk by—and salute to—Lauren Simmons, who at 23 is the youngest woman full-time stockbroker on the New York Stock Exchange.
The inclusion of an Orthodox Jewish group may seem surprising given the community's insular lifestyle, but for event organizer Jen Montague, executive director of Modern Wealth Concepts Executive Services Group, their participation made perfect sense.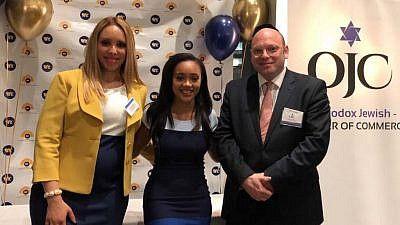 Montague had dreamed up the event just a few weeks ago after reading about the success of Simmons, an African-American, at the NYSE. She knew it would be of interest to people within her own network, but wondered if the message might resonate with others as well.
'Build bridges between people'
It certainly did for the Orthodox Jewish Chamber of Commerce, whose stated mission is to build bridges and empower business owners, according to founder and CEO Duvi Honig.
"Our mission is to give and share and partner with others—like that, we are all stronger," he explains. "We believe what unites us is stronger than what divides us. We are team players, and are always looking to incorporate and include new affiliations and partnerships with everyone, even those beyond our own circles, and empower them.
"It's so important for people who are successful to share how they got there," says the 43-year-old.
The origins of the Orthodox Jewish Chamber of Commerce date back to the 2009 recession, when Honig saw many of his neighbors in Lakewood, N.J., a town whose residents are nearly 50 percent Orthodox Jews, losing their jobs.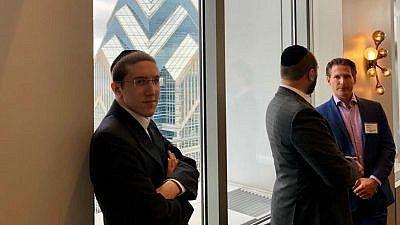 "I realized that we had to bring as many resources our way and build bridges between people," he recalls. He started Parnassah Network to give people the tools to network, job hunt and more.
Its success gave way to the creation of the Orthodox Jewish Chamber of Commerce, which includes divisions focused on health and medicine, real estate and women in the workplace.
The group's largest networking event is the annual J-Biz Expo. Organizers estimate that the most recent expo, held in June, drew 3,000 people from across the business spectrum.
'They look at us in a positive light'
OJCC has more events in the works that will reach out to members of other faiths, ethnicities and groups. Among them is the New York Business Conference & Expo on Sept. 21 in Midtown Manhattan, which is being held in conjunction with the Greater New York Chamber of Commerce.
The organization was also instrumental in getting legislation introduced in the New Jersey State Senate that will designate the second Monday in May as "New Jersey Economic Development Day." It's geared to encourage state officials, business leaders and local residents to organize job fairs, business conferences to promote "economic resiliency," as well as "streamline economic development programs to empower communities" and foster economic growth.
"It's a real Kiddush Hashem [sanctification of G-d's name] to be able to give back and help other groups," says Honig. "Helping to empower other people, other communities and to acknowledge them—that's the most important thing we can do as a Jewish community. Our strength is in commerce and business, and when we are giving back—and showing tolerance and helping others—you have no idea of the level of respect that people have. They look at us in a positive light, and this just complements and helps our own communities."
As for Montague, she is already planning to work with the Jewish business group again.
"I can't wait to do more with them. They are an amazing partner," she says. "Duvi Honig and I are already talking about what we can do next. And other organizations have reached out since the event, and we are exploring how we can build bridges together with them as well."