Thousands of marchers assembled in Manhattan Sunday morning, taking to the streets and flooding the Brooklyn Bridge for hours as they crossed into the borough of Brooklyn amid chants of "No Hate, No Fear," the theme of the assembly in the works for days now.
An estimated 25,000 people converged on Manhattan's Foley Square and made their way to Brooklyn's Cadman Plaza, where they heard from community leaders and organizations that urged Jewish pride and unity in the face of escalating anti-Semitism. Sponsors included the Jewish Community Relations Council of New York, the Anti-Defamation League, the Board of Rabbis of New York, the American Jewish Committee and the UJA-Federation of New York.
New York Gov. Andrew Cuomo and Sen. Chuck Schumer (D-N.Y.) each spoke Sunday in Manhattan on streets packed with people holding signs and spontaneously breaking into song. "While we're here today in the spirit of solidarity and love, government must do more than just offer thoughts and prayers—government must act," he said, adding that he would be proposing a new law for the state of New York that categorizes hate crimes as domestic terrorism.
"Today, we do not simply walk over a bridge, we begin building better bridges between all denominations of Jews, and between Jews and non-Jews," said Eric S. Goldstein, CEO of UJA-Federation of New York. "Building bridges means putting aside our differences, religious and political, and calling out anti-Semitism and all forms of hate wherever we see it. The purpose of today's march is to loudly and publicly proclaim that an attack on a visibly Orthodox Jew is an attack on every Jew, an attack on every New Yorker and an attack on every person of good will."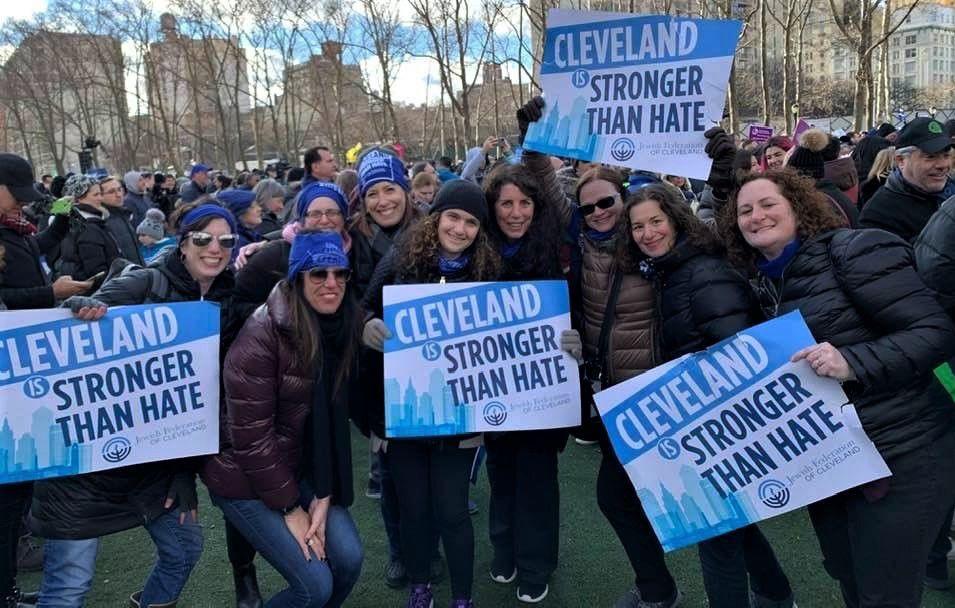 Groups from around New York, as well as from cities and states including New Jersey, Connecticut, Massachusetts, Boston, Cleveland, Philadelphia and Washington D.C., were represented at the event, in addition to Montreal and Toronto in Canada, with more than 15 Jewish Federations bringing delegations.
Sharon Fried left at 6 a.m. on a bus—one of several from the Washington, D.C., area—bound for New York City. "The escalation of anti-Semitism, it's very disturbing, and if we don't speak up, it's going to keep happening," she said. "We have to speak up in numbers."
Her grandparents emigrated from Russia, and the story in her family was that her grandfather fled, hidden on a boat, so he wouldn't have to be in the tsar's army. "I don't want these things to happen again—that people have to run," she said. "You've got to speak up; you've got to participate."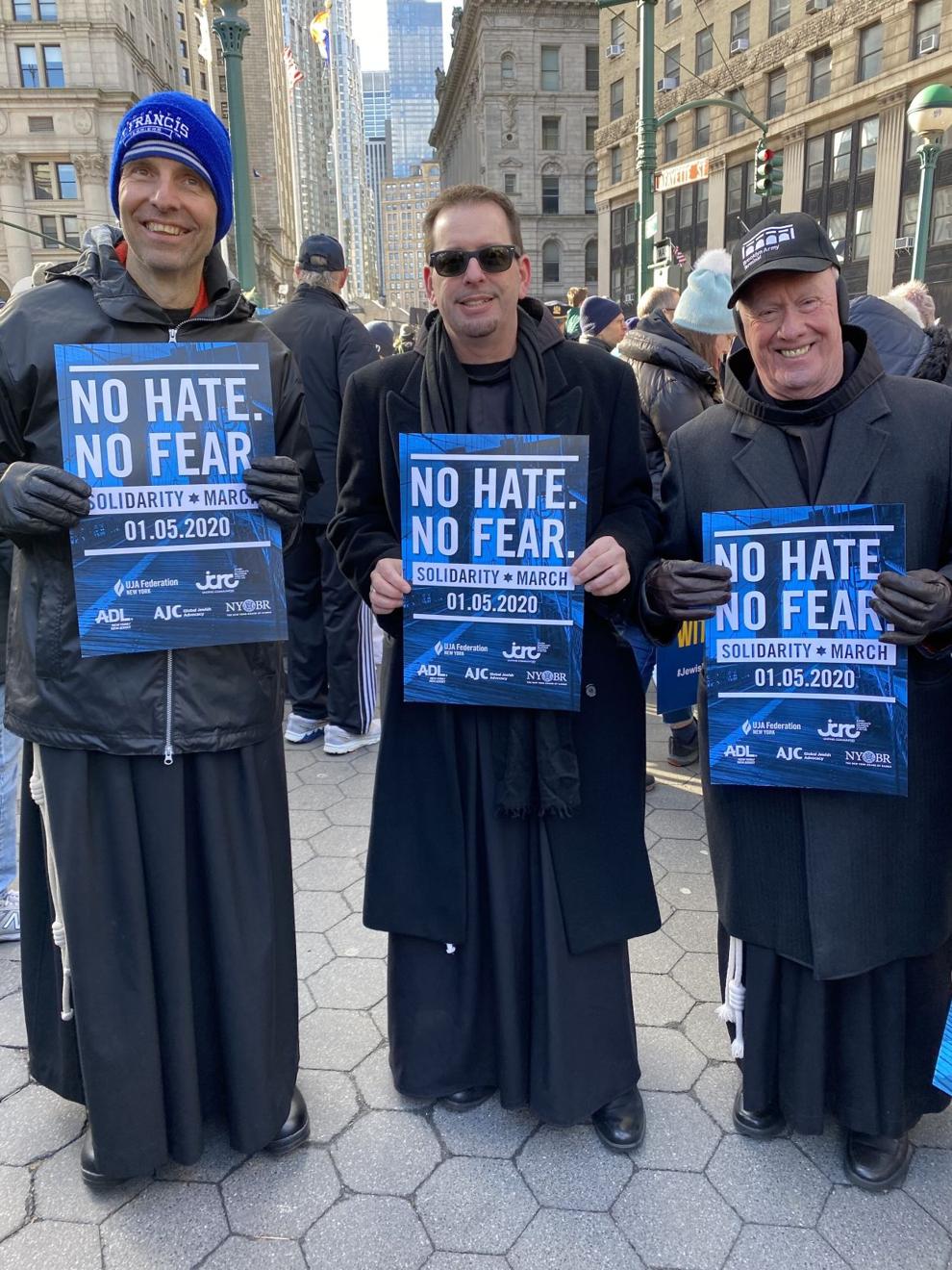 Recent incidents include a Dec. 28 attack during a Hanukkah candle-lighting at the home of Rabbi Chaim Rottenberg in Monsey, N.Y., that left five people seriously injured, and a kosher supermarket attack in Jersey City, N.J., that left four civilians and a police detective dead. That's not to mention the spate of verbal and physical attacks against Orthodox Jews in Brooklyn—namely, those dressed in traditional Jewish garb.
Yaacob Azancot, a college student who lives in Brooklyn, N.Y., rode the subway with his family to Sunday's event and found himself getting harassed on the way. "On the way to the rally, we were getting off the train and someone pushed me with a lot of force," he said. "I think it's the kipah—being Jewish, being Orthodox. My brother was right next to me; he had his tzitzit out."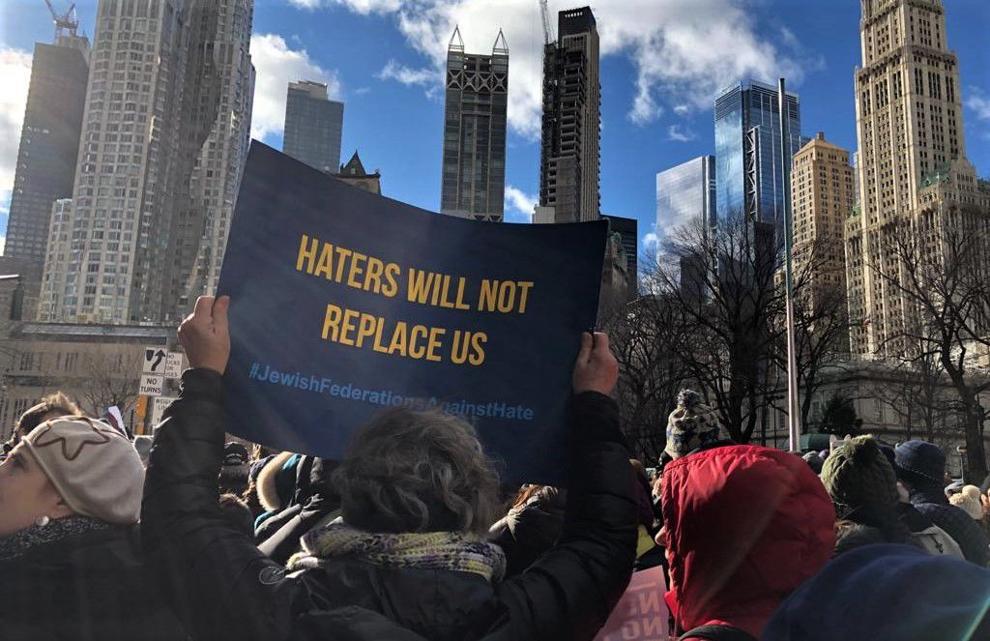 Rabbi Uriel Vigler, director of Chabad Israel Center of the Upper East Side in Manhattan, said he was glad to see Jews from all walks of life together at the event, but added that there was more work to be done. "We have to do something, we have to be prouder Jews, and that has to establish itself in practical mitzvot," he explained.
It's an unprecedented time in America, said Vigler, who was on his way to morning services last spring when he was accosted by a man shouting anti-Semitic remarks. "Even walking in the Upper East Side, I'm aware of my surroundings, where I'm going, what I'm doing; however, I hope and I pray that this situation will not last, and we will get out of this current predicament," he said.
Rabbi Isaiah Rothstein, rabbi-in-residence for the nonprofit organization Hazon, brought his guitar to the march and led the crowd in Cadman Plaza in "Hatikvah." The crowd, which kept growing as people came off of the bridge throughout the event to join the crowd, also heard from singer Matisyahu and the Jewish a capella group the Maccabeats.
"We're not only showing up and showing the solidarity and visibility and power of numbers, but we're actually spiritually influencing each other; the energy of being next to each other, singing a song while marching the streets of Manhattan," said Rothstein. "Seeing people speak, seeing a child or elderly person walking the street … it's sacred, and the power of interfaith, where it's not just Jews standing up for Jews, but people standing up for the dignity of all."
Gregg Levine, who came with his husband as part of a contingent of some 100-people strong from Cleveland, canceled plans for Saturday night to instead take the midnight bus to New York. "This is one of those important opportunities to build bridges and fight hate," said Levine, who was proud that the Cleveland group also included a number of teens. "I think it's important that we use this really dark time to shed some light, that we can all come together as a community—not only as a community of Jews, but as a community of other people who've also been discriminated against and say, 'We won't tolerate this; we've got to stand together and fight this hatred.' "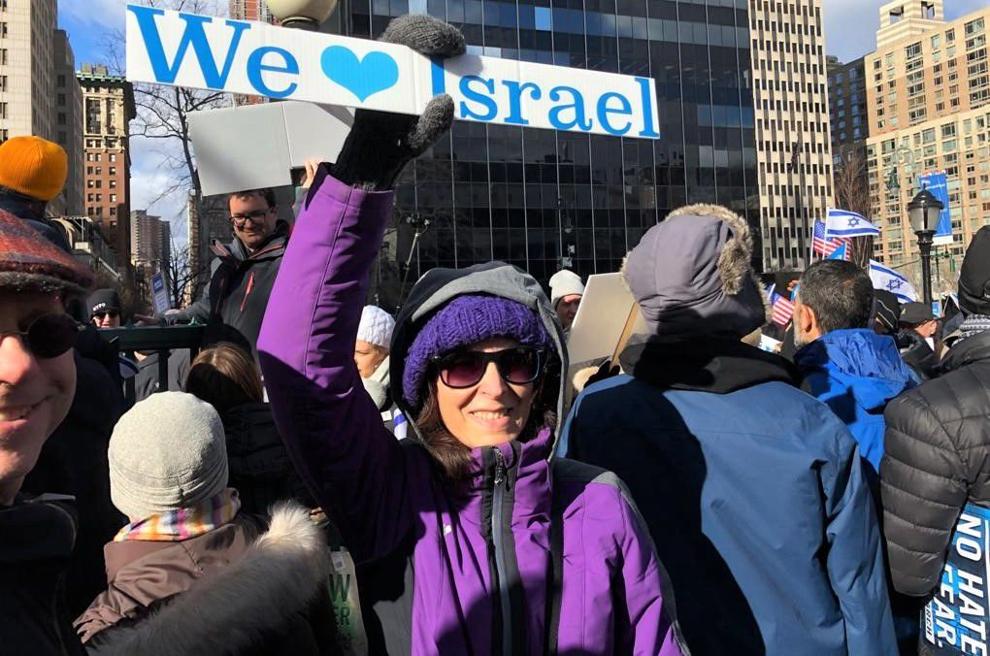 'It's important to show up'
The event drew a diverse group of supporters. Rokeya Akhter marched with the Sisterhood of Salaam Shalom, a network of Muslim and Jewish women. Co-leader of the Queens chapter, she said she came out to reinforce the message of unity.
"It's a most important thing to stand next to my Jewish sisters and brothers," she said. "Love is stronger than hate."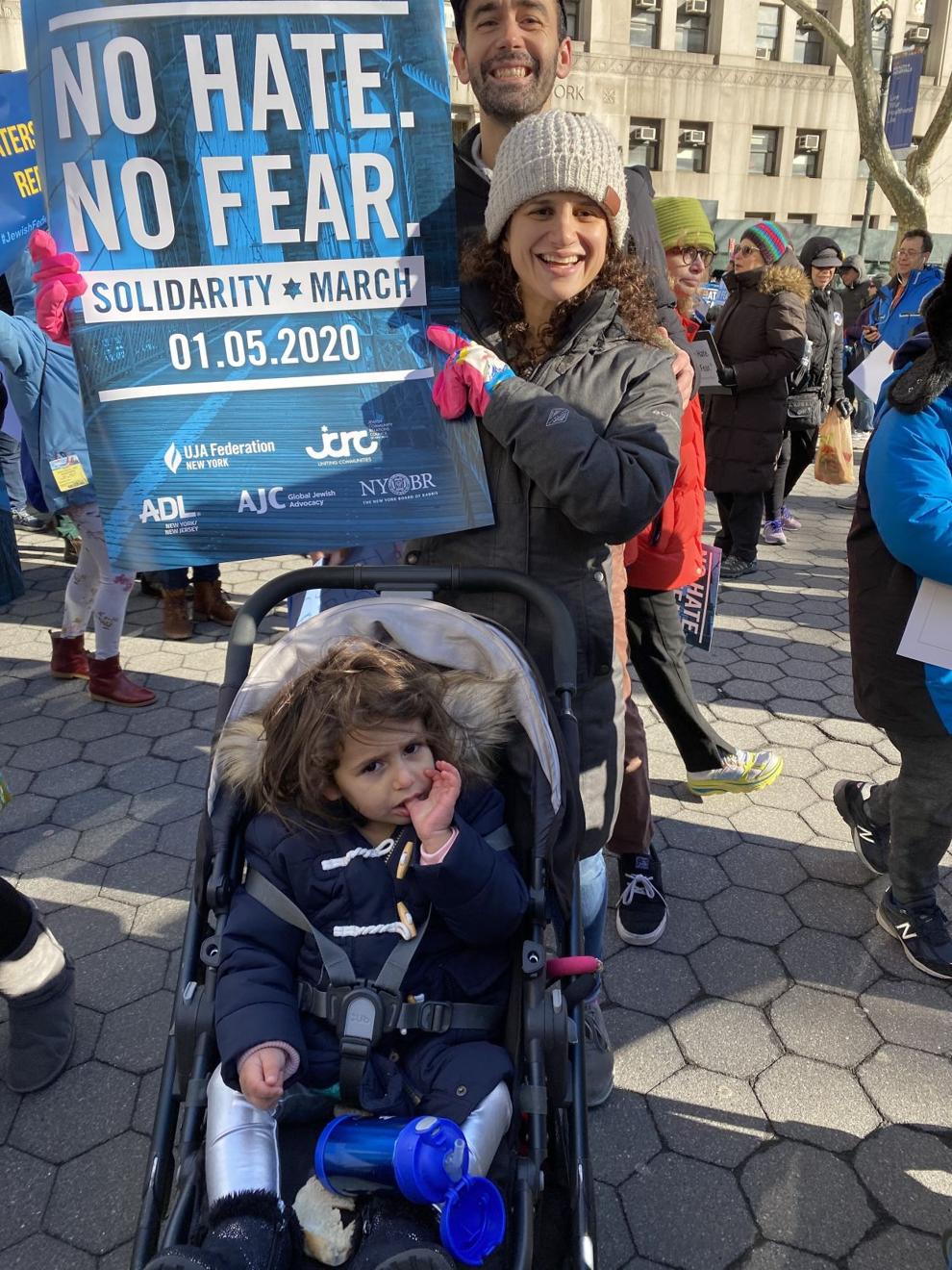 Brother Joseph Bach attended Sunday's events as part of a group of Franciscan Brothers of Brooklyn to stand in solidarity with the Jewish community, he said. "I think we're all in this together, all human beings; we have to stand together and focus on what brings us together, which is being human."
It was also a learning moment, said Mindy Brittner, who came to the event with her husband, Jackson Nurmi, and their daughter, Willa. The family rode down to the event with a group from Manhattan's Town & Village Synagogue on East 14 Street. "I've marched for everyone else in the past two years, and now it's time to be there for my people," said Mindy Brittner. "It's all interrelated."
In addition to coming to support the cause, Brittner said it was important to her to bring her daughter, all of 2 years old, with them, saying, "I want her to know it's important to show up."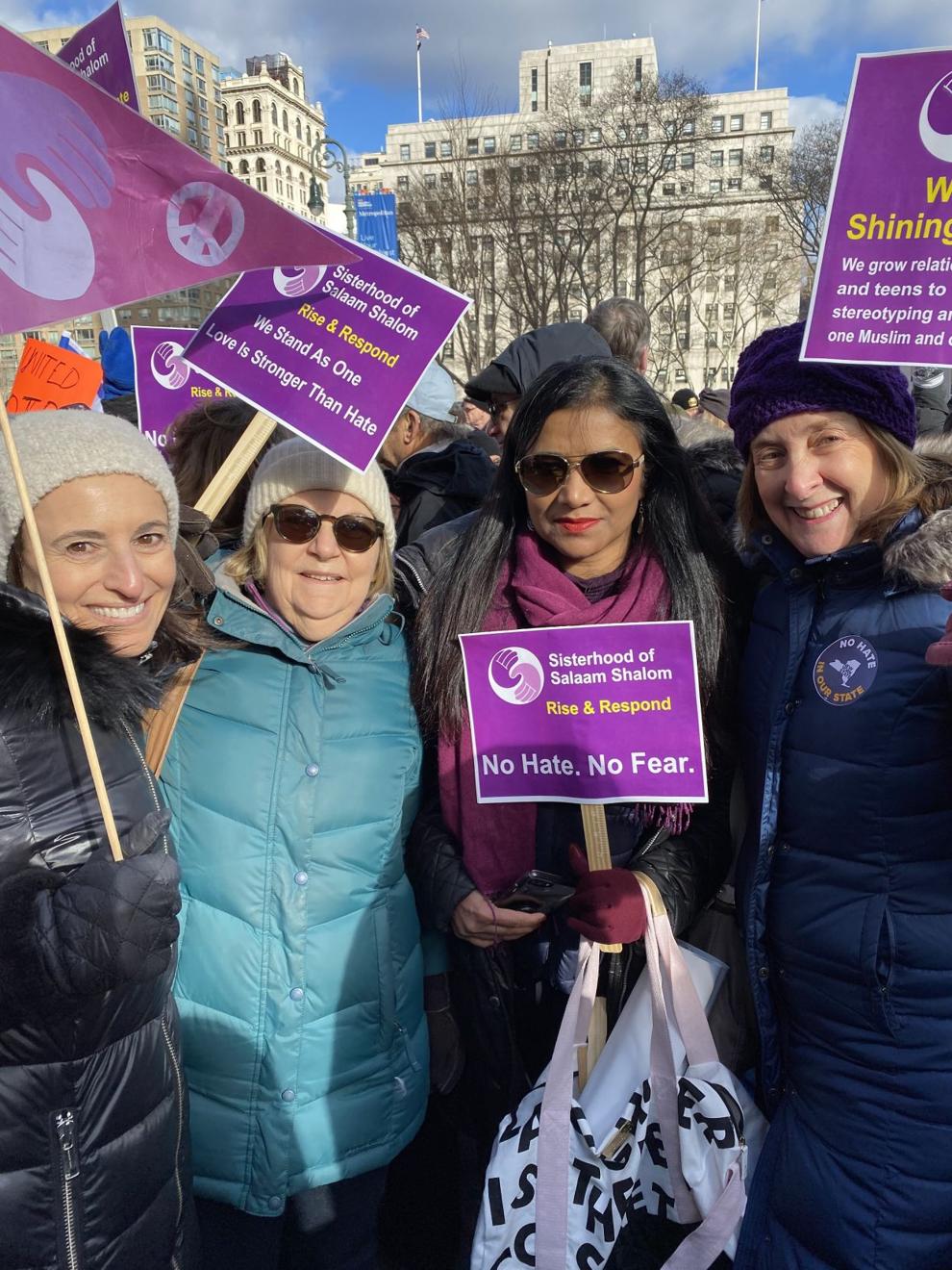 Following the march, New Yorkers of all backgrounds gathered in Brooklyn's Cadman Plaza where a number of community leaders and heads of faith-based organizations, including Cardinal Timothy Dolan, spoke about the recent attacks, the rise of anti-Semitism and the need for people of all faiths to fight injustice.
Additional speakers and performers during the program included Eric Goldstein, Michael Miller, Devorah Halberstam, Jonathan Greenblatt, Gil Monrose, David Harris, Mehnaz Afridi, Janice Shorenstein, Frankie Miranda, Joe Potasnik, Bishop Anthony DiMarzio, Blake Flayton, Eric Ward, Chaskel Bennet, Rabbi Avraham Gopin, Shulem, MaNishtana, Lawrence Aker, Rev. Que English, Eli Cohen, Amy Bressman, Bari Weiss and Isaiah Rothstein, as well as a video message from Rabbi David Niederman.
The post 25,000 people march against hate and fear in New York, saying 'you've got to speak up' appeared first on JNS.org.