For 13-year-old Gabe Feinberg, becoming a bar mitzvah is not just a one-day celebration but a day defined as taking on a continuous role of responsibility. With this role, Gabe commits himself to following the commandments in the Jewish faith, as well as carrying out the values of tikkun olam (repair the world) into the community.
Thinking about ways to make an impact, Gabe wanted to begin this first stage of becoming an adult by sharing an important message with the community. For students at Orange Schools' Brady Middle School, where Gabe is enrolled, it is part of the curriculum to explore an interest and engage in project-based learning. 
This year, he used his school's passion project assignment to write "Alex and His New Friend," a book about acceptance and how to share kindness and compassion. It shares the story of a young girl meeting a new classmate who communicates in a different way. She learns about acceptance, reasoning behind certain behaviors and how a simple act of friendship can go a long way. 
Inspiration for the book stemmed from Gabe's involvement with Broadway Buddies, an adaptive musical theater program that involves working with kids who have special needs. Through this program, Gabe met Jack Cummings, a boy who is on the autism spectrum, and the two quickly developed a close bond after performing together in the production of "Peter Pan." As their friendship evolved, they spent more time together and were both able to learn from each other. This impact is reflected in the book. 
"The goal of the book is for others to learn about autism and those with special needs," Gabe explains. "Most of all, I wanted to make sure I was helping others." 
The book started as a lesson taught only to his classmates and guests at his project presentation, but soon it spread to a much larger audience. It gained immediate attention after Michelle Feinberg, Gabe's mom, posted a video to Facebook of the story being read to the class. Before the presentation, Michelle had no idea what Gabe's project involved. 
"It's the kind of kid he is," explains Michelle, whose family lives in Pepper Pike. "I wasn't completely surprised after (hearing him read his book) because it's totally something he would do." 
Immediately, the video drew a flood of responses through social media, drawing in several requests from around the country for copies of the book. Gabe never imagined his school assignment would prompt such a reaction and leave as big of an impact. Realizing the magnitude of its importance, Gabe committed himself to continue to reach more people with his message. 
With the help of a local illustrator, Gabe and his family brought the book to life and produced copies to sell upon request. They also wanted to find a way to give back, so they decided to make it a part of Gabe's bar mitzvah project and donate the proceeds from sales to a nonprofit organization.
Project takes flight
Gabe knew that he wanted to donate to a good cause, particularly one that was smaller so he could shine a light on an organization that was not as well known. Jack's mom, Amy Cummings, recommended Kids in Flight, an organization founded in 2003 that provides aviation-related activities for kids who face serious health conditions or have disabilities. The program offers flight experiences, group outings and educational sessions, allowing kids to escape from some of their struggles and gain different perspectives.
Wings of Wonder, which takes place at Burke Lakefront Airport, is an annual summer event hosted by Kids in Flight, offering kids a front-row seat in an airplane for a sightseeing tour of Cleveland. It's also a day filled with music, crafts and games, providing kids and their families an opportunity to let go of daily stresses. 
"This is Jack's favorite day of the year," Gabe says at the end of this year's Wings of Wonder, which they attended together. "My favorite part was seeing how happy he was to be there. He had the biggest smile on his face the whole time. It was great to see why Jack and his family really like Kids in Flight. They do such great work, and I'm so glad to be able to give back to them."
Gabe was thrilled to attend the event with Jack because he knew how special the organization and its volunteers made him feel. Side by side, the boys bounced around from one activity to the next, beaming with smiles the entire time, and Gabe cheering on Jack through every obstacle course.
Kevin Donovan, board member and vice president of Kids in Flight, reflects on the event's impact, "It's always great seeing the boys arm in arm together at our Wings of Wonder event. And no matter the amount raised from the book, the donation itself is just such a wonderful gesture for this organization." 
Originally, Gabe set a goal to raise maybe a few hundred dollars for the organization. However, the book had raised close to $2,500 as of early October. As a donation- and volunteer-based program, Kids in Flight will benefit from this contribution, piloting more efforts to offer additional support for kids. 
"This entire process has become so much bigger than just writing a book," Michelle adds. "The book has played a huge part in Gabe learning more about fundraising and donating to an organization." 
Lifelong lessons learned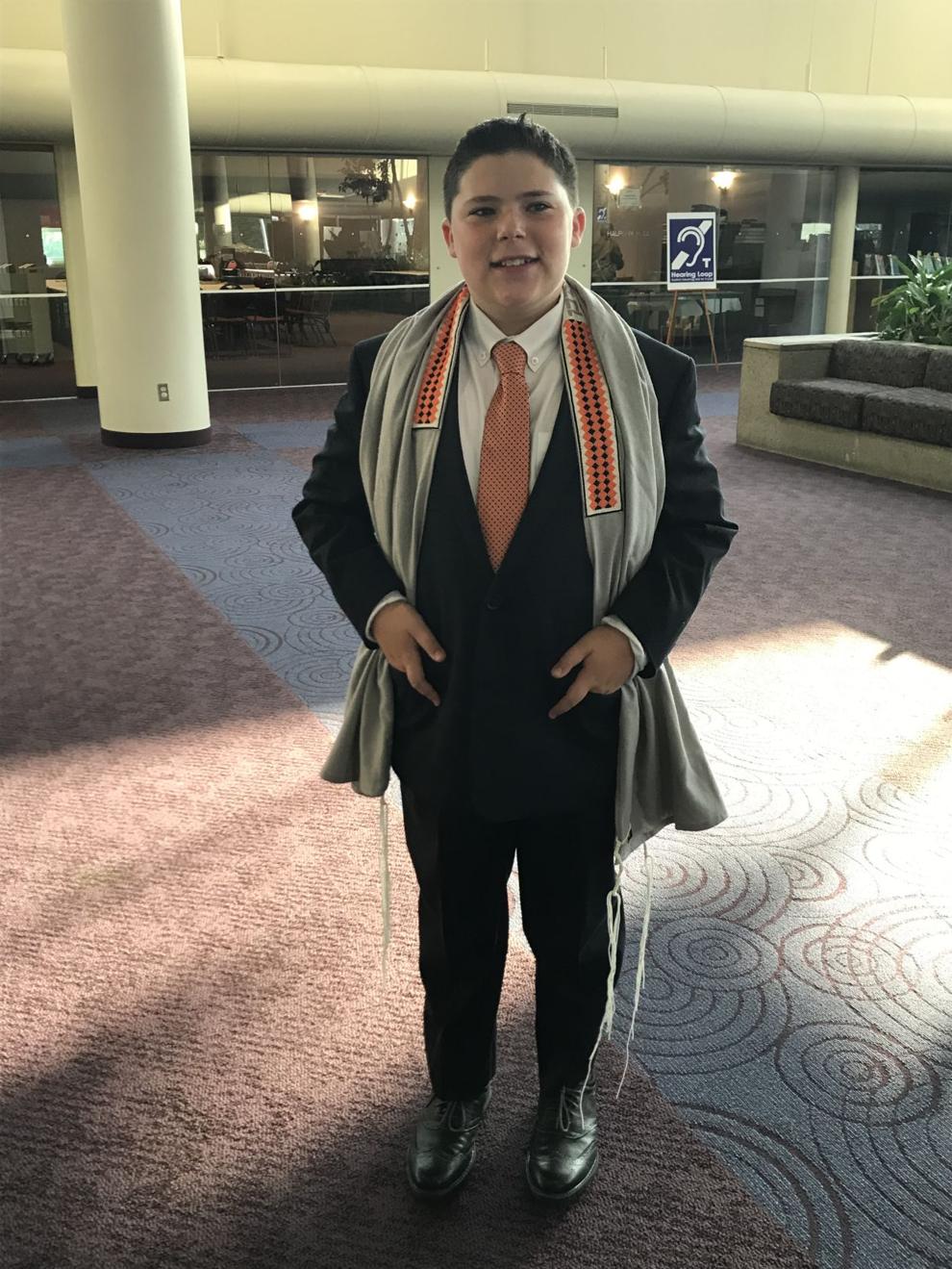 While selling copies of his book, Gabe has learned how to properly ask for donations, as well as understand what type of work is involved in the process. He has also dedicated time going door-to-door to collect donations in person. For every book request/purchase, Gabe has followed up with a personalized letter, thanking that individual for their generosity. 
Throughout the process – writing the book, raising money for an organization and raising awareness – Gabe has learned several lessons about taking on responsibility. This is a lesson he has further developed from studying his Torah portion for his bar mitzvah, which was Oct. 6 at B'nai Jeshurun in Pepper Pike. Bereshit, which translates to "in the beginning," conveys the theme of being responsible for others, as well as for oneself. It reflects a point in an individual's journey to determine their future, as each new step taken makes a difference for what is to come. 
"The Torah portion also teaches the values of tikkun olam, repairing the world," Gabe explains. "I've learned so much by doing this and I have also been able to help an organization that helps kids and adults with medical and special needs. I hope other kids who are having bar or bat mitzvahs will see this and want to do something good in their community and be inspired to give back."
The book has also led to other ways for Gabe to give back and be an influence in the community. In Orange, along with other nearby suburbs, he has participated in public events at the library, hosting workshops to teach writing skills to his peers. He has continued to promote his book through public readings at the library as well.
Reflecting on the past few months, Gabe described his experience as feeling almost unreal. He is grateful for the outcome of his project and is glad the book has become such a resourceful tool. He says he already has plans to pursue writing a second book for next year's passion project as a way to keep his message going.