B'nai mitzvah kids volunteer through Cleveland Kosher Food Pantry for their mitzvah projects, improving access to food for an entire community
On a Sunday morning in early October – which also happened to be erev Rosh Hashanah – adults, kids and families volunteering at the Cleveland Kosher Food Pantry formed a human conveyor belt of sorts. One person would pack a donation bag full of cookies, produce, pancake mix and other assorted foods, while the next prepared the bags for transportation, and finally, someone organized the bags into a very full, white van to deliver to recipients.
Jacob Pincus, 13, of Beachwood, who came to volunteer with his dad, Stephen, 49, and sister, Miriam, 17, was already quite familiar with the pantry. Jacob volunteered with the pantry for his mitzvah project, almost a year ago.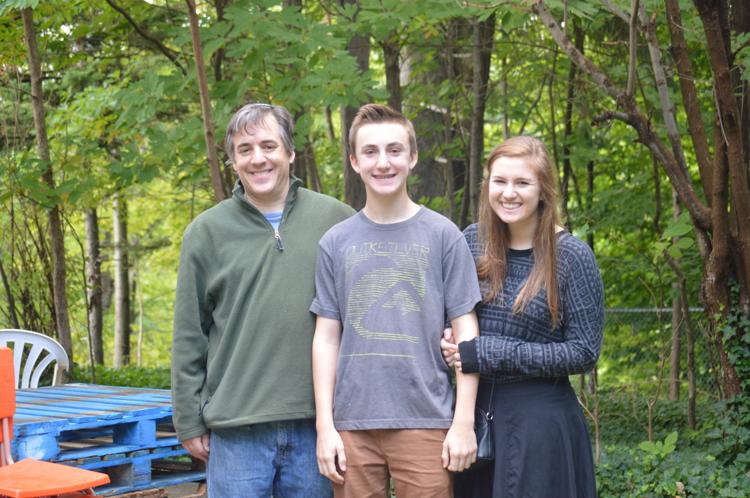 "I learned how hard some people work just to get food to people who are less fortunate," Jacob says.
According to a 2014 report from Feeding America, 19.4 percent of Cuyahoga County residents faced food insecurity. The Cleveland Kosher Food Pantry, one of the largest agencies of the Cleveland Food Bank, serves 4,000 people each month.
As teens like Jacob and Hannah Appel, a Beachwood girl who took donations at her bat mitzvah for the pantry, work with the pantry for mitzvah projects, they learn not only about providing healthy food in the Jewish community, but also lifelong lessons of tikkun olam.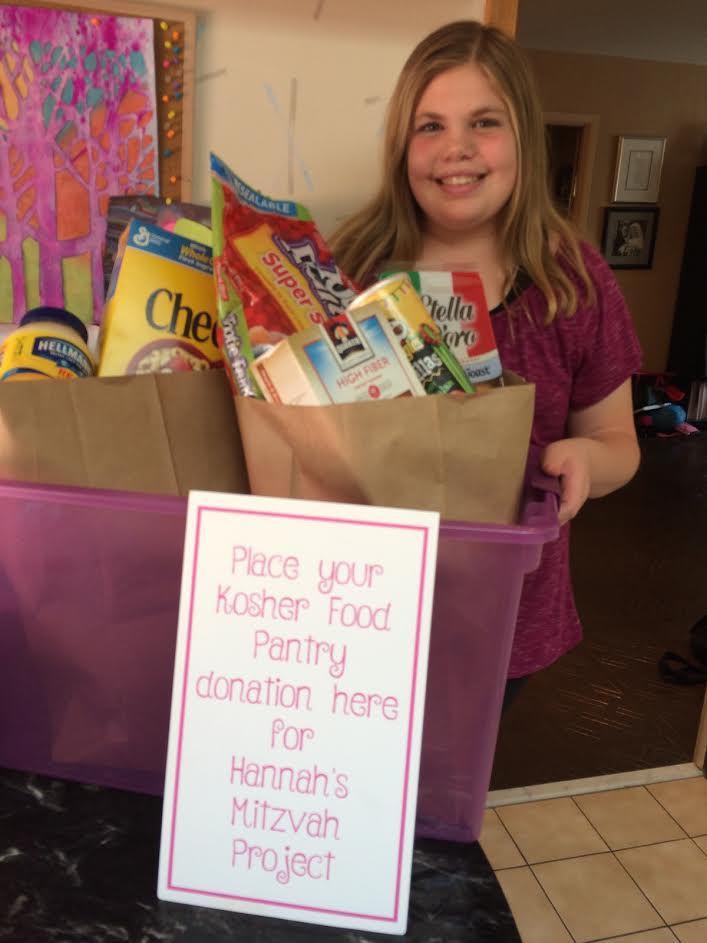 FAMILY SERVICE
Jacob, his parents Amy and Stephen, and two sisters Miriam and Sarah, 20, moved from Pittsburgh to Greater Cleveland in 2011. Stephen is a lawyer for the National Labor Relations Board in Cleveland, and Amy works for the Friendship Circle in Pepper Pike – both service professions that inspire the family's commitment to serving in the community. Thus, as members of the Green Road Synagogue in Beachwood, they wanted the family to be active together in the Jewish community.
"We had previously lived in Pittsburgh where it was a more diverse community, and I think that it is important that people who grew up here know there are other people right down the block who you may not meet on a day-to-day basis but that these are people who are part of our community that we need to take care of," Stephen Pincus says. "These are lessons people should have throughout their lives, and the earlier they get started, the better."
Amy Pincus connected the family with the pantry and they soon began volunteering.
"Since we moved here, we've been a big part of the kosher food pantry," Jacob says. "It just felt right, I guess."
Thus when it became time for Jacob's mitzvah project, he was already used to the fast-paced, yet friendly, atmosphere.
"We came on Sundays and had a list of food to put in each bag and we had to make close to 100 bags each time," Jacob says.
He also organized food drives for the pantry at his school and synagogue as part of the mitzvah project. Speaking at his bar mitzvah last November, Jacob talked about the pantry and the important work done there.
An eighth-grader at Fuchs Mizrachi School in Beachwood who plays on his school's basketball team and plays guitar, Jacob still finds time to volunteer at the pantry on occasion.
"As parents, we want to leave an ethical legacy to our children that is based in Jewish values, not material things," Amy Pincus says. "When we pass on this tradition of giving, our children have a strong moral compass that will guide them throughout their lives."
KOSHER PANTRY
Devorah Alevsky, director of the Cleveland Kosher Food Pantry, expanded the pantry after taking over for her parents, Rabbi Zalman and Rebbetzin Shula Kazen. Her parents were Russian immigrants who led Congregation Zemach Zedek, an Orthodox synagogue in Cleveland Heights, and founded the pantry.
"We feel very proud that we are not only helping the needy and the struggling families in our community, but that we've really created a way where young people are actively involved and learning the concept of tikkun olam and charity and kindness," Alevsky says. "It really goes hand in hand because without the volunteers we couldn't possibly do what we are doing."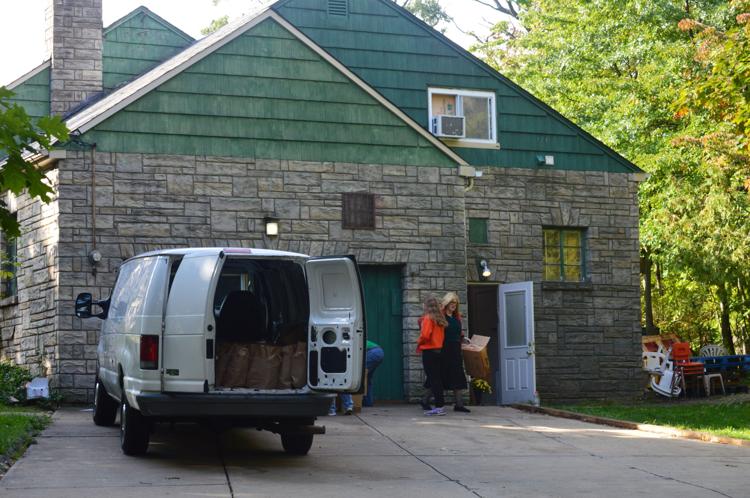 The pantry is now at 2004 S. Green Road in South Euclid. In addition to having an open pantry on Thursdays from 6 to 7 p.m. for people to pick up kosher foods, the pantry also delivers food, including fresh produce, to senior apartment buildings and goes door to door for those unable to leave their homes. The group's ability to deliver foods lets them give out more fruits and vegetables than many food banks, since recipients do not have to lug heavy produce home, especially if they do not drive.
"Hands-on activity really makes a difference in learning sharing and caring," Alevsky says. "These are things people always remember about themselves."
EXTENDING SERVICE 
Hannah Appel, 13, started volunteering at the pantry through a J-Teen Mandel JCC summer camp program and quickly connected their work to her own family history.
"I thought it was really interesting and it made me realize how my bubbe Lola was in the Holocaust and she didn't have that much food," says Hannah, an eighth-grader at Beachwood Middle School.
Living with her mother Suzanne, father Lee and 16-year-old brother, Noah, Hannah says her family is inspired by the survival story of her great-grandmother, Lola Malcmacher.
"I think (Hannah) wanted to do something to help others and it's so special and unusual that she has a great-grandmother, a Holocaust survivor," says Suzanne Appel, director of the JDN Early Childhood Center at Bellefaire JCB.
Thus, when it came time to choose a mitzvah project, Hannah chose the pantry. "I just learned that even if you can't do so much to help people, even the thought of what you can do and being there counts," she says.
However, like Jacob, her interest in helping the pantry and the Jewish community didn't stop there. Hannah, who goes to the Temple Emanu El in Orange, decided that at her April 2016 bat mitzvah, she would collect food from her 250 guests to donate to the pantry.
"When she told me she was interested, I contacted them to see if they were open to having us collect food ... so we actually collected a lot," said Suzanne Appel.
The Kosher Food Pantry relies heavily on the financial support of donors and sponsors to fund this project of delivering the packages of food every month to struggling families.
Now, Hannah, who is also active with the Playmakers Youth Theatre program at the Mandel JCC and the North American Federation of Temple Youth, says volunteering at the pantry has inspired her to do more volunteer work in general.
"I've been thinking about it and would eventually like to go with my temple to Israel and volunteer there," Hannah said.
The pantry always welcomes teens looking to take on a chesed project. Volunteers can come as often as they like.
"I would say to definitely go look at it and check it out, it is very fulfilling," Suzanne Appel says. "It's a lot bigger than you think and you help a lot of people." 
---
This article appeared in the Fall / Winter 2016 issue of Bar•Bat Mitzvah.