In 2008, years before Ben Heller's bar mitzvah, his family hosted a local tennis exhibition for Israeli at-risk youth.
A 14-year-old Israeli tennis player stayed with Heller's family, and he shared details about his own family life in Kiryat Shamona, their difficulties and how the Israel Tennis and Education Centers Foundation program changed his life.
The program offered the boy an escape, allowing him to play tennis and meet others with similar backgrounds. Through the athlete's story, Heller says he gained a deeper understanding about life in an impoverished area.
Founded by six volunteers in 1976, ITEC is a social service program that offers a nurturing environment for underprivileged children in Israel. Based on a vision to bring tennis to the masses, regardless of background, religion, ethnicity or physical ability, ITEC aims to provide the foundation to create champions in tennis and in life.
"I learned how much of an impact the ITEC has on so many children, and I wanted to make sure that I not only shared my experience with my inner circle, but also with those who didn't know about the program's work," Heller says.
Motivated by ITEC's mission, Heller decided he wanted to visit one of ITEC's centers in Israel for his bar mitzvah. Fifty of his friends and family members traveled with him for the mission, which lasted 10 days between the end of 2010 and the beginning of 2011.
Heller, now 21, looks back fondly on the experience.
"They saw firsthand the importance of the center and how it is so much more than just tennis – it is a place that these kids can call their second home," says Heller.
Teaching life skills through tennis
ITEC has 14 centers throughout Israel, serving more than 20,000 children each year. All programs are designed to assist children at risk, those with special needs and children of recent immigrants from Russia and Ethiopia.
"The program embodies inclusion and unity," says Jacqueline Glodstein, ITEC executive vice president of global development, based in the New York City USA national office. "It provides children an equal opportunity for education, to be healthy and pursue their dreams."
The tennis center was built to get children off the street and provide a structured environment to improve their quality of life. By getting involved with a sport, the children gain many useful talents, including gaining qualities often sought by employers.
"There are many skills the kids learn through tennis," Glodstein adds. "They learn how to focus, respect an opponent, how to lose and be independent. It also allows them to become empowered."
Young teens who get involved with the program for their mitzvah project or become a volunteer expand their cultural awareness as well. Strong relationships are built between the volunteers and players, opening doors for cultural exchanges and building appreciation for each other's circumstances, Glodstein says.
These initiatives are what drew Heller to become more involved and do his part for his own mitzvah project.
A bar mitzvah trip for the ages
During the trip, Heller and his guests met the local players and coaches at the ITEC center. While there, everyone participated in tennis drills alongside team members. They also learned about the program's educational aspect, and heard from children who benefited from the center and the social support it provides.
By the end of the trip, Heller says everyone who took part wanted to find a way to become involved once back in the United States. Today, many of them are involved with tennis exhibitions in the U.S., which benefit ITEC programs.
"I have always learned that I need to take care of those who are in need," explains Heller, now a senior at the University of Michigan in the Ross School of Business in Ann Arbor, Mich. "This program exemplified everything that I have learned from my family, in my community and the importance of philanthropic involvement."
During the trip, Heller celebrated his bar mitzvah at Aish HaTorah, which overlooks the Kotel in the Old City of Jerusalem. Gadi Galili, Park Synagogue's ritual director, who joined the Israel mission, led the bar mitzvah service. When Heller returned to Northeast Ohio, he also celebrated his bar mitzvah on Jan. 22, 2011 at Park Synagogue, which is in Cleveland Heights and Pepper Pike.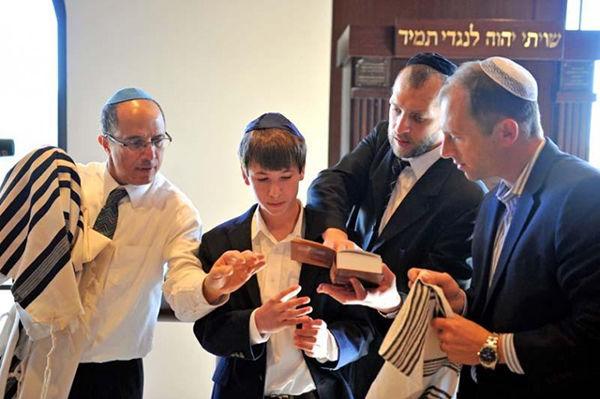 There are several ways to get involved with the ITEC program in the U.S. Supporters can raise funds to help with programming. Individuals can also host their own tennis exhibition and organize their own trips to Israel. Through an online campaign, families can design their own unique mitzvah program.
"We want to help expand the footprint and help peers understand what the organization does," Glodstein says. "I see this as an opportunity for parents and kids to engage and get to know Israel and empower children in Israel."