Adam Miller felt the pressure – the pressure of following in his sister's footsteps, the pressure of pleasing his parents and the pressure of his grandparents' legacy as Holocaust survivors.
Born in Minneapolis in 1986, his family moved to Orange when he was around preschool age. At the time of his bar mitzvah at The Temple-Tifereth Israel in Beachwood, he was a student at Brady Middle School.
His older sister, Alyssa, became bat mitzvah two years earlier, and watching her go through the rite of passage made an impression on him.
"I remember really being inspired by her and watching her do it, but like any 12-year-old boy, no one wants to be told they have to do anything or practice anything," he recalls. "But as it got closer to November and the time, I remember getting more excited."
His parents, Sherry and Robert Miller, chose a date in November 1998, about two months prior to his 13th birthday in deference to Cleveland's snowy winters because family was expected from Detroit, Minneapolis, Florida and California.
Miller was tutored by Michelle Katz. He was expected to learn 10 lines of Torah.
"I remember being so nervous to read Hebrew without vowels," he recalls. "What was already a foreign language to me felt so much more foreign. You're taking away the vowels, like what?"
Today, Miller is director of content at WKYC in Cleveland. He lives in Moreland Hills with his wife and three daughters, and is a member of The Temple.
"I recently spoke at The Temple and (Cantor) Kathy Sebo ambushed me on the spot and asked me if I could recite the first like couple lines," he says. "You know, what's so funny is it comes back to you because it gets stuck in your head."
While it wasn't required, he also learned haftorah with his tutor.
Miller had already memorized lines for plays he performed in at middle school and says he spent quite a bit of time going over the material.
"I think I was more nervous about the Hebrew, driving home the practice piece making sure I really felt comfortable with the material," he says.
All four of his grandparents attended his bar mitzvah: Clevelanders Mary and Dr. Joseph A. Miller, and Manya and Anszel Gun, who lived in Boca Raton, Fla., but were born in Poland and Ukraine, respectively.
"My grandparents were survivors of the Holocaust," Miller recalls. "And so I think to be able to read from the Torah in front of them felt like an incredible honor. It's something that wasn't lost on me even at a young age. And so I think there was a little bit of pressure of wanting to do well and make them feel good and proud, and that they survived for this incredible reason that their family could continue to celebrate the Jewish traditions."
He also anticipated the excitement of seeing family and friends.
"I'm extremely family oriented," he says. "My friends are like my family as well. So I remember being so excited to have everyone come together for a celebration, especially with all the out-of-towners coming in. So I remember just so looking forward to the entire weekend."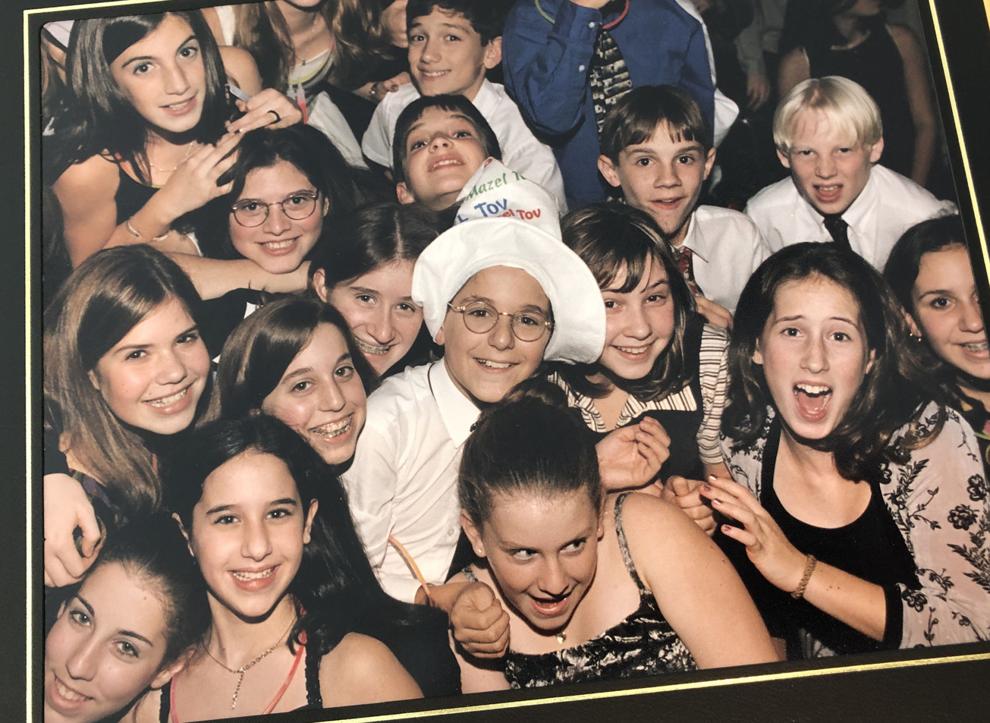 The weekend included a Friday night dinner for the out-of-towners and a Sunday brunch. Family members took part in the rituals of Havdalah, holding the candle, coming forward to smell the spices signifying the sweetness of Shabbat.
A vivid memory of a particular moment sticks with him.
"I remember someone saying to me: Remember when you're up on the bima – to remember that moment, and to look out in the congregation and really capture who was there," Miller remembers. "And I really do. I remember that – taking it all in, who was there. I remember taking that advice. It was a really special weekend and a special moment."
His Saturday night party at the Embassy Suites in Beachwood was themed "Adam's Plays" – a pun on his dual interests of baseball and drama. Earl the Pearl from Terry Macklin Entertainment spun tunes. Guests sprayed color onto their hair, and when the black lights were on, the colors popped.
"Some kid couldn't get the color out of his hair for days," Miller recalls. "His parents called my parents."
Guests at the party lifted up grandmother Manya Gun on a chair in celebration.
Miller recalls his grandmother later describing, in that moment, looking up and seeing the image of her father, who had been killed in the Holocaust. He said to her, "This was why you survived."