Cantor, Temple Emanu El
Having taken piano lessons, and having sung in four-part harmony with his family from a young age, Richard Lawrence felt ready for his bar mitzvah – so much so that he slacked off some in his preparations.
However, his relative lack of effort didn't go unnoticed. His bar mitzvah tutor at Temple Beth Emeth in Ann Arbor, Mich., eventually called him out, which led him to get his act together with regard to learning.
"I'm certainly glad that I did because, 'A,' it helped remind me how important it is to do, and 'B,' that was a skill that I held onto and came in handy once I decided to be a cantor," says Lawrence, who was 14 at the time of the June 1999 bar mitzvah.
Moreover, it was an ideal time for Lawrence to develop such Jewish learning. That year, his Reform temple had borrowed a special haftorah scroll, which contains all the haftorahs, from which he got to chant – an opportunity he realized he may never see again.
When the day actually came, Lawrence felt confident. He even got a laugh from the congregation and its president when he stole her thunder by thanking out-of-town guests — the president's usual line at such services.
"She cracked up," he says. "She totally understood it was just me being silly."
To complete the occasion, Lawrence and his family had a kiddush luncheon at which a pianist played music in the temple's social hall.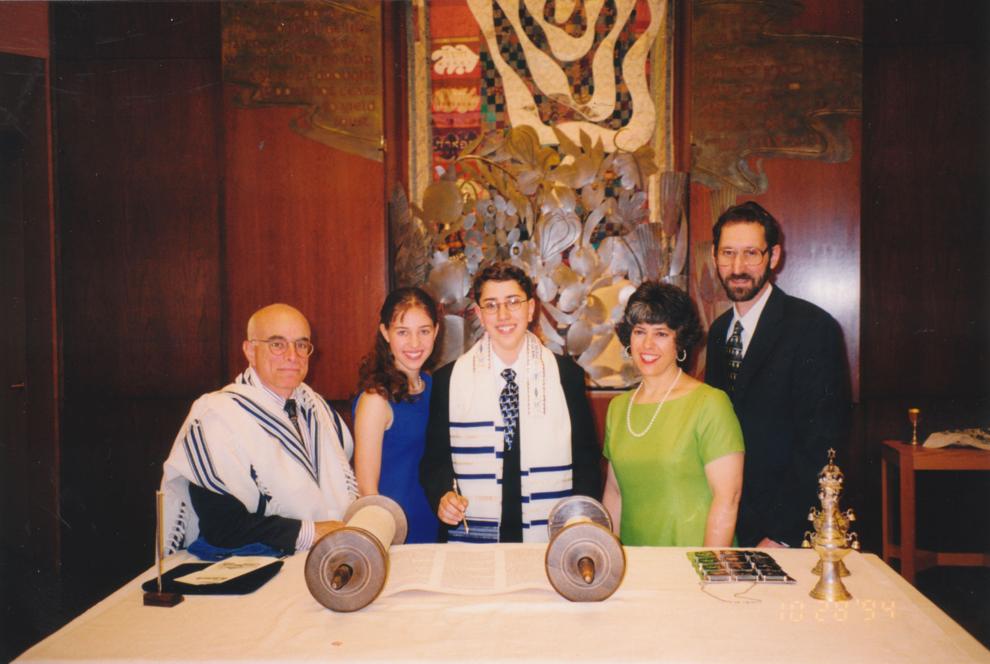 After the bar mitzvah, he remained involved with the temple via its choir and eventually was a youth leader, or madrich.
Years later, during the summer as a sophomore at Oberlin College, Lawrence was an assistant music director at Star Island, an organization and space that hosts various conferences in Portsmouth, N.H. There, a conference leader asked him if as someone with a Jewish background he could lead music for a unitarian Shabbat service. Afterward, a guest told him she enjoyed it and noticed his "entire face lit up" while singing.
"That made me think, 'Well, hold on a second, maybe I should look into this further,'" he says.
Later that year, he did an internship at that same Ann Arbor congregation of his bar mitzvah and decided to switch his major from computer science to Jewish studies.
Today, as cantor at Temple Emanu El in Orange, Lawrence is also the temple's b'nai mitzvah tutor and likely thinks about his bar mitzvah more often than most. He's now in the position to call out students who may not be working at their full potential, as he's had to do from time to time. He remembers one student in particular, to whom he gave a similar talk as his bar mitzvah tutor gave him years earlier, saying, "If you lean into this, there's a good chance that you will get fantastic results."
"And he did," Lawrence says, adding that not even a year later, that student was asked to chant Torah during the High Holy Days because of his skill level.
These days, Lawrence says, children and families are pulled in so many directions, and he always considers questions around why each particular family is prompted to go through with b'nai mitzvah. He says the reasons vary: Some go through the process out of societal obligation, or what they see as a necessary part of Jewish life, while for others – either the parents, children or both – see great meaning in it.
"It's almost palpable in the room when all persons involved find a great meaning in the whole deal in the first place," he says.
For some students, the experience changes their outlook on Jewish life – something that happened over the course of years for Lawrence himself, although skills learned during the bar mitzvah process made it possible.
"Parents have said to me, 'Because of this, (the student) feels more confident now as a person,'" he says. "They feel like they can tackle more now and challenge themselves more." 
---
This article appeared in the Fall 2018 issue of Bar•Bat Mitzvah.