Director, Montefiore Foundation
Debbie Rothschild had always imagined that at some point, she would become a bat mitzvah. When it didn't happen in her youth, she thought maybe she'd have a private ceremony as an adult – perhaps simply in her rabbi's office.
As fate would have it, Rothschild ended up reading the Torah in front of a large crowd of worshipers at B'nai Jeshurun Congregation in Pepper Pike as part of a group bat mitzvah with 14 other women in 2004.
"Sharing it with the community in that way really heightened the experience in some very profound ways," she says. "I didn't think it would. In fact, I thought doing it publicly would have the opposite effect – like it would be a little bit theatrical and it's sort of a performance. And in fact, it worked just the other way, it felt even more sacred because I was sharing it with my synagogue community."
The ceremony came about for Rothschild after Cantor Aaron Shifman created the opportunity for adult b'nai mitzvah at B'nai Jeshurun, she says. By the time hers happened, she was 45 years old and her connection to the Jewish community had been strong and growing for almost a decade.
Although Rothschild had been raised Jewish in Cleveland Heights, she was not a member of a synagogue at the typical bat mitzvah age.
In 1995 and in her mid-30s, Rothschild visited Israel on a group trip that changed her life's direction.
"It was not until then that I was connected to the community Jewishly," says Rothschild, who after the trip switched her career from sales to Jewish nonprofit leadership.
By the time of her bat mitzvah, Rothschild was working at the Jewish National Fund. Going through the bat mitzvah process as an adult with her peers was a unique opportunity, she says.
"I'd like to think it's not the case, but I suspect that it is the case that, as an adult, it becomes a more profound or more sacred experience than it might be as a 13-year-old," she says. "I really felt a very powerful connection to the Torah and a very powerful connection to the other women, as well as a powerful connection to the synagogue community that shared that morning with me."
Rothschild was also pregnant with twins, Melissa and Bradley, at the time, adding to the significance of the moment, she says. The twins are now 13 and had their own joint bar and bat mitzvah this year. Her older daughter, Lilly, now 18, had hers in 2012. All three were held at B'nai Jeshurun.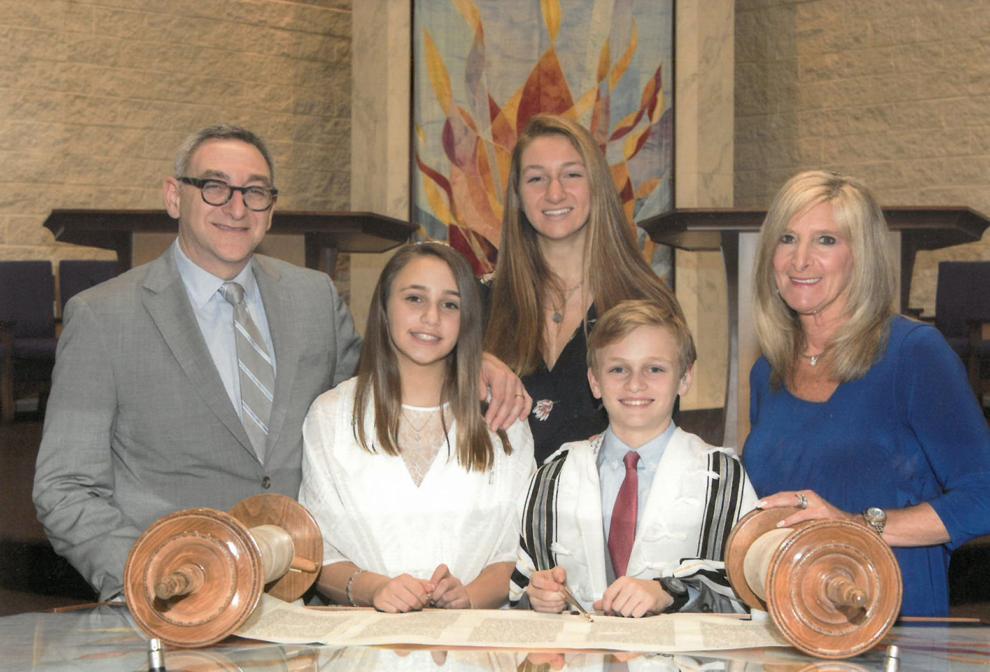 As Gross Schechter Day School students, Rothschild's children had prior Torah-reading experience, which was one aspect that was different than her own and different from her childhood.
"Reading Torah on their bar or bat mitzvah was not a new experience, but I do think they totally get the importance of it and the sort of nature of what it means to become a bar or bat mitzvah," says Rothschild, who is now director of the Montefiore Foundation in Beachwood. "There was nothing more meaningful than sharing the bat mitzvahs of my daughters and the bar mitzvah of my son."
Rothschild also had the rare opportunity to vividly remember and connect with the b'nai mitzvah process when her children experienced their own, as the intervening years between hers and theirs were shorter than most parents and children.
"Having had the experience of becoming a bat mitzvah as an adult made my experience with each of my kids much more meaningful because I knew what it felt like – standing before the Torah, the congregation, alongside the rabbi and the cantor," she says. "If I didn't have that experience, I think my experience with my kids would have been very different."
---
This article appeared in the Fall 2018 issue of Bar•Bat Mitzvah.