Founder and CEO of The Gathering Place in Beachwood and Westlake
Lexington, Kentucky may be known as the horse capital of the world, but in 1965 it was also the place of a forward-thinking rabbi.
Born in Brooklyn, N.Y., Eileen Spandorf (now Saffran) and her family moved to Lexington when she was 6 months old. Not long after moving, her parents, Anita and Lou Spandorf, joined Ohavay Zion, the city's small Conservative synagogue, which embraced the family.
"The good news for me was, I learned about every religion because I was a minority," remembers Saffran, founder and CEO of The Gathering Place in Beachwood and Westlake, which offers support services to cancer patients. "And fortunately, I was exposed to Palm Sunday and Ash Wednesday with my Episcopalian friends, and I exposed them to the Jewish side of life. But I was very involved. Hebrew School three days a week, Friday night services, Saturday morning services, Sunday school up until the time through my bat mitzvah. So I spent a lot of time at the synagogue, but I was bat mitzvahed actually when I was 12."
Saffran's bat mitzvah took place in the summer of 1965 with Teri Stein (now Harper), with whom she still maintains a friendship.
"It was hot, and I can remember a pool party the Friday night," Saffran says.
The pair shared the pulpit on both Friday night and Saturday morning.
"We led the Friday night service and we also did some of the Saturday morning service, but not the lion's share," she recalls.
She said she worked "probably intensely" with Rabbi Bernard Schwab for about a year prior to the date of her bat mitzvah.
"I was in theater all my life, so I can memorize with the best of them and was able to just kind of have the poise and presentation that was necessary at the time," she says, adding she wrote a speech for the occasion.
On Saturday, her family hosted out-of-town guests at home, and then there was a party at the synagogue for the girls' friends.
"I do remember (there) was a DJ," she recalls. "It was just fun. It was innocent and fun, no issue with alcohol."
Saffran was aware her bat mitzvah was unusual for the times. Schwab's wife had a high position in Kentucky state government and he was a believer in equal rights for women, Saffran recalls.
"Not every girl was being bat mitzvahed, and certainly I learned that my contemporaries here growing up in the ghetto of Cleveland, Jewish ghettos of Cleveland, none of them were bat mitzvahed," she recalls. "Many have been bat mitzvahed as adults."
In describing her childhood synagogue, Saffran says the congregation was "fairly liberal" although the two girls did not read from the Torah scroll.
Saffran's friends enjoyed the services.
"My friends, my non-Jewish friends, got into it," she says. "They loved it, enjoyed attending and were very respectful and congratulatory and it was well received."
Saffran enjoyed having family gather in Lexington as well.
"That didn't happen very often," she says. "So I remember really enjoying that."
In college at The Ohio State University, she joined a Jewish sorority.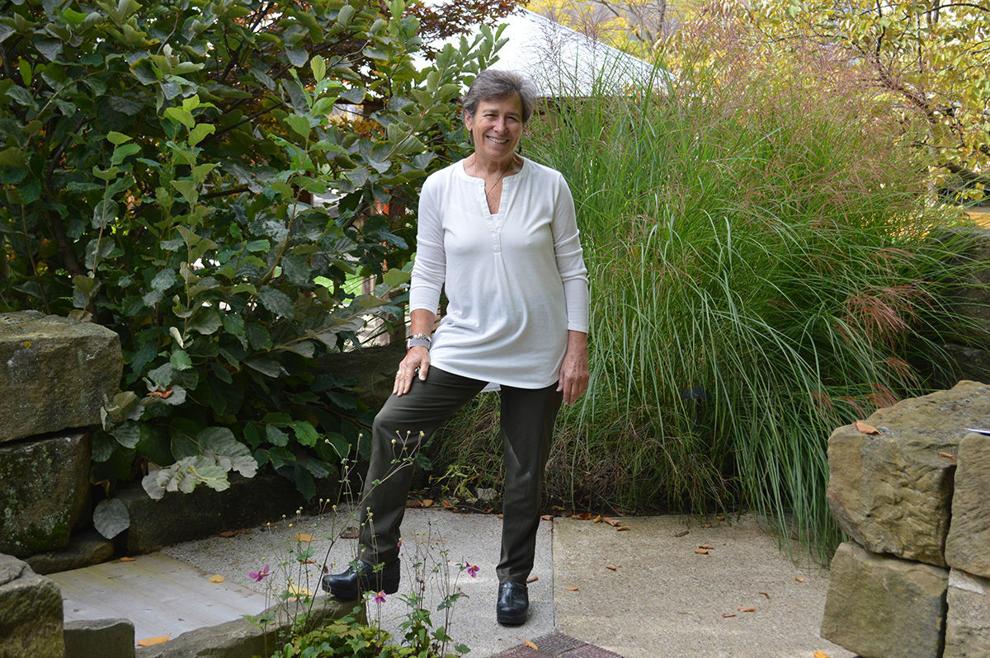 "To date I'm a traditionalist, not deeply religious," says Saffran, who is now a member of Suburban Temple-Kol Ami in Beachwood. "I really am proud of the fact though that I can participate in a service because I can read Hebrew."
In addition, Saffran says Judaism played a role in her decision to found The Gathering Place.
"I identify with being Jewish and the values of tikkun olam and tzedakah, and that's part of The Gathering Place, the whole creation of The Gathering Place," she says.
A teaching social worker in the 1990s, Saffran's parents were each diagnosed with cancer within six months of one another and died 3½ years apart.
"So the combination of witnessing what was going on in health care, understanding the integrative approaches that were starting to become popular, as well as my own personal journey with my parents," led to the founding of The Gathering Place, Saffran says. "I saw the needs that weren't being met, so I started a movement to get them met." BM