Vice president of operations, Mandel Jewish Community Center
Much was looking up for Gilon Rubanenko in the weeks and days leading up to his May 23, 1981 bar mitzvah. He enjoyed Hebrew school at Temple Beth Ahm Yisrael in Springfield, N.J., where he had lived for the past four years after moving from his native South Africa. And his Jewish community was tight knit, which was important since much of his extended family still lived abroad. 
He got his first bar mitzvah surprise when his grandmother and great-aunt visited from South Africa for his big day. 
"They showed up a day or two before, they woke me up and they scared the living daylights out of me," Rubanenko says, vividly remembering the two "tiny women" standing over his bed. 
Excited about the visitors, Rubanenko got another surprise when he woke up on Saturday – the day of his bar mitzvah, after doing Friday night service – with a sore throat. Luckily, his choir master uncle had a solution. Rubanenko was cured by drinking three raw eggs. 
"It was disgusting," he says. 
After that, things went smoothly. During the service, congregational emotions were stirred when he highlighted two community elders who had always made an effort to interact with the kids at the synagogue – they were like "institutional grandparents," he says. Moreover, his family did their legendary enthusiastic Shehecheyanu, the blessing of praise recited when celebrating new occasions. 
"Anybody that is friends with our family that has gone through a simcha with our family has experienced a Rubanenko Shehecheyanu," he says. "I think people get to see the passion and shear joy that my family has, and has always had generationally, for being Jewish."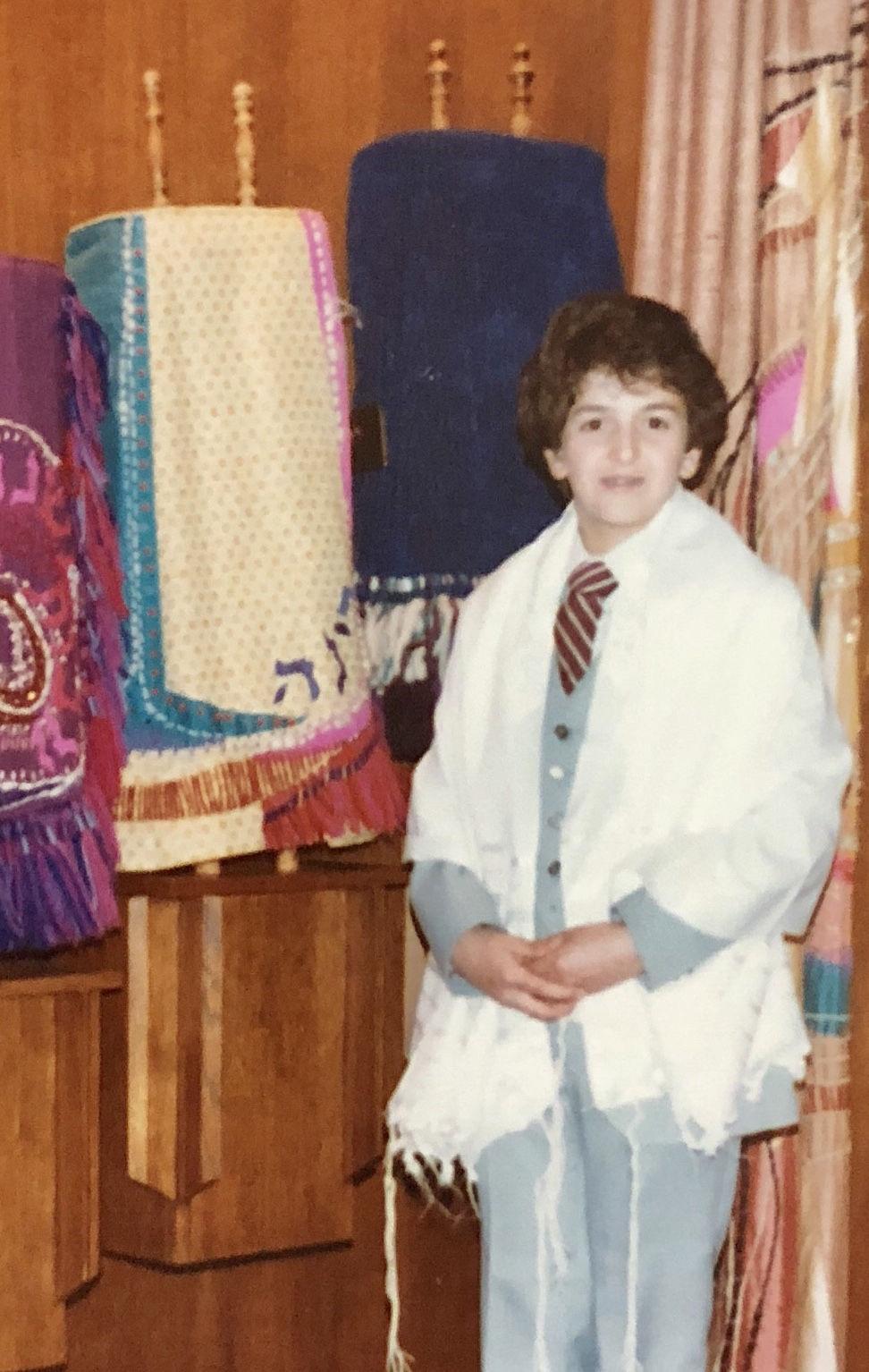 The party, celebrated a following night, was more "fun and low key" than typical, as Rubanenko remembers guests wearing T-shirts and jeans and enjoying a barbecue at his home. 
Rubanenko continued to stay involved in Jewish activities throughout his young adult life, attending Jewish camp and youth groups, being involved with Hillel in college, and later as a lay leader at his synagogue, B'nai Jeshurun Congregation in Pepper Pike, and the Jewish Federation of Cleveland. Eight years ago, he merged that deep personal connection with his professional life by going to work at the Mandel Jewish Community Center in Beachwood, where he's vice president of operations. All three of his children, Jonah, 18, Elana, 15, and Gabe, 13, have had b'nai mitzvah – Gabe's being just this past September at Camp Wise in Claridon Township and B'nai Jeshurun Congregation, and another of many occasions to do the 'Rubanenko Shehecheyanu.'
"We were all just smiling," he says. "That's what it's about – it's about that family, that community, that love."
Moreover, he sees many similarities between the Cleveland Jewish community and that of his youth in Springfield. 
"Everybody knew each other – it was warm, it was welcoming, people cared about each other and people probably knew more about each other than they needed to know," he says. "It was special."
Rubanenko says he can't imagine a life where he hadn't had a bar mitzvah. Along with marrying his wife, Kelly, under a chuppah, he says it was one of the experiences that has helped develop his appreciation for "who we are as a people."  
---
This article appeared in the Fall 2018 issue of Bar•Bat Mitzvah.