Campus support director, Hillel International
At the time of Jennifer Chestnut's bat mitzvah on Aug. 22, 1987, her rabbi was on vacation, her uncle was ill and in the hospital and the religious tutoring style she received didn't quite inspire her.
Despite those obstacles clouding the day, Chestnut says there were aspects of her coming of age that were meaningful, exciting and fun.
"I remember being excited, I remember being a little nervous," says Chestnut, adding that family and friends visited from around the United States and Canada for it.
One highlight of the service, held at Anshe Chesed Fairmount Temple in Beachwood, was that she was paired with a Russian girl around the same age. Chestnut never met the girl and only corresponded with her via a letter, but had her bat mitzvah "in honor" of the peer who couldn't have such a ceremony in the former Soviet Union.
"I'm not so sure if that was as meaningful at the time as it is now," says Chestnut, who grew up in University Heights. "Reflecting back, I thought about who is that person and where are they, and where did their life end up 30 years later?"
Chestnut, who now lives in Akron, says she still remembers her haftorah when she attends synagogue today at Anshe Sfard Revere Road Synagogue in Akron.
As for Chestnut's party, her mother planned it at the former Somerset Inn in Shaker Heights, where it was Hawaiian-themed and involved a pool. That part was "tons of fun," she says.
"I think it was more the idea that all these people were celebrating me and celebrating together (that) made it really fun," she says. "And there was a moment where my friends mixed and matched – like, all of my friends from different parts of my life mixed and matched."
She also was able to videotape the event for her uncle, and the dislike for the tutoring style she experienced led to her making sure her children were more engaged in their own b'nai mitzvah training. Now as campus support director at Hillel International, she says later Jewish communal experiences — rather than her bat mitzvah — led her to become more observant.
"I was very involved in the Fairmount Temple youth group and I was close with the rabbis and educators that were there, but that happened later in high school," she says.
Since her own bat mitzvah tutoring involved rote memorization of Hebrew "without depth behind it," Chestnut and her husband, Sam, worked to ensure their children focused on meaning. Her oldest son, Seth, now 17, had his bar mitzvah at Revere Road Synagogue in Akron in 2014, and her daughter, Martha, 13, had her bat mitzvah last year – one ceremony in Akron, and another at the egalitarian prayer space at the Western Wall in Jerusalem.
"My daughter and I studied important Jewish women throughout Biblical history, but also modern history," Chestnut says.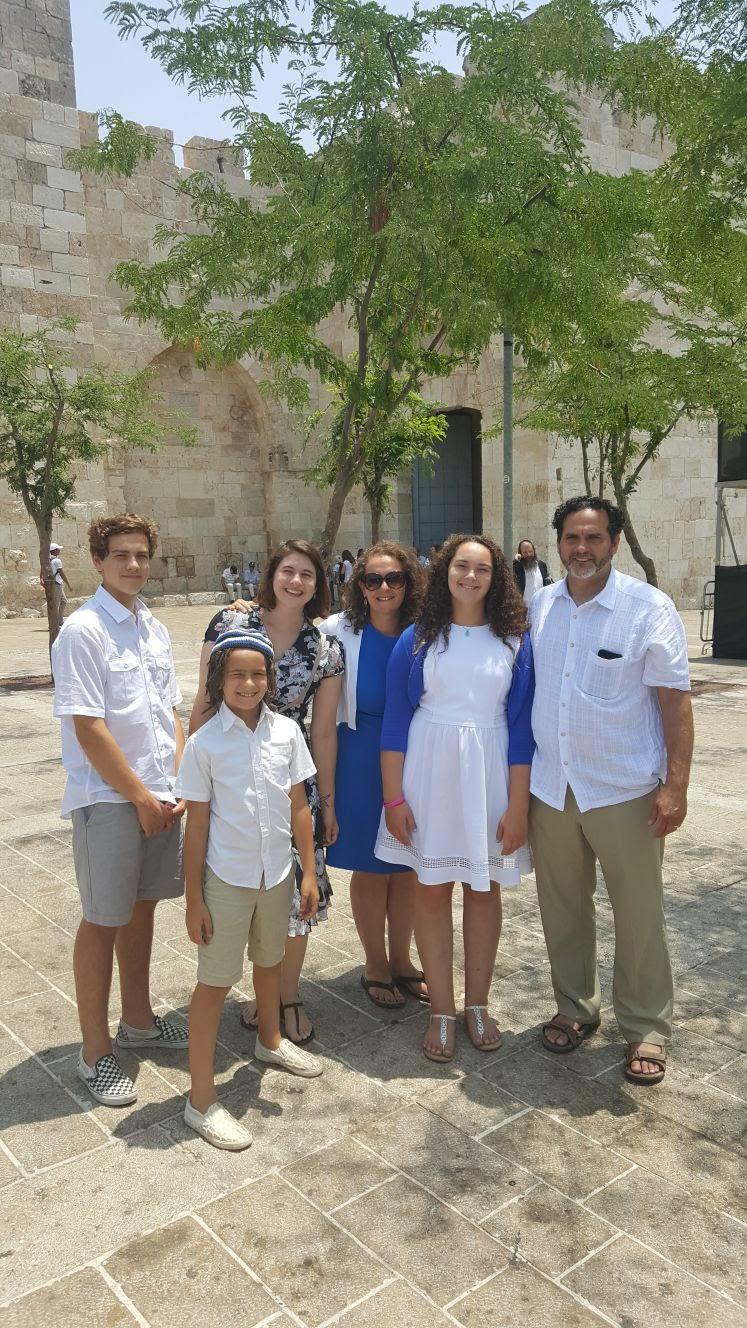 Her youngest child, Jason, 10, is still a few years away from his bar mitzvah. Chestnut thinks it will be important to him to understanding the meaning behind the Hebrew words, like it was for her, although — also like it was for her — he may not fully realize or appreciate it until years later.
"I also think that moments like your bar and bat mitzvah are more meaningful after the fact, when you are looking back on it, than sometimes it is when you are in the middle of it," she says. "It's hard being 12 or 13 in the moment to realize how important it is."
---
This article appeared in the Fall 2018 issue of Bar•Bat Mitzvah.