Co-partner-in-charge, Cleveland office of Taft Stettinius & Hollister LLP
When Jill Helfman reflects on her Feb. 28, 1975 bat mitzvah, a few separate events come to mind. First, there was the actual service on a Friday evening at Beth El Congregation in Akron, followed by her family-oriented bat mitzvah party the next day, and a brunch that Sunday.
Then, in June of that year, Helfman and her Jewish female peers jointly celebrated their coming of age at their own 1950s-themed party that reflected the interests of their social circle better than the parties their parents threw them. For the party, the girls wrote invitations on records, hand-delivering them to each guest, and boys and girls wore outfits to fit the theme.
That party was a welcome event after the preparation and learning involved in the religious ceremony. Helfman, however, was well prepared thanks to her synagogue's ritual director, Rev. Phillip Salzman.
"He was there on the bimah with us to make sure we did well," says Helfman, who's now co-partner-in-charge at the Cleveland office of Taft Stettinius & Hollister LLP. "I don't remember being all that nervous of that because I was so prepared."
The 13-year-old Helfman wore a white robe for the service, and just about all the other Jewish seventh-graders she knew, from the three Akron-area schools and synagogues, attended.
"Back then, we weren't over scheduled with weekend sports and other extracurricular events, so that's how we spent our Friday nights and Saturday mornings," she says, adding, however, that only her closest friends attended her family party the next day since they had planned the separate '50s-themed celebration.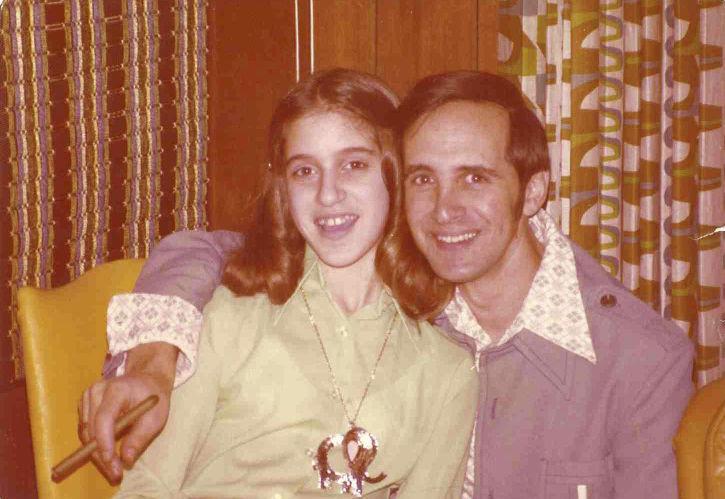 For the family-oriented party in her family's backyard, the girls and women wore long dresses. They had a catered dinner, a tent, a band, dancing and, of course, Helfman received a gift – a calculator that four members of her mother's mahjong group went in on. As calculators were novel at the time, Helfman says it was quite expensive and she wasn't allowed to take it out of the home.
After her bat mitzvah and the series of events that followed, Helfman says she remained active in Jewish life through United Synagogue Youth, the Conservative youth movement.
Also, later in life, once Helfman met her future husband, Brad Helfman, they found that they both had their b'nai mitzvah at synagogues called Beth El. (Her husband's synagogue was in Buffalo, N.Y., where he grew up.)
"We used to say that he belonged to the franchise," she says.
Having seen her three children, Jared, Lindsey and Justin, go through the b'nai mitzvah process, Helfman says she sees a clear distinction between the parent-organized parties following the service when she was 13, and the kid-oriented bashes that occur today. Today's parties resemble her '50s party more than anything.
"What I remember being so different about the celebration part is the parties are so much larger now and include such a great number of children in addition to family and friends," says Helfman, who now belongs to Park Synagogue in Cleveland Heights and Pepper Pike. "And the parties tend to cater to the kids as opposed to the more sophisticated (parties) I think we had when we were younger."
---
This article appeared in the Spring/Summer 2018 issue of Bar•Bat Mitzvah.