General manager, Jay Honda and Volkswagen of Akron
The youngest child of three, Michael Friedman said he looked forward to his bar mitzvah and enjoyed preparing for it.
He started learning in earnest a full year before the Aug. 13, 1977, event with weekly sessions with Park Synagogue's Rev. Eli Levy, whom he affectionately called "Rev Lev." Levy helped more than 3,000 students at Park prepare for their big day.
Cantor Elliot J. Portner assisted Rabbi Armond Cohen at the service. Friedman said the whole experience was positive.
"There really wasn't anything bad about it," remembers Friedman, now 54 and a Beachwood resident. "I know my parents worked hard and spent a lot of money on it, so I wanted to make sure I enjoyed it to the fullest, which I did."
Friedman remembers the day, just after his 13th birthday, was warm and sunny. When he arrived at the main sanctuary of Park Synagogue in Cleveland Heights at the beginning of services, there were a sparse few regular service-goers seated under the synagogue's signature dome. His mother was among them.
Friedman led much of the three-hour service in Hebrew and felt well-prepared to do so. He said he was aware he was responsible for leading a much greater portion of the service than friends who attended other temples and synagogues.
"I loved getting up in front of all those 300 people and performing," he recalls. "It felt very natural to me and I was very confident. So, I loved that. It was just a great day."
He recalls sitting through his older brother and sister's bar mitzvah and bat mitzvah and feeling they were "rooting" for him during his. He chanted Torah and Haftorah Machor Chodesh and delivered a speech.
"It was about becoming a man and thanking my parents and appreciating where I came from and how fortunate I was being in a great community in Beachwood and how I looked forward to making this world a better place and making a difference in the world," he remembers. "I nailed it."
Friedman had a fresh bar mitzvah haircut and wore a gray three-piece suit for the occasion.
The cantor told his parents he had a great voice and ought to consider being a cantor, and that comment inspired him to continue singing as an adult, he said.
After services, there was an Oneg Shabbat and a luncheon, as well as a dinner party at the Theatrical Restaurant at 711 Vincent Ave., then an anchor of Cleveland's nightclub scene.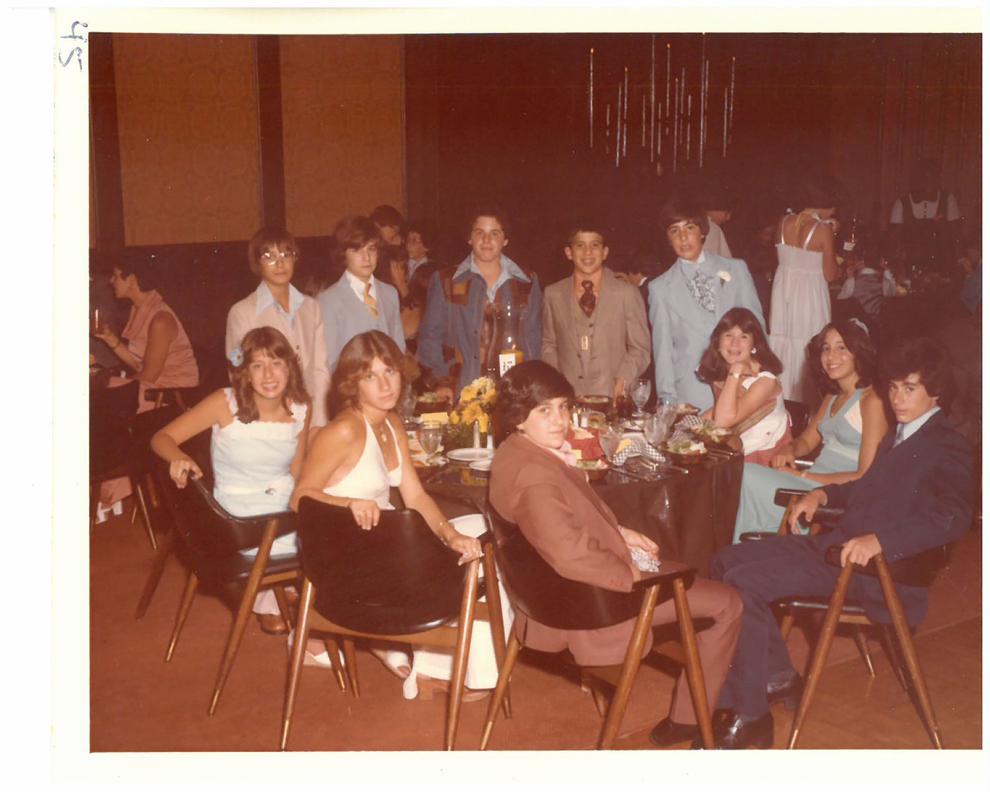 Friedman donned a powder blue tuxedo for the party.
It was an atypical venue, at least among his friends, he said. Friedman said most of the teens he knew had their parties at the Executive Club in Woodmere.
"It was different from everybody else," he recalls. "I liked that it was outside the box. My father had a relationship with the owner, (Jeffrey) Buddy Spitz. He was a friend of my dad's."
While Friedman doesn't remember the menu for the teens at the bar mitzvah, he has a distinct recollection of what the adults were served.
"They were serving fillet," he recalls. "It was like one of the best bar mitzvahs that anyone's ever gone to. … It was an open bar. It was really, really nice for the adults. It wowed a lot of people." BM