Associate Rabbi, Park Synagogue
Sharon Young was very nervous when she awoke on Oct. 13, 1979, a few hours before her bat mitzvah at Reform Congregation Keneseth Israel in suburban Philadelphia. It was the morning of Simchat Torah, and the woman who would become Rabbi Sharon Young Marcus was due to read the first portion, celebrating the Torah's birthday.
Marcus already knew she wanted to be a rabbi. Her bat mitzvah affirmed that.
"I practiced for months," says Marcus, associate rabbi at Park Synagogue in Cleveland Heights and Pepper Pike. "I remember having to take my Torah portion to camp and I had another girl; it was a double because there were so many kids. I was given the first paragraph; on Simchat Torah, we start and end the Torah, we start it again on that holiday, the birthday of the Torah.
"The other girl was given the last paragraph of the Torah and I was given the very first paragraph, the story of creation," she adds.
As the first girl in her family to have a bat mitzvah and read from Torah, Marcus suggests she felt conspicuous, particularly as her family "had been rather traditional."
"I was the first girl born in 50 years in my family," she says. "Everyone had boys, boys, boys, lots of boys."
Despite her anxiety, she was happy to have a "really good part" of the Torah to read, especially after her rabbi at Keneseth reassured her.
"I remember that morning I was very nervous, but my rabbi leaned over and said, 'You'll do a great job; this is my portion.' It was his portion as well, and he was a very powerful figure in my life. And he knew I wanted to be a rabbi, so he was very meaningful to me."
After the bat mitzvah, lunch at the synagogue went well, says Marcus, recalling that she and her mother spent hours making invitations. They featured a ribbon motif, and designing them took time. About 150 showed up for her bat mitzvah celebration in this busy temple in Elkins Park, Pa., a heavily Jewish suburb much like Beachwood.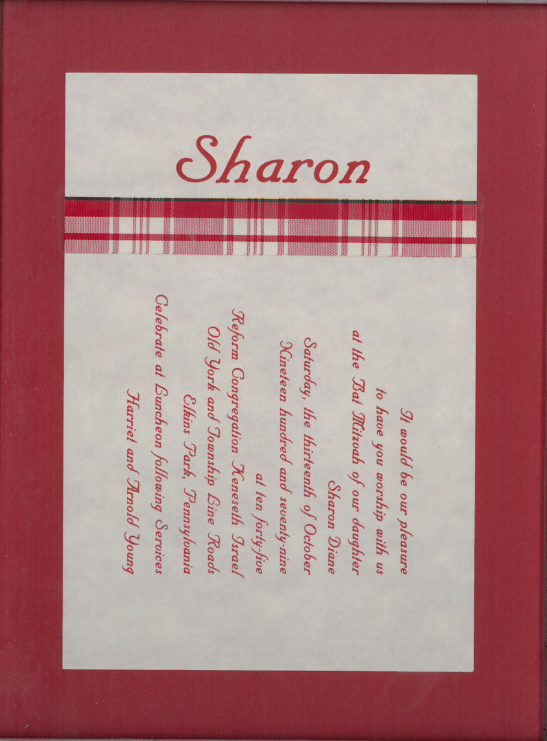 "I remember my mom spending hours on tablecloths and flowers, music; I had a lot of friends," Marcus says. "I was very upset because one of my good friends had a bat mitzvah the same day at a different synagogue, so our friends were very split. I had a kids' party Sunday night, and the next day, we went out to a farm. My birthday's Oct. 19, so we had a hayride, cookout and bonfire at the farm; it was like the end of 50, 60 bar and bat mitzvahs in my class ... I wanted something different."
Her parents bought kosher hot dogs that the family brought to that farm, where "they cooked them for us."
The weekend went swimmingly, Marcus says. And while no single memory stands out, her reminiscence of the event still glows.
"I just remember being surrounded by family and friends," she says, comparing her Pennsylvania synagogue, the fifth-oldest Reform temple in the United States, to "Silver's Temple," the reinvented The Temple-Tifereth Israel now known as the Milton and Tamar Maltz Performing Arts Center at Case Western Reserve University in Cleveland.
"I had a really good time and enjoyed the service," Marcus says. "It was the beginning of my aspirations for the rabbinate." 
---
This article appeared in the Fall / Winter 2016 issue of  Bar•Bat Mitzvah.