The guest list for a bar or bat mitzvah can be a collage of ages and types, as friends and family, including bubbe and zeyde, will be there to celebrate.
With such a variety of attendees, it may seem difficult to plan a party that is fitting for everyone. However, parents can tie in creative elements that make the event one everyone will remember and enjoy.
To help make this day come alive, Gene Natale Jr., president of Burning River Entertainment Group, and Whitney Neidus, in-house event planner at StoneWater Golf Club, guide parents through the process, including details that will leave a lasting impression.
The planning process
One of the first rules to event planning is to start early. By meeting with the venue's team, clients can better execute their vision for the party. Natale suggests starting around a year or eight months before the date. This will help reduce the risk of not having the DJ or other entertainers available.
It's also a good idea to have the celebrant included during the first sitdown meeting. This way, they can include their input and the party planner can get a better sense about who the bar or bat mitzvah is, their tastes and personality.
"It's a fun process," Neidus says. "By going through menu details and letting the kids and parents be involved, we find out what's important to them. We also get a better idea about what their vision is for the night."
The space also must work for children and adults. Make sure to work with your event planner to customize a floor plan that will be suitable for everyone. Do you prefer to divide the room with adults on one side and kids on another? Or do you want everyone together? How should the tables be set and arranged? These are details often overlooked, but should be considered early to help set the tone of the party.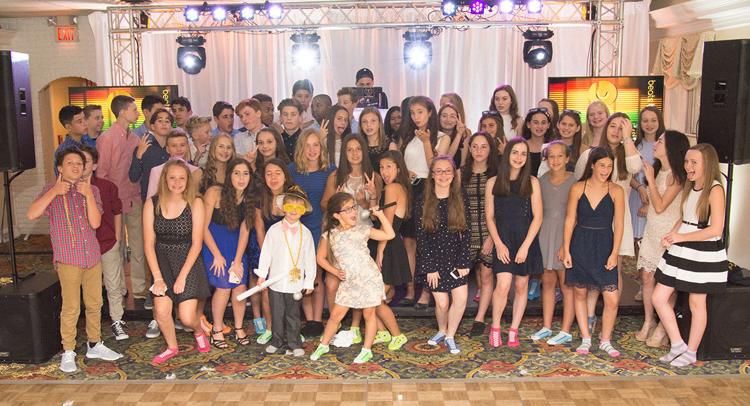 Menu options
Another item that should be on the top of the planning list is the menu. It's easier to select food options when parents know their guest list and how many people will be in attendance. This will be a major driver for the budget as well.
A unique approach is to create one menu for kids and another for adults. By offering a more formal dinner style for adults and buffet selection for kids, everyone's tastes should be met. Plus, it's more fun for kids to be able to choose from a variety of foods.
Parents could also choose to host a brunch celebration instead of a traditional evening party.
"Get creative," Neidus says. "A brunch is a great option for those who want to stick to a strict budget."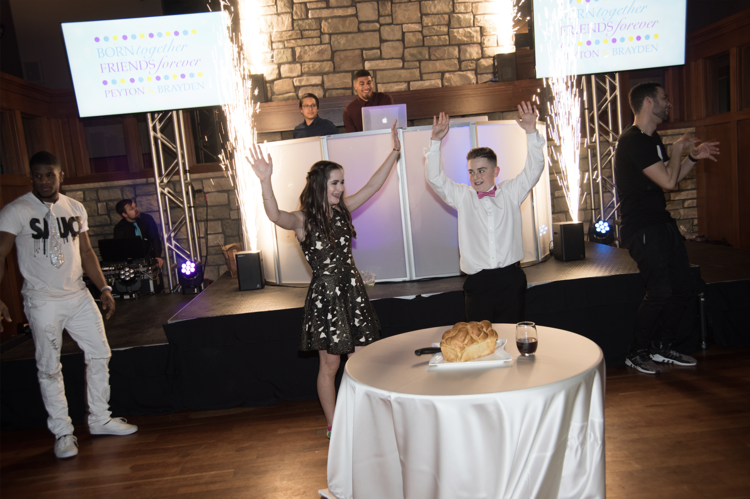 Music and entertainment
Song selection and entertainment components are two of the most effective ways to get both kids and adults involved during a party. Whether it's a photo booth, video slideshow, karaoke or face painting, incorporating a variety of activities will help create an exciting experience for everyone.
"We are working as part of a team to make it interesting for adults, too," Natale says. "We have the party motivators who get everyone involved on the dance floor."
One way they do this is by hosting games throughout the night that engage all their guests. For example, during a scavenger hunt, Natale's entertainers will have kids collect an item from an adult guest. With this approach, both age groups get a chance to be a part of the game.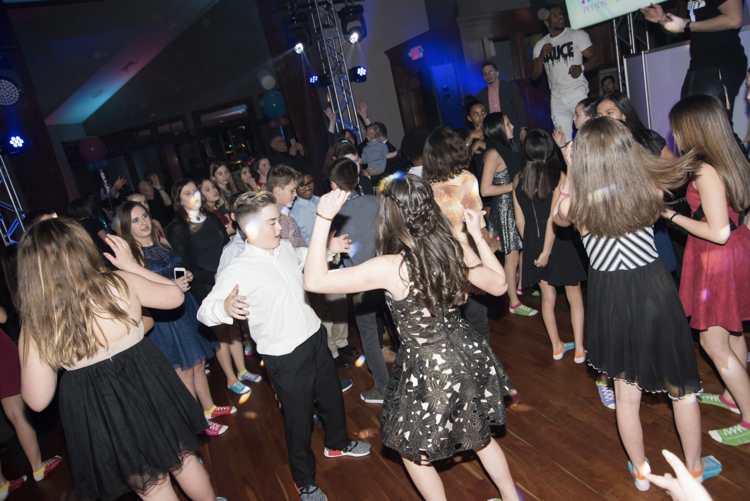 To get everyone on the dance floor, the playlist should include a variety of genres. A good way to keep all guests dancing is to follow the hora with song selections that are fun for everyone. Since the crowd is already gathered on the floor for the traditional dance, this is a great way to keep the momentum going.
"We play songs that not everyone would expect," Natale says. "We make sure to play songs that appeal to all of our clients. For bar or bat mitzvah parties, we also incorporate Israeli hits."
Having a DJ and entertainers who get involved with the crowd and make sure everyone is having a good time for the entire time helps create a fun atmosphere.
The event space can also be transformed to pique everyone's interest. First and foremost, the space should be decorated to reflect the bar or bat mitzvah and the theme. Burning River Entertainment Group provides elements that are show pieces, including special effects lighting, scenery and decorations.
Since the event is in an indoor space, lighting can be used to create a backdrop to display a skyline, bridge or other setting – allowing guests to feel like they are in a different city.
By planning ahead, considering entertainment and food options that excite all ages and learning from professionals, families can make b'nai mitzvah parties more successful endeavors for all involved.