Morton L. Mandel was remembered as a listener, a teacher, a mentor, a student, a father and a friend in eulogies given by family members and beneficiaries of his advice and generosity at an Oct. 20 memorial service.
Rabbi Richard A. Block, senior rabbi emeritus of The Temple-Tifereth Israel, said he promised Mandel that he would officiate his funeral on one condition.
"'What's the condition?' he asked," Block said from the bimah in the Silver Sanctuary at The Temple-Tifereth Israel in Cleveland. "I replied, 'I have to outlive you.'" There was laughter. "Given the extraordinary vitality and longevity with which the Mandel siblings were blessed, I was only half-kidding."
He flew in from his home in California to officiate.
Block quoted from Mandel's 2013 book, "It's All About Who."
"I've come to believe that all of this, my entire effort, in both the for-profit and non-profit parts of my life have been a search for fulfillment, to feel I had done something significant with my life. I think of the world,' he wrote, 'as having a huge number of candles and only a small percentage are lit. I know now that I devoted a big part of my life to lighting as many candles as I can. To light a candle is to make the world a better place,'" Block read. "…The torch is in my hand and I intend to hold it as long as I can."
Devotion to family
Block spoke of Mandel's devotion to his family. Mort Mandel married Barbara Abrams in February of 1949. Rabbi Abba Hillel Silver, who had confirmed her, officiated their wedding.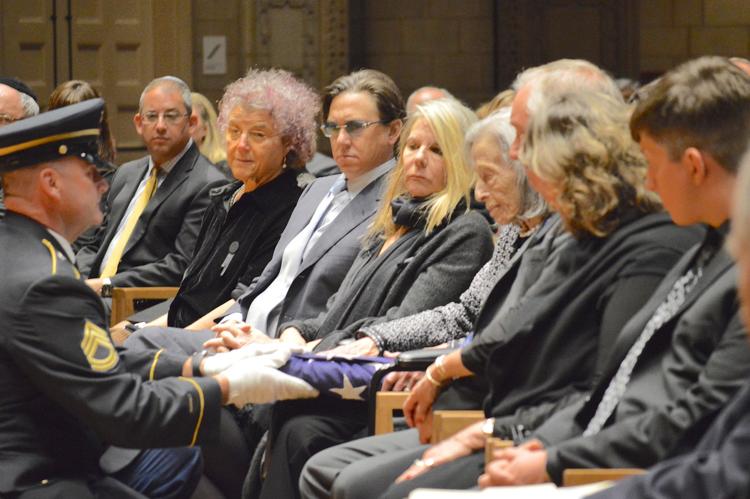 "It was evident to their children that they adored each other, that their relationship was suffused with love, mutual respect, admiration and considerable humor and fun, as well as tireless efforts together and independently to repair the world," Block said, adding that Mandel often spoke of his mother's influence upon him. "He felt that he owed almost everything he became to her: core values of integrity, respect, honesty and generosity. … Mort wanted to be able to look himself in the mirror and be proud of the person he saw."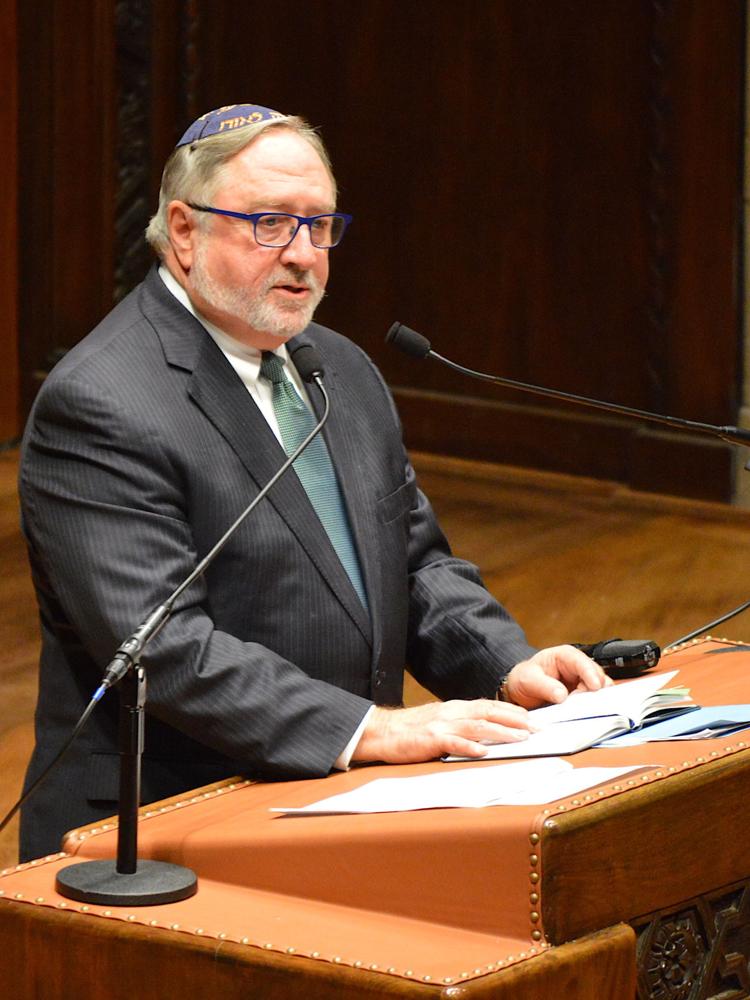 Mandel was born in Cleveland, the youngest child of Rose and Simon Mandel. The couple emigrated from Poland in 1913 with their three older children, Jack, Joseph and Meriam, and came to Cleveland in 1915 by way of Canada.
Block described Mandel's brothers, Joseph and Jack, as his "two best friends" as well as his "lifelong partners in business and philanthropy."
Block described Mandel as often "simultaneously demanding and charming."
"He used to say, "If you want my advice, ask me for money. If you want my money, ask me for advice," Block said.
"He lived fully and with decisiveness until the very end," Block said, referring to Mandel's decision to die at home. "And he spent his time there well, saying goodbye, expressing love, thanking people for the blessing they brought to his life."
Mandel died in the presence of his three children and his wife, Block said. Mandel's brothers, and his sister, Meriam Cole, predeceased him.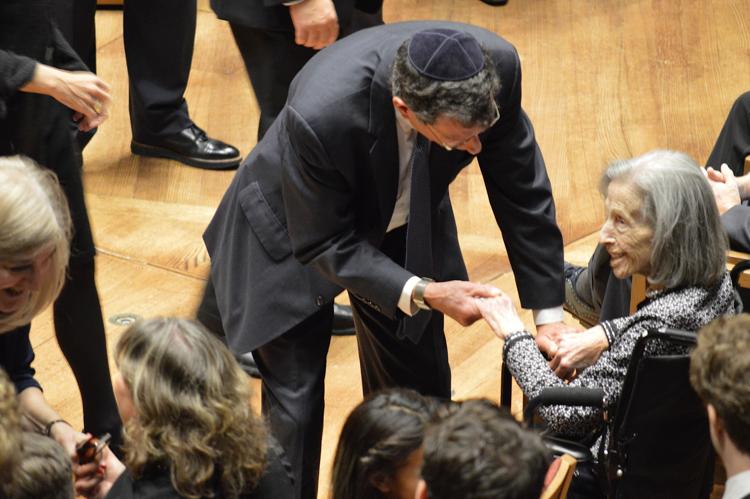 "Mort's death leaves a gaping chasm in their lives and in ours, in our community, the Jewish people and the world entire," he said, adding that Israel President Reuven Rivlin referred to him as a mensch in a telephone call to his widow.
The Temple-Tifereth Israel Senior Rabbi Jonathan Cohen read from Ecclesiastes at the opening of the service. Cantor Kathryn Wolfe Sebo chanted Psalm 23, which those gathered joined in translating with Block. In closing, she chanted the memorial prayer, and all those gathered stood and recited the Mourner's Kaddish.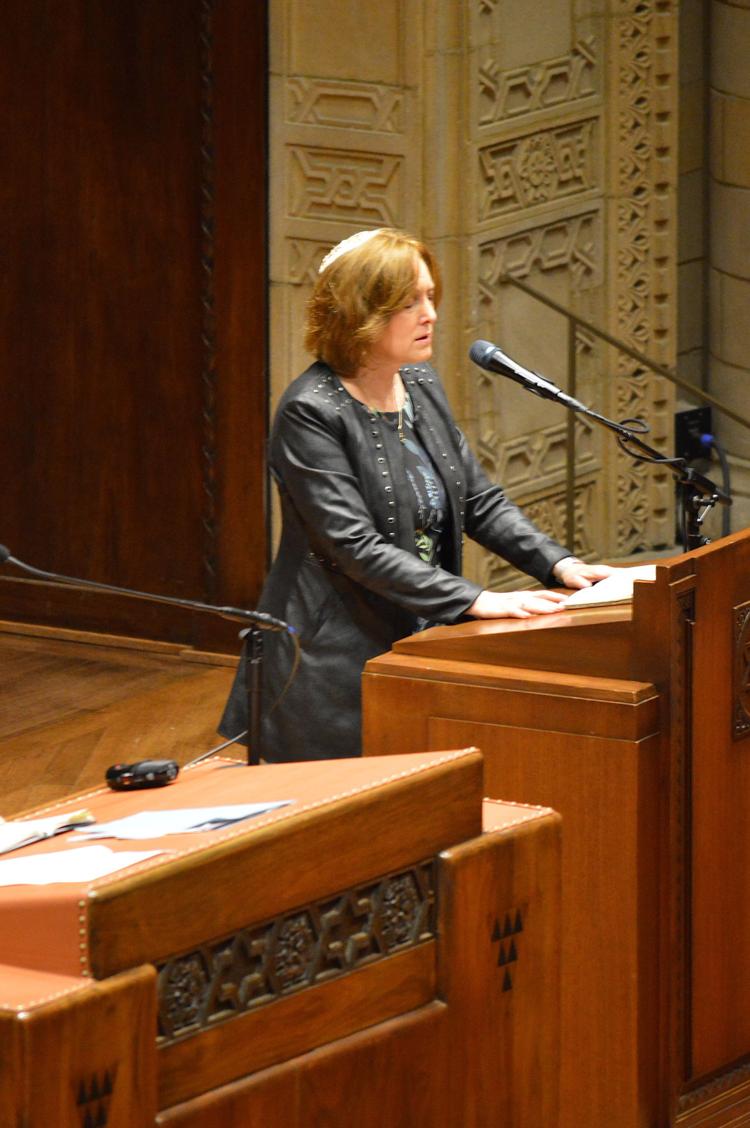 Two members of the military refolded the flag and presented it to Barbara Mandel at the opening of the service and members of the Cleveland Orchestra played in a string quartet to open the program. About 400 people attended.
Mandel was chairman and CEO of Parkwood Corp., an investment firm, and chairman of his family foundation at the time of his death.
The foundation has donated more than $900 million— in recent years particularly in unprecedented amounts – to institutions that align with its areas of engagement: leadership development, management of nonprofits, humanities, Jewish life and urban engagement.
Stephen H. Hoffman, former president of the Jewish Federation of Cleveland who is vice chairman of the Jack, Joseph and Morton Mandel Foundation, spoke of what he called Mandel's "Jewish side."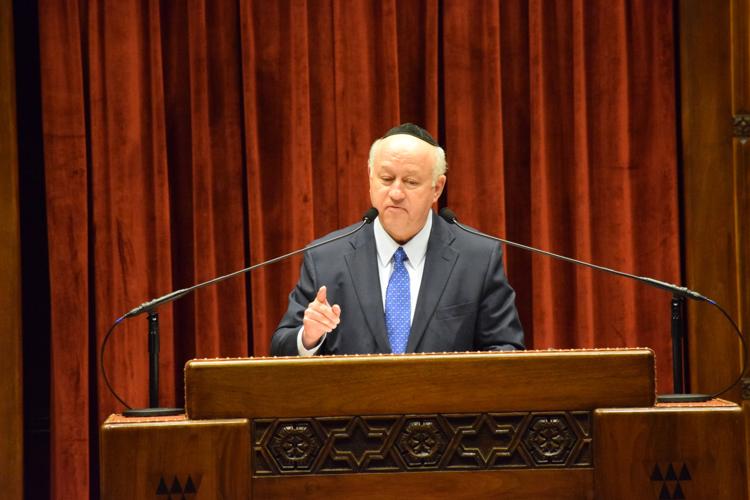 Priorities as a Jew
"I have to begin by telling you that Mort was an unconditional lover of Israel, especially since the first trip he made with Barbara right after the Six-Day War," Hoffman said. "He met the leaders, but he loved being among the people: the religious, the secular, the Bedouin, Arab and Druse citizens, all Israelis. Israel was at his core and in his heart."
He called Mandel a builder of leaders and institutions as well as a funder of buildings.
"I'll help you get it done, and he would financially, and he'd help recruit the right people to get it done with you," Hoffman said. "He did it over and over again."
He spoke of Mandel's transformational leadership time and again, twice by building the Jewish Community Center first in Cleveland Heights, then in Beachwood, where the building is named for him.
"He did it by founding the World Confederation of JCC's in Jerusalem. He did it as president of the Jewish Community Centers of North America and the Council of Jewish Federations," Hoffman said. 
In 1984, Mandel held an "unprecedented" international conference on Jewish education in Jerusalem, Hoffman said, and then launched a similar initiative in Cleveland.
"He thought big and started small and built and built and changed Jewish education in Cleveland, a process still going on 35 years later," Hoffman said.
Mandel did not stop there. He transformed informal Jewish education through a commission process, "and then a Mandel Center for Jewish education inside the Jewish Community Centers of North America."
Mandel brought together Jewish educators at the highest levels and from all streams of Jewish educators in a two-year process to reshape Jewish education in North America.
"He was known throughout the continent as Mr. Jewish Education," Hoffman said. 
In addition, Hoffman said, Mandel led both the Jewish Federations of North America and the JCC Association of North America to develop more professional leadership.
Valued education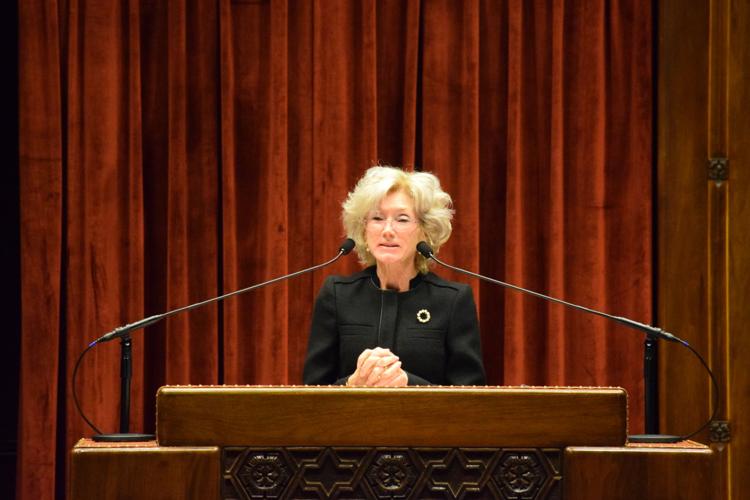 Barbara R. Snyder, president of Case Western Reserve University, spoke of Mandel's decision to pursue his bachelor's degree in 2013 despite his already having been awarded one of his 12 honorary degrees by that very institution.
Mandel started studying at Adelbert College in 1939 after graduating from Glenville High School in Cleveland. He left school to join his brothers at Premier Automotive Supply Co. (later Premier Industrial Corp.) then enlisted in the U.S. Army after World War II broke out, she said.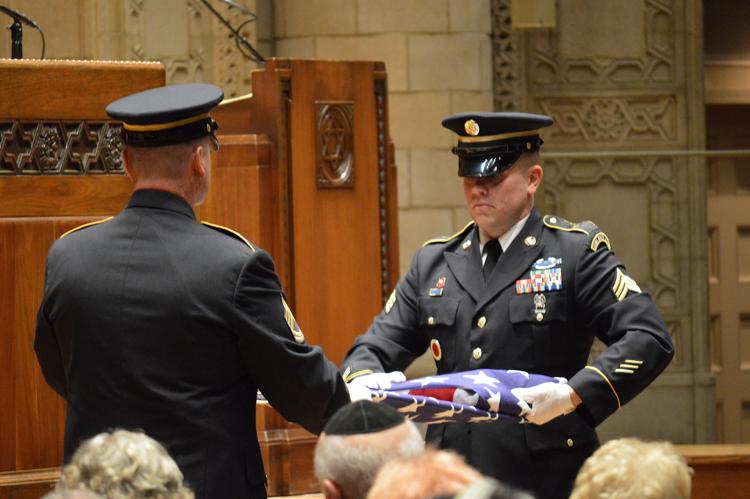 The brothers bought the business from their uncle, Jacob Mandel, with an initial investment of $900 in 1940, grew the business, changed the name to Premier Industrial Corp., and sold to British company Farnell Electronics in 1996 in a $3 billion transaction. The brothers created the family foundation in 1953.
While in the Army, Mandel attended both the University of California, Berkeley and Pomona College in Claremont, Calif. After he returned from service, Mandel went back into business and pursued philanthropy, but his desire for a degree never abated, Snyder said.
When he published his book in 2013, CWRU's vice provost reviewed his credits and determined that Mandel could finish his degree with a capstone project, which he would need to present to a faculty panel. That would be his book.
"He could easily have decided that he didn't need an undergraduate degree," Snyder said. "But Mort embraced the opportunity, and in April of 2013 he defended his thesis before a panel of our distinguished faculty to earn the final credits needed for his bachelor's degree. He could have elected to receive his diploma in a private ceremony or even in the mail, but again Mort embraced the opportunity and chose to graduate with his class, the class of 2013.
"On the morning he lined up, as all our students do, alphabetically, and marched in with his 22-year-old classmates," Snyder continued. "Many selfies were taken in the section of the M's that morning," Snyder said to laughter from the audience. "And with his family in the audience, 74 years after beginning his studies, when his name was called, Mort walked across the stage to receive his diploma. He held it up in the air and his fellow students rose to give him a spontaneous standing ovation. I have never seen it before, nor since."
Snyder said that unforgettable moment can't be calculated in dollars.
"He showed us what education meant to him," she said. 
Impact on patients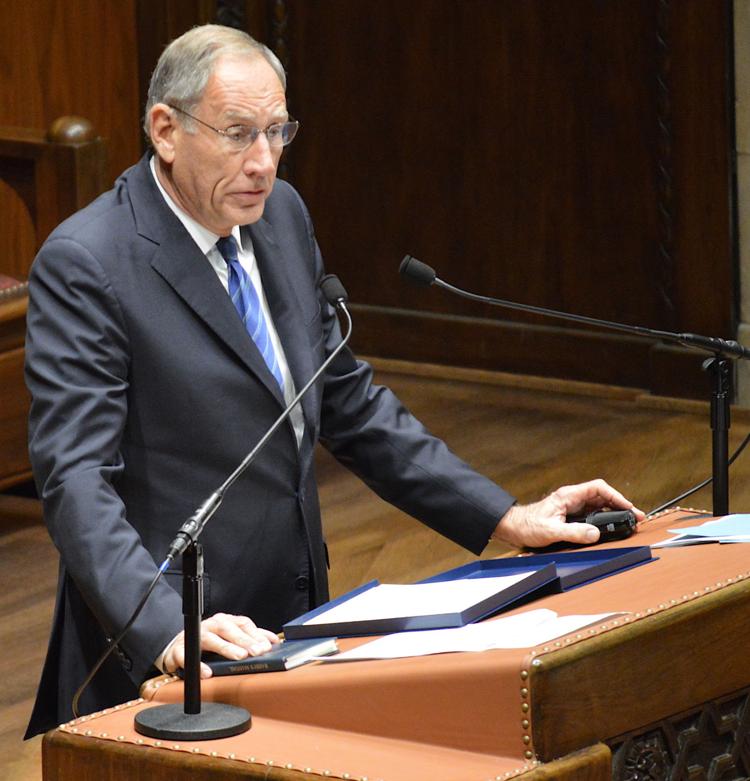 Dr. Toby Cosgrove, former president and CEO at Cleveland Clinic, called Mandel a mentor and a friend, who shared with him his philosophy of leadership.
"Mort believed that better leaders made for a better world," Cosgrove said. "He strongly advocated for killing yourself for customers. I thought that might be slightly off-putting to caregivers." There were laughs.
The point was made, though. Cosgrove said Cleveland Clinic embraced the essence by adopting the motto, "Patients first."
The Mandel Global Leadership and Learning Institute at Cleveland Clinic which, Cosgrove said, funded by the foundation, will potentially benefit millions of patients worldwide.
"We are deeply grateful to Morton Mandel for his wisdom, his counsel and his support," Cosgrove said. "He has helped light the path we will follow."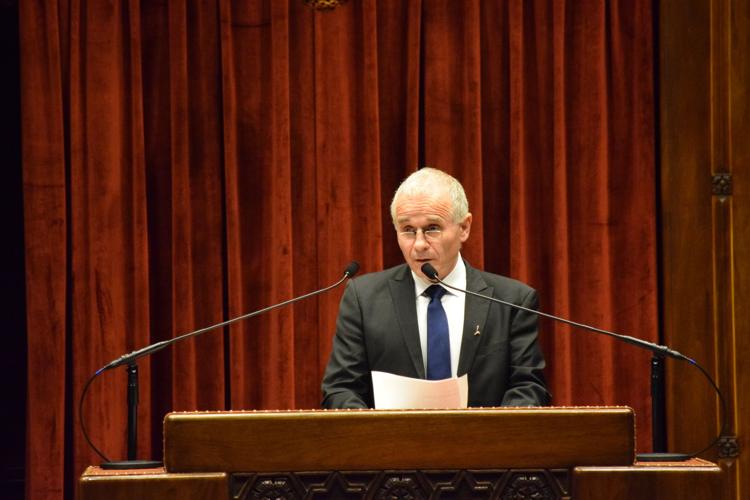 Professor Asher Cohen, president of Hebrew University in Jerusalem, said his one word for Mandel would be mensch.
"Mort was as smart as they come and at the same time as insightful as they come," he said. "Mort had an amazing compass to navigate in this world."
He said Mandel's commitment helped raise the profile of Hebrew University's humanities program both at the undergraduate and graduate level as well as reversing a trend of declining enrollment.
"There has been a dramatic increase in the interest to enroll as graduate students in the humanities," he said, and Israel is sending professors abroad in the humanities. "The humanities are thriving again."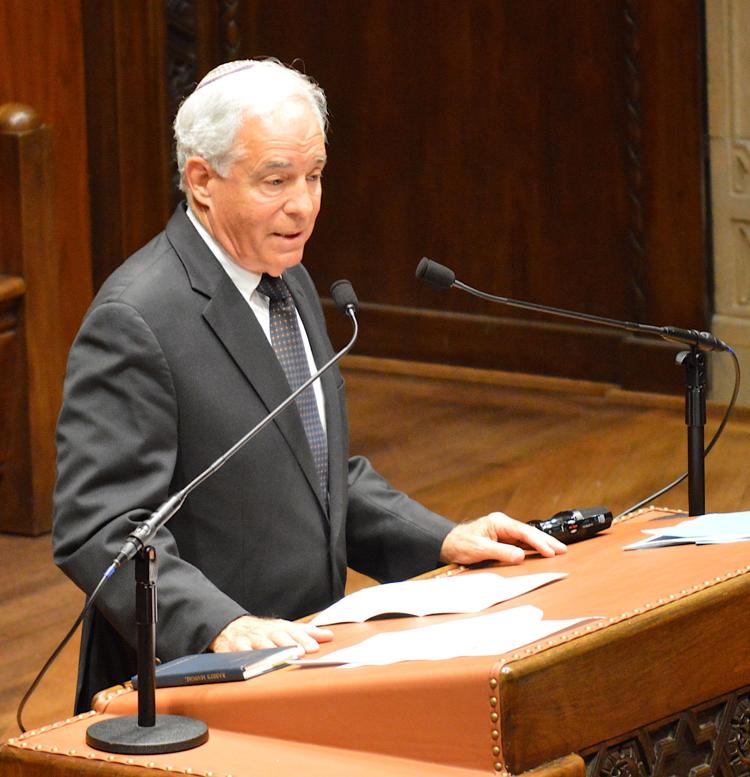 Jehuda Reinharz, president of the Jack, Joseph and Morton Mandel Foundation, said that he accepted the Carnegie Medal of Philanthropy on behalf of Mandel on Oct. 16.
"A few weeks ago, when we both knew that Mort was already too ill to travel, he asked if I would stand in for him and call him immediately after the ceremony was over," Reinharz said. "And what a glorious affair it was with hundreds of distinguished guests from all over the globe. Mort would have loved it. The minute the ceremony was over, my phone rang. I thought it might be Mort. It was Steve telling me that Mort had just died. The coincidence sent chills up my spine."
Reinharz said that when Mandel chose him to eulogize him, he "uncharacteristically" did not ask to see an advance copy of his remarks. There were laughs.
"I guess he trusted me because he knew how much affection I had for him," he said. 
Mother's influence
Reinharz said a few weeks after he began working for the foundation in 2011, Mandel and he ate at Mandel's favorite Chinese restaurant, Li Wah, "where the cost of dinner for two never exceeded $20."
"At one point over dinner he handed me an undated letter written in a combination of Hebrew and Yiddish which his mother wrote to him and he asked me to translate that letter for him while staying true to the flavor of the language," Reinharz said. 
Reinharz read his translation of the letter, which read in part, "If an individual is good, he is never lost to the world, because his good name remains forever." Reinharz said the letter insisted that he care for his sister, Meriam, and instruction on how to support a synagogue.
"Among his many endearing qualities was Mort's ability to easily be moved to tears," Reinharz said. "And this was the case in the Chinese restaurant when I read the letter to him."
"When the bill arrived for $18.75, Mort said, 'You see, my mother also taught us to be frugal,'" he said.
Reinharz said frugality was part of Mandel's nature: He used frequent flyer points to upgrade to business class and never bought a yacht or private plane.
The Mandels, he said, "lived in beautiful art-filled homes, but they never flaunted their wealth."
Reinharz said Mandel shifted his thinking in recent years.
"In the last 10 years or so, Mort declared that values trumped intellectual firepower," he said. "He insisted that people be treated with respect and compassionate dignity. He talked to everyone, was interested in them and their families and was unfailingly gracious."
Mandel, he said, was precise with his language, reading drafts of memos with a pencil in hand and making erudite references in speech.
By Skype, Mandel attended a preopening of the Jack Joseph and Morton Mandel Foundation's headquarters in Israel on Sept. 19, his 98thbirthday.
"Once again Mort was moved to tears and moved all of us," Reinharz said, adding that it was fitting that his final project be a headquarters in Israel. "(It) was Mort's way of saying, 'We have come to stay.'"
Building Leaders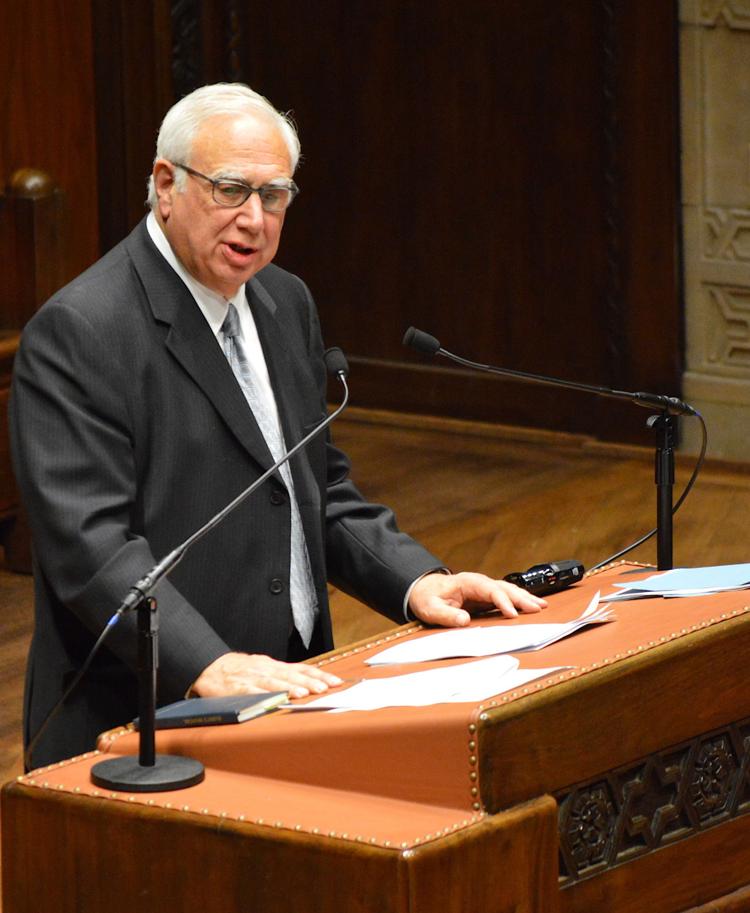 Scott S. Cowen, vice chair of Parkwood Corp., the family's investment firm, said Mandel is the only person who called him in adulthood, "boychik."
"I am devastated by his death," said Cowen. "I thought Mort was indestructible."
Cowen said Mandel invited him to lunch years ago when he was a newly minted dean at Case Western Reserve University. Mandel asked him to join the board of Premier Industrial Corp.
"'I want your age,'" Cowen recalled Mandel saying, adding that Mandel told him the average age of the board was 62, and he needed a younger member to bring down the average. 
"I just want you to attend board meetings, listen and learn, and maybe in 25 or 30 years you'll be helpful to me," Cowen said, to laughter. "Thus began my relationship with Mort Mandel."
"Premier Industrial was sold in the late 1990s and I wound up moving south and had little contact with Mort for 16 years. However, the first day after my retirement announcement as president of Tulane University, I got a call from Mort. And he just said one thing to me, 'It's time for you to come back to Cleveland and help.' I will always cherish that call. And the Mort lesson is learned. Great leaders are patient, persistent and have very long memories."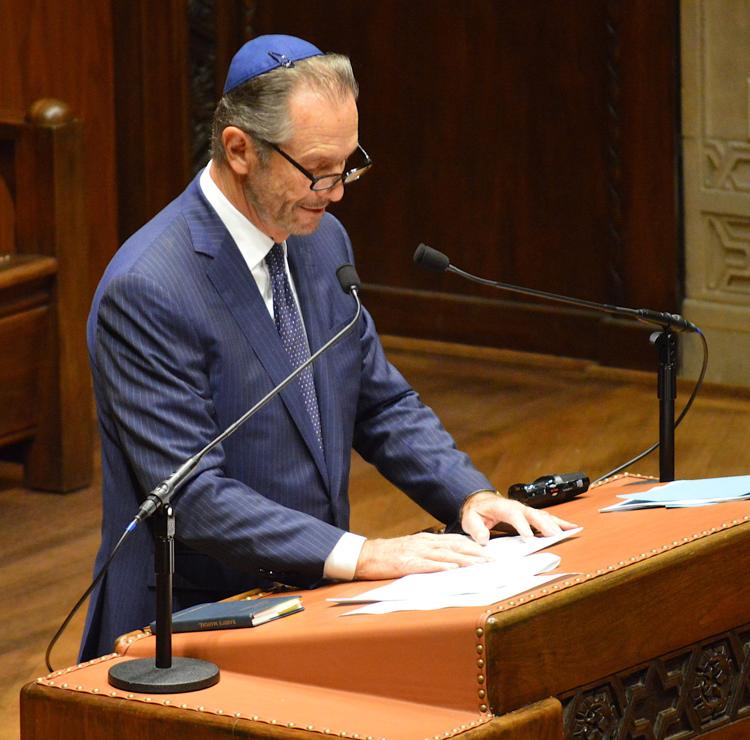 Steve Weinberg, nephew by marriage, said Mandel was principled and always in control. Weinberg serves on the board of the family foundation.
"He was the consummate leader, not necessarily interested in how many followers he could amass but rather how many leaders he could create," he said. "In fact, he transformed the landscape of leadership in many ways.
What's in a name
"His Yiddish name was Mendel Lieb, which translates to a comforting heart," Weinberg said. "His philanthropic impact touched so many lives directly and indirectly. Essentially that's what philanthropy is all about: a heart to help those in need."
Weinberg said Mandel was available for personal matters when needed.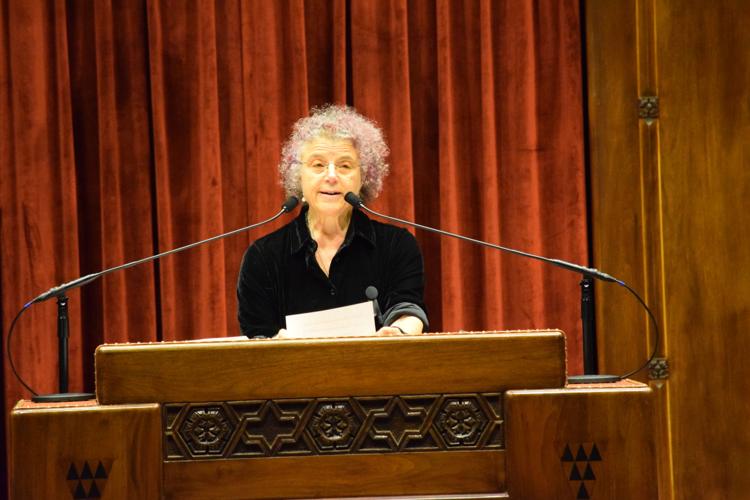 Amy Mandel said her father was often busy when she was very young in the mid-1950s, just as her father's career and philanthropic efforts were beginning to take off.
"During those early years, even when he was home, he spent a lot of time working," she said. "But during those times when he was able to relax and be with us, he was incredibly warm, present and funny. Although I didn't know him well in those years, I felt his love then and all my life."
She said her father set a high bar for his children, which she later understood was in an effort to help them succeed as adults.
"Sometime in the late '70s early '80s, I decided it was finally time to come out to my parents as a lesbian," she said. "My dad's reaction astounded me and says a lot about who he was and his growth and learning mindset."
He suggested the two take a walk. 
"He wanted to know what it had been like for me," she said. "He asked great questions and did not for one second make it about him. … I felt seen and I felt loved."
She said over the past decade, her father expressed regret for his lack of presence during her childhood.
Bonding with family
"Being the mensch that he was, he embarked on a campaign, on what I would call relationship repair," she said. "He initiated a series of regular phone calls with me, during some periods as often as every two weeks, which is a lot when you think about his schedule. About three years ago, he switched to video calls, which made the calls even more impactful and enhanced our growing connection. It was during this period I feel I really got to know him. He inspired me in so many ways."
She said starting in the late '80s her parents made "substantial funds from the family foundation available to my siblings and me to do our own philanthropy," which she called "a tremendous opportunity to marry my commitment to justice and activism with the ability to provide concrete resources on the front lines of social justice work. What an incredible privilege."
She said the regular conversations allowed daughter and father to get to know each other as adults.
"He began to underline how much he respected my thinking and that he had tremendous confidence in me, something I thought I would never expect to hear from him," she said. "During every single phone call, he expressed how much he loved me. That went a long way. Thank you for that, Dad."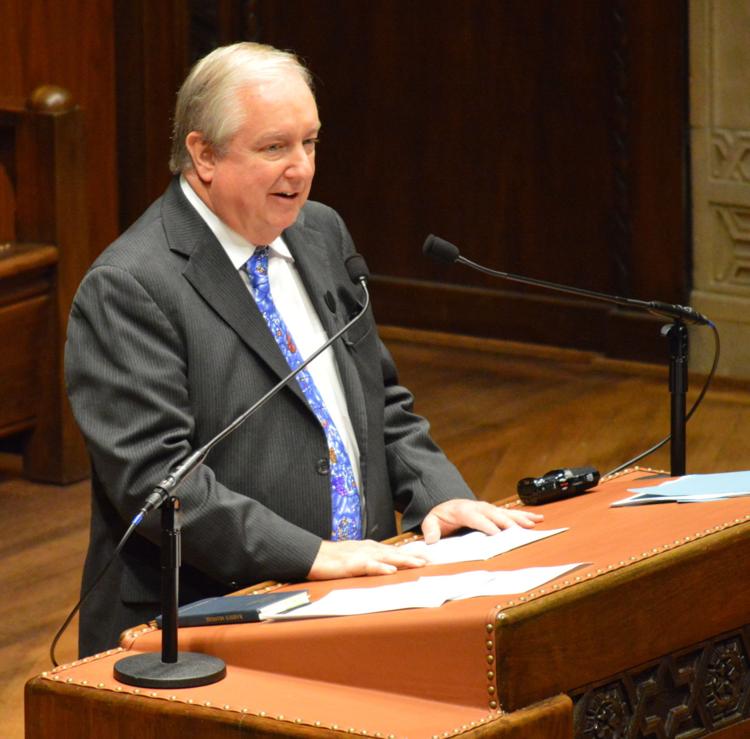 Thom Mandel, Morton Mandel's only son and middle child, called his father his best friend.
Emulating Jack Lalanne
Reaching back to a memory from his early childhood, he said, "My dad brought home an exercise bicycle. ... I think he had been watching Jack LaLanne on TV, and he was convinced of the benefits of the role of exercise. And he told me that was how he would live to 100."
His father continued the practice, he said.
"I never had to have an alarm in the house when I was in high school because the walls in the house would start rumbling every morning exactly at 6 a.m. and it was him on his bicycle," he said. "Fast-forward to like five years ago. Lisa and I are staying at the house. And promptly at 6 a.m. we start hearing disco music coming through the walls. And it was my dad with his personal trainer from the JCC doing step aerobics in the next room."
The founder, president and CEO of Rubber City Radio Group said his father helped him in business.
"I think I got an advanced business degree just by hanging around him," he said. "And he gave me free access to the brain trust at Premier. Whenever I needed the help, all I had to do was call any of the vice presidents."
In his final conversation with his father he said the two talked about his business, his staff, his family as well as Mandel's business and "his vision for the foundation."
Final goodbye
"We also got a chance to say goodbye to each other," he said. "My dad was my best friend. He was my mentor. He was my business adviser. He was my about tconfidant. He was the grandfather to my kids … He's a great-grandfather a second time. … He almost made it to 100. Jack LaLanne would be proud."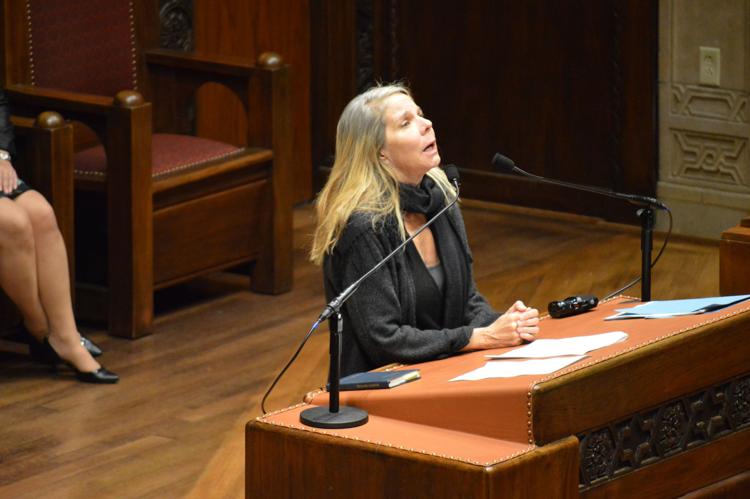 Morton Mandel was the last of his siblings to survive. In addition to his wife and children, he leaves eight grandchildreen: Alicia Mandel, Daniela Mandel, Daniel Mandel, Sherilynn (Phil) Ciccarelli, Wilson Petricig, Jack Petricig, Lillian Palagye, Olivia Palagye, and two great-grandchildren: Amora Mandel Carson and Chloe Ciccarelli.
Stacy Palagye, Mandel's youngest daughter used a baseball analogy to describe her position in the lineup at the memorial service. 
"I essentially was thinking I was the closer," she said. 
As she spoke, her voice broke with emotion several times.
"He was an incredible father," she said. "I visited him often. I lived three blocks away. I couldn't not. And we spent time just sitting and talking, him asking about my kids and Keith, about what I was doing and the state of the world and how it's deteriorating. He loved me unconditionally, and I loved him unconditionally."
She thanked all those gathered.
"I miss my dad," she said. "I'll miss him for a long time. His spirit lives within me, the morals, the values and the integrity that he taught me will forever be a part of my life."