Art has long been an instrument of social change. In the hands of capable creators, it exposes injustices, inspires action, provides a platform for those without one and interprets what's happening in the world around us.
Such framing applies to two of MOCA Cleveland's newest exhibitions – "Adam Pendleton: Becoming Imperceptible" and "Lisa Oppenheim: Spine" – the timing of which couldn't be more felicitous. Against the backdrop of American political discord, the shows are stirring and historically informed reminders of how art is uniquely suited to examine issues of race, gender and labor.
Along with "Zarouhie Abdalian and Joseph Rosenzweig: Transport Empty," "Jeremy Deller: Video Works," the Museum of Contemporary Art Cleveland's winter/spring exhibitions are on view through May 14 in Cleveland's University Circle neighborhood.
Visitors to "Becoming Imperceptible," Pendleton's largest solo shot to date, which is on display in the Mueller Family Gallery and Rosalie + Morton Cohen Family Gallery, are greeted by "Black Lives Matter #3," a floor-to-ceiling adhesive vinyl production that, with graffiti-like writing, will feel familiar to anyone who's stood next to fragments of the Berlin Wall. Evoking this divisive relic of the not-too-distant past is a fitting introduction to an exhibition that examines one of America's most divisive issues: race. That's a tricky topic to navigate, of course, but navigate one must through this exhibition – literally, and meaningfully.
The mirrors employed in three "Untitled (water)" works alter one's perspective on where to stand in what silkscreen ink, along with the reflection in the mirror, look like filling or emptying tanks of water. Similarly, four "Untitled (code poem)" pieces nearby, comprised of rectangular and circular ceramic blocks laid on the floor, challenge viewers to crack indecipherable codes, and in the process, prompt them to question their points of view.
In addition to those two series, works from Pendleton's ongoing "Black Dada" series, as well as text-focused pieces like "Yes But" and "WE (we are not successive)," are on view. All frame language as conceptual art, and all demonstrate Pendleton's ability to calculatingly leave open to interpretation issues surrounding sociopolitical messaging and the way people communicate.
Two video works stand out. "My Education: A Portrait of David Hilliard," follows Hilliard, the founding chief of staff of the Black Panther Party, as he takes Pendleton through the Oakland neighborhoods the movement called home in the 1960s. The three-channel, black-and-white presentation lasts about nine minutes, and by placing the viewer on the sidewalk and in the streets alongside Hilliard, engages and provides a compelling historical context for events that transpired 50 years ago – but that in ways mirror current ones.
"Just Back from Los Angeles: A Portrait of Yvonne Rainer" is a single-channel black-and-white video that's new for the Cleveland iteration of "Becoming Imperceptible." (The exhibition debuted in New Orleans and stopped in Denver before arriving in Northeast Ohio.) It places Pendleton and Rainer, a noted dancer, choreographer and performance artist, in a New York City deli, where they share a table and a bite to eat, and where Rainer reads aloud a Pendleton-produced script.
The script is derived from fragmented sources including a letter written to Rainer by a fellow performer; a 1964 speech delivered in Cleveland by Malcolm X; and selections from "From #BlackLivesMatter to Black Liberation" by Keeanga-Yamahtta Taylor, that include references to the controversial Cleveland Police-involved deaths of Tanisha Anderson and Tamir Rice.
Rainer's voice breaks, and she often pauses to collect herself, as she reads the script low-key, leaving space for the viewer to feel the weight of the words. Like the rest of "Becoming Imperceptible," this piece resonates.
"Spine," on view in the Toby Devan Lewis Gallery, is the first solo museum exhibition in the United States for Oppenheim, who's Jewish, and who like Pendleton is based in New York City. The exhibition brings together three bodies of work: Lewis Hine photographs of textile workers, landscape portraits and jacquard weavings.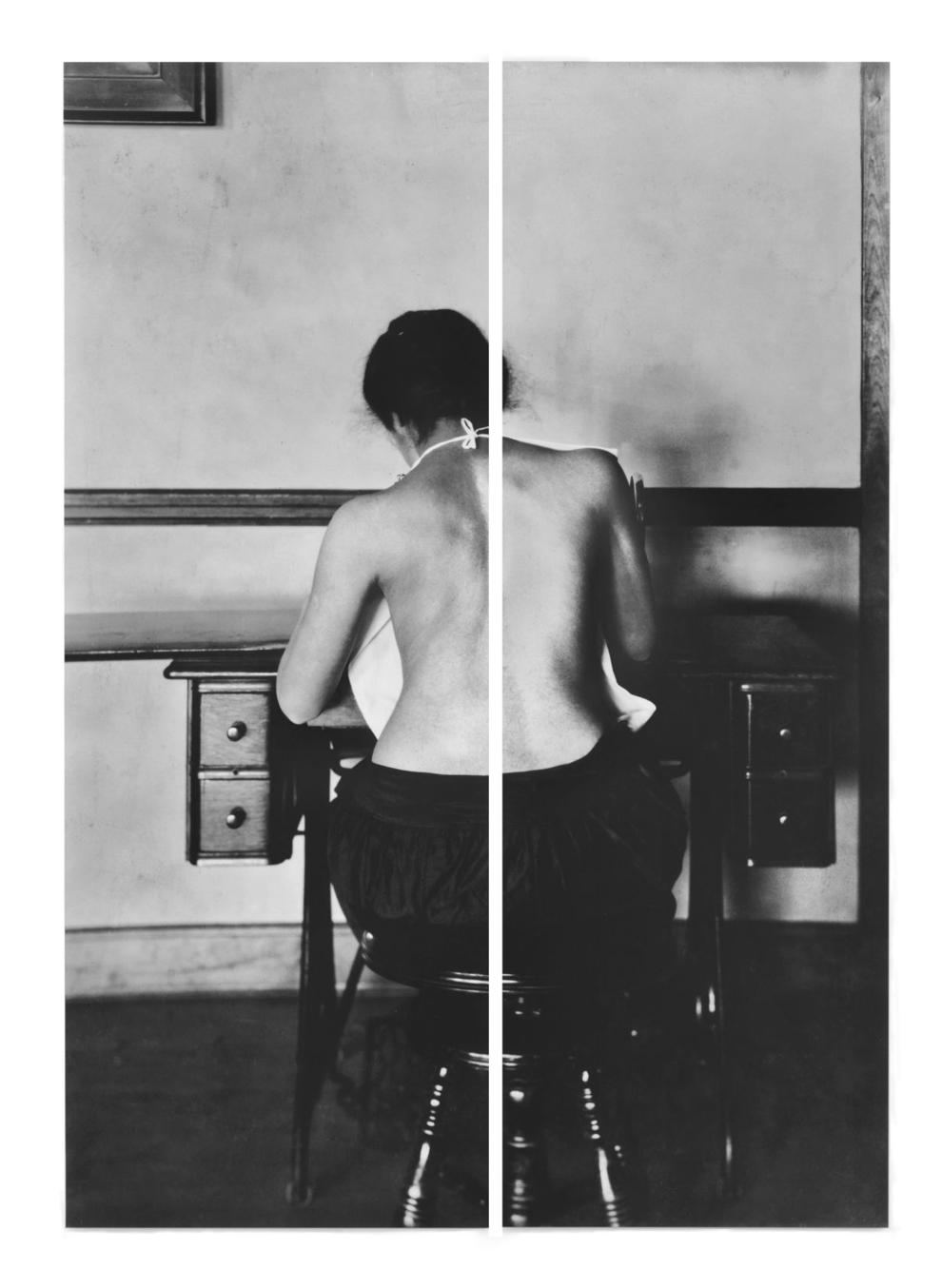 Hine's photographs, which exposed inequities in the turn-of-the-20th-century textile industry, are credited with changing U.S. child labor laws in the early 1900s. They depict children deformed – with misaligned backs and/or uneven shoulders – from the physically taxing jobs they performed. Some must lean against a wall to support themselves while standing.
Oppenheim mostly focuses on adolescent female figures in her work – work that involved enlarging the black-and-white images and bisecting them onto aluminum plates along each subject's spine. The girls are all turned away from the camera, their bare backs exposed.
The manner in which Oppenheim reintroduces these images brings to mind present-day issues of gender equality, in the workplace or otherwise, and brings to light an unsettling sexualization of industry-inflicted damage suffered by the girls. Further, the pieces suggest that being a woman in modern times continues, figuratively, to be a back-breaking endeavor, or that more backbone is required of women than is expected from male counterparts due to societal double standards.
Similarly to Oppenheim's Hine reproductions, her series of jacquard loom-woven textiles – derived from jpegs of pre-Colombian textiles found in the permanent collection of the Cleveland Museum of Art – traces the path from analog to digital processes, or more broadly, from past to present.
By mining historical works and events, and by skillfully contextualizing them for contemporary consideration, both Oppenheim and Pendleton offer compelling reminders of how art can affect society. Timely and remarkably relevant, their works engage viewers in ways that could – and should – urge them to engage in pointed conversation about the challenges facing today's America.
---
Michael C. Butz is lifestyles editor for the Cleveland Jewish Publication Company.
---
Originally published on CanvasCLE.com on Feb. 2, 2017.