Before local actress Dorothy Silver's brilliant 2008 stage portrayal of Golda Meir in William Gibson's "Golda's Balcony" at Actors' Summit theater in Hudson, and before the 2005 national tour of the play with Valarie Harper, there was the 2003 off-Broadway premiere starring the remarkable Tovah Feldshuh.
The show was sold out for its entire 16-week run, after which it transferred to the Helen Hayes Theater where it ran for 493 performances, making it the longest-running one-woman show in Broadway history. Feldshuh, whom The New York Times claimed "does more than just resurrect Golda Meir; she embodies an entire nation," was nominated for the Tony Award for Best Actress and won the Drama Desk Award for Outstanding Solo Performance.
"Golda's Balcony, The Film," produced in 2018 by David Fishelson and video director Gerard Issembert, is a live, multi-camera recording of an actual performance of the 2003 off-Broadway production of the play. The film, which made its world premiere at the Palm Beach Jewish Film Festival, will be shown Sept. 10.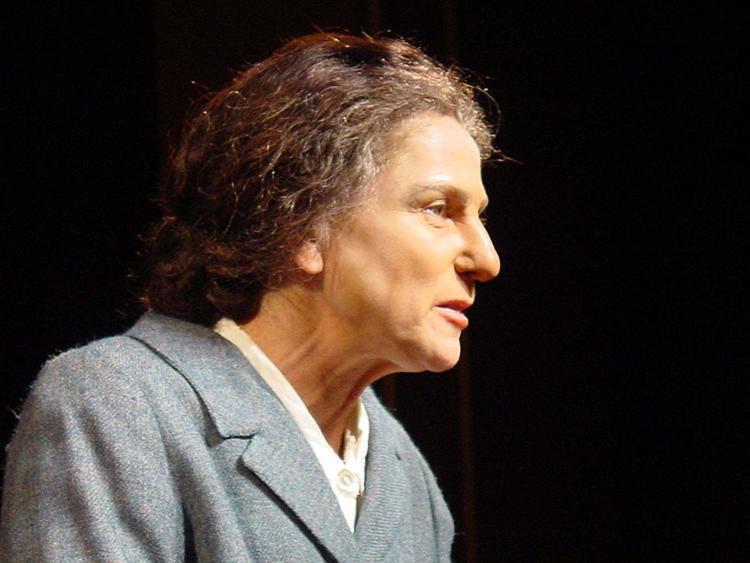 "The cameras were on top (of me)," recalls Feldshuh in an interview with the Jewish Journal before a recent showing of the film at the Los Angeles Jewish Film Festival. "It marked every subtle feeling I had. It was also very early in the work. I had done the play for maybe three months." The intimate, 140-seat theater, she continued, allowed her to be "in the palm of the audience's hands and obviously in the center of their soul and heart."
The rise of Golda Meir from Russian schoolgirl to American schoolteacher to a leader of international politics as the fourth Prime Minister of Israel is an extraordinary story. It unfolds in the film as a dramatization of a middle-of-the-night reminiscence by an 80-year-old Meir. Much of the focus is on the period surrounding the 1973 Yom Kippur War when Israel was attacked by Egypt and Syria and it climaxes with her consideration of nuclear weapons. But Meir also relives the events of her childhood during the 1903 Kishinev pogrom in Moscow, her early emigration to Milwaukee, as well as her rise in Israeli politics from the 1920s through the 1970s.
"Golda's Balcony, The Film" has already established itself as an audience favorite at film festivals across America, Israel and Europe. It will be receiving its Ohio premiere at the Mandel JCC Cleveland Jewish FilmFest.