The Hazelnuts – an Israeli troupe of three swing singers – will join the 10-time Grammy Award-winning The Manhattan Transfer for an Oct. 17 concert at downtown Cleveland's State Theatre. The event is sponsored by the Jewish Federation of Cleveland's Cleveland Israel Arts Connection.  
Inspired by the American close-harmony-singing trios of the 1930s, Yifeat Ziv, Shira Z. Carmel and Anat Moshkovski perform intriguing arrangements of swing classics, write many of their own songs and work diligently on meticulous harmonies that have been likened to The Andrews Sisters and the Boswell Sisters. They are backed by a vintage jazz band comprised of Yuval Vilner on acoustic guitar, Menachem Welt on double bass, Yonatan Rosen on drums and Tal Avraham on trumpet. 
The troupe was founded in the Jerusalem Music Academy, where Carmel and Ziv were students.  
"Shira had an old album of The Andrews Sisters," said Ziv from her home in Tel Aviv. "One day, she has an idea that we should try to sing 'Bei Mir Bistu Sheyn' at a small concert. I was studying composition and arranging, so I transcribed the song and we sang it and felt that there was something special there worth exploring."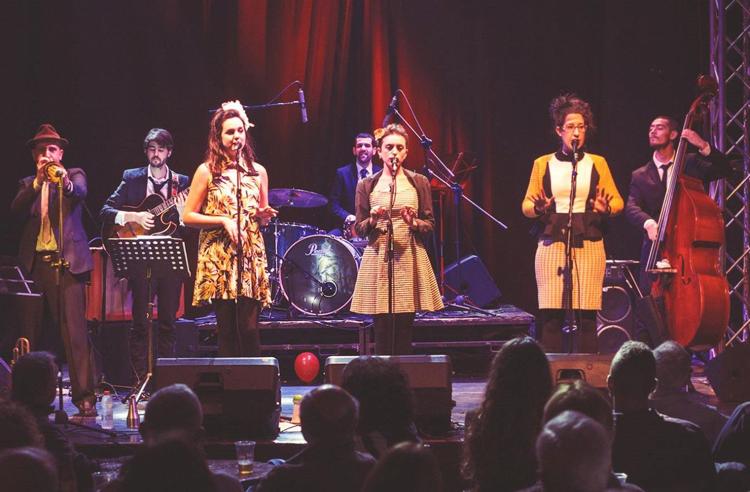 Since releasing its debut album in 2014, The Hazelnuts have performed nonstop and gained critical acclaim in Israel – where swing music and Lindy Hop dancing have gained popularity – and abroad. Its performed at such varied venues as the Marseille Jazz des Cinqs Continents, the Festival des Cultures Juives in Paris, the Safaricom Jazz Festival in Nairobi, the Tel Aviv Jazz Festival, the Boswell Sisters Tribute Festival in New Orleans and the Days of Jerusalem Festival in Prague and Belgrade. 
The band has collaborated with Israeli musicians, including Shlomo Gronich, Yoni Rechter, Shlomi Shaban and Marsh Dondurma, but the upcoming concert is its first with jazz vocal group The Manhattan Transfer.
"We were doing a showcase for representatives of many festivals at the embassy in Israel," Ziv said. "Terri Pontremoli (director of Cleveland's Tri-C JazzFest) was there and she had this brilliant idea to connect us with The Manhattan Transfer and bring us together for a concert. We are so excited to be standing with them on the same stage."
The Hazelnuts' set will be a combination of its own compositions, which will be sung in Hebrew, and swing classics performed in English.  
"We love the classics just the way they are," Ziv said.
While in Cleveland, The Hazelnuts will hold a master class at Cuyahoga Community College at 4 p.m. Oct. 16 and will appear at an assembly at 10 a.m. Oct. 17 at the Joseph and Florence Mandel Jewish Day School in Beachwood.  
Prior to its Cleveland engagement, The Hazelnuts will perform Oct. 7 at Snug Harbor in New Orleans, Oct. 10 at The Elbo Room in Chicago, Oct. 12 at 210 Restaurant/Music Club in Highwood, Illm and Oct. 13 at Upstairs Jazz in Montreal. The group will appear Oct. 20 at Rockwood Music Hall in New York before returning to Israel. 
Post hoc:  Congratulations to The Hazelnuts on a triumphant gig at the State Theatre!  The one-hour, 11-song set opened with The Boswell Sister's rendition of "They'll Be Some Changes Made," included a jazzy take on David Bowie's "Let's Dance" and Beyoncé's "Single Ladies," and concluded with "Walking in Jerusalem Like John." Magnificent musicianship and a responsive crowd.