Describing her experiences growing up with a brother with cerebral palsy and realizing the prejudice people with disabilities face, Orange High School junior Hannah Shuffer became the winner of the 2018 "Stop the Hate" Maltz Museum of Jewish Heritage essay contest April 29. 
"It is inexpressibly hard to watch people treat my brother like he has no feelings, like he is lesser than, like he is not human," she wrote in the essay that won her a $40,000 college scholarship. "I soon began to realize that like most forms of discrimination, people's preconceived notions had blinded them from the truth.
"Stop the Hate," created by Milton and Tamar Maltz, the museum's founders, is an annual essay contest for Northeast Ohio high school juniors and seniors where they write about their experiences of hate and prejudice. At the winner's ceremony, which this year was at the Cleveland Museum of Art in Cleveland, the top 10 essay writers read their essays.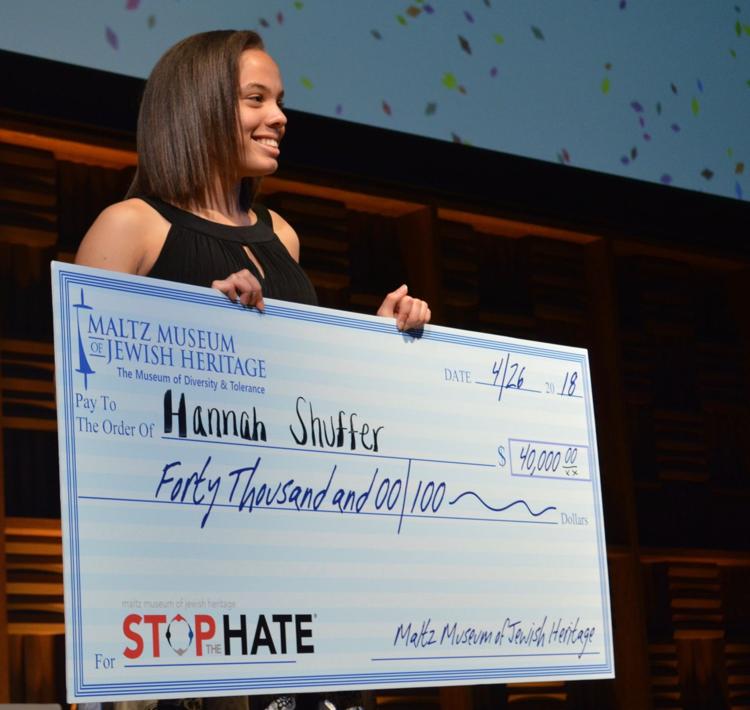 Four girls took the top four slots, with the runners-up receiving $5,000, $10,000 and $15,000 respectively. 
Second place winner Dahlia Moskowitz, a Fuchs Mizrachi School junior, wrote about a family Passover seder where she saw her brother become a target of homophobia. Third place winner Maria Zou, a Hudson High School senior, wrote about the glass ceiling women and girls face. Fourth place winner Megan Lebowitz, a Solon High School senior, wrote about religious intolerance and the ways she's working to bring Muslim and Jewish students together through improvisational comedy.
Marking the 10th anniversary of the contest, "Stop the Hate" has now given out $1 million in scholarships. Lori Stokes, television journalist and daughter of the late former U.S. Rep. Louis Stokes from Cleveland, hosted the ceremony.
In his remarks, Milton Maltz said he's often asked why he started the competition. To answer, he reflected on recent national events that demonstrate the persistence of hate.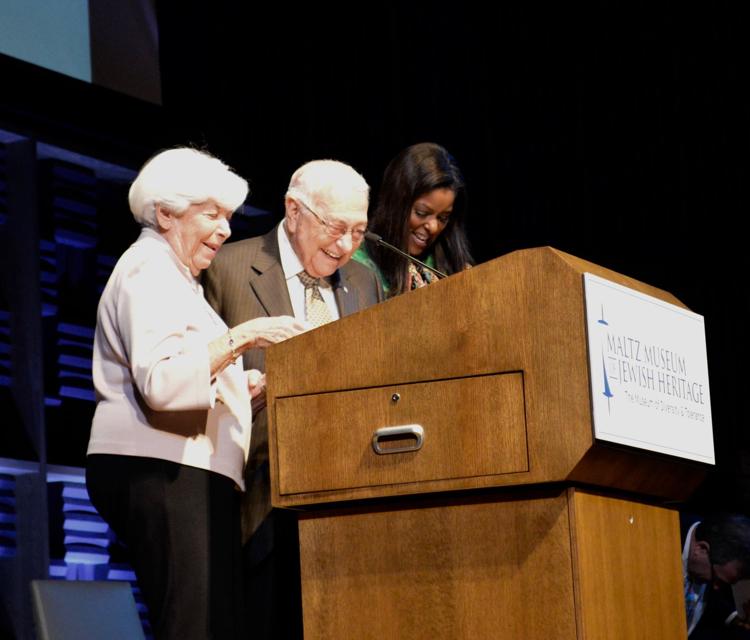 "Let's go to a small town in Georgia called Draketown – and this is after Charlottesville, after Boston, after Las Vegas, after Toronto, after Parkland, where 17 high school students were killed," he said. "Members of the National Socialist Movement, a neo-Nazi group, what do they do? They were holding a swastika rally and embracing racial hatred. 
"So ladies and gentlemen to answer the question, this is why we are here tonight."
The essays were scored by almost 500 volunteer readers around the United States and the finalists' essays and deliveries were evaluated by 10 judges representing various Northeast Ohio agencies, such as Cleveland Clinic and the Jewish Federation of Cleveland. 
Dahlia, a member of Green Road Synagogue in Beachwood, in her essay powerfully explained how a family member hit her in response to her putting her arm around her brother in solidarity, after he was ostracized by another family member for being gay. 
"Why was this night different from all other nights?" she asked in her essay. "Why didn't anyone else stand up for my brother? Why was there silence? Why was there hatred? I was embarrassed. I was heartbroken. I was devastated." 
"Stop the Hate" 2018 photos
Dahlia told the Cleveland Jewish News she knew she wanted to write about that incident and the contest gave her that opportunity. 
"I knew that this was exactly what I wanted to talk about and for people to be aware of what's really happening in small communities, and not just the bigger issues, but also the smaller ones and how to stand up for yourself," she said. 
Lebowitz, a member of Anshe Chesed Fairmount Temple in Beachwood, told the CJN her essay was inspired by a group she started for middle schoolers, Interfaith Improvisation Summer Camp Program. 
"I really wanted to show people that religious differences shouldn't prevent people from getting along," she told the CJN of her essay that specifically commented on prejudice Muslims face. 
"When I watched Donald Trump's speech in 2016 calling for a Muslim ban, I was shocked and upset," Lebowitz wrote. "I remembered all of the lessons about my Jewish ancestors being persecuted. Now it was happening again, with Muslims.
 "As the year progressed, Americans saw more and more acts of prejudice – women attacked for wearing hijabs, Jewish gravesites vandalized, bomb threats at JCCs – all violence in the name of nationalism."
Hannah, who has not decided on a college yet, told the CJN the essay contest was originally brought to her attention by a teacher and knew she had something to share, but was not expecting to win. She said writing her essay helped her reflect on a time in her youth when she came to the realization that not everyone had a disabled sibling. 
"I would go to my friends' houses and wonder where they had their wheelchair lift," she wrote. "… Then I grew up. I began to recognize that these looks were directed at Nathan (her brother). Grown adults would pretend not to see Nathan. How come people refused to see the loving, playful person that I saw?" 
"Youth Sing Out," a contest where student groups enter original songs on behalf of their schools, also announced winners at the event; Cleveland Heights High School took first. Winners of the "Youth Speak Out" essay contest for grades 6 through 10 were also announced and can be viewed at cjn.org, as well the names and schools of all finalists.
Finalist Hailey Nudelman, a senior at Twinsburg High School and member of Temple Emanu El in Orange, said participating in the competition was part of a larger effort to help others deal with experiences of hate, specifically anti-Semitism. She wrote her essay about an experience where a classmate "looked me in the eye and told me he would kill me, that if we had lived in the 1940s, he would put me in a gas chamber and make sure I died a painful death." The incident occurred after her class watched a Holocaust memorial video in school on Yom Hashoah, or Holocaust Remembrance Day. 
As a result, she said she's been learning to facilitate workshops on dealing with anti-Semitism from the Anti-Defamation League. 
"Before I joined, my vow was to never let someone feel the hate of anti-Semitism again, but I realize it is not going away," she said. "To change the world, I need to work from the inside out." 
---
'Stop the Hate' finalists and winners
---
Related content