When it comes to Broadway musicals, producers tend to favor the staging of a revival of a hit show over the development of its sequel.  
Sequels of musicals have been attempted – including "Let 'Em Eat Cake" as a follow-up to George and Ira Gershwin's "Of Thee I Sing," "Bring Back Birdie" 20 years after the run of the original "Bye Bye Birdie," and a spin-off of "Annie" called "Annie 2: Miss Hannigan's Revenge" – but they have rarely been successful on Broadway.  
In fact, these three lasted 89 performances, four performances and never opened after a disastrous Washington, D.C. preview, respectively.
But Andrew Lloyd Webber had been contemplating a sequel ever since he wrote the Tony Award-winning "The Phantom of the Opera."
"He always wanted to know what happened next to the characters," recalls Glenn Slater, who served as the lyricist to the show's sequel, "Love Never Dies."
The sequel takes place 10 years after "The Phantom of the Opera." The Phantom has escaped the Paris Opera House and found a new life amongst the joy rides and freak shows of Coney Island. In a final bid to win Christine Daaé's love, he lures her, her husband Raoul and their young son to New York with an invitation to perform at a renowned opera house.
"Love Never Dies" opened in 2010 in London's West End, had a limited run in Melbourne, Australia, the following year, and then played Hamburg, Germany, in 2015. The show made its North American premiere in Utica, N.Y. this past October, bypassing Broadway completely on its way to a 25-city tour in the U.S.
It will be playing Jan. 9-28 at the State Theatre at Cleveland's Playhouse Square.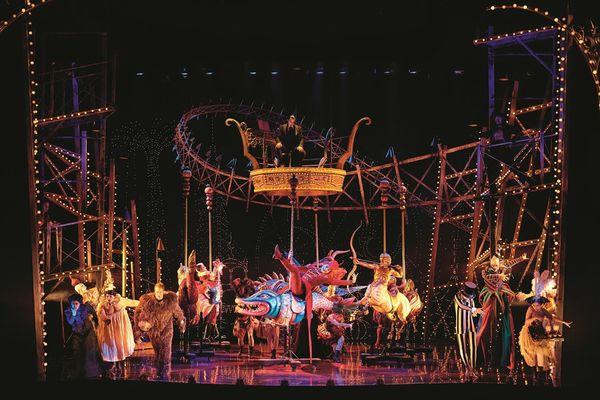 The Cleveland Jewish News caught up with Jewish lyricist Glenn Slater at his office in Manhattan, N.Y., to discuss the show's creation and its rather unorthodox production schedule.
CJN: When and how did this project and your collaboration with Andrew Lloyd Webber happen?
Slater: Not long after writing "Phantom," Andrew had a friend, Frederick Forsyth ("The Day of the Jackal," "The Odessa File") come up with the story of the next part of the saga. He had Ben Elton ("The Young Ones," "Much Ado About Nothing") develop a 20-page synopsis, and then he started composing the music. He wrote over an hour of music that was key to the characters and pivotal in some of the plot points for a show without a script. Then, he contacted me and asked me to listen to the music – which he had recorded with a 90-piece orchestra – and invited me to write the lyrics. The music was so lush, so wildly emotional, that I was instantly blown away. We spent the next two years working on it.
CJN: Tell me about the creative process of writing a full-length musical from a brief synopsis and an hour of music.
Slater: The first thing we had to do was sculpt a full story from the synopsis. Beat by beat and scene by scene, we would make sure there was dramatic conflict, character arcs … all the necessary ingredients. We then took all the music Andrew had written to see where it would fit. As the storyline for the first act developed, Andrew would write additional pieces of music where necessary and we would workshop what we had. And then we moved onto the second act, reviewed the musical as a whole and constantly made new discoveries on how the work could be improved, and workshopped that. 
CJN: Although "Love Never Dies" is an original work, it has Broadway's longest-running musical in history as its predecessor. It comes with existing characters with specific backstories and a trail of remarkable and memorable music. Was it difficult to write under these conditions?
Slater: Actually, my skill set includes taking something that exists and finding something new, something innovative in the work. I've fleshed out the films "The Little Mermaid," "Sister Act" and "School of Rock" and helped bring them to the stage.   
CJN: What about "Phantom's" built-in fan base? Does its extreme familiarity with the original work and its high expectations create a unique challenge when writing a sequel?  
Slater: Andrew was very clear that he did not want the sequel to be a copy of or dependent on the original "Phantom." He wanted this to be a piece that could stand on its own. We were hyper-aware that there are 30 years' worth of fans who know the original work backwards and forwards, and we pay homage to this by tapping some of the original musical motifs to draw that line of continuation. But while the first piece is a glittering romance, this one is more haunting. The emotion is pitched higher. The characters have evolved and the location is so very different.   
CJN: You mentioned "The Little Mermaid." You've worked a lot with composer Alan Menken on this and other Disney works. Compare these experiences with working with Lloyd Webber.
Slater: Andrew is an opera composer who happens to know more about musical theater than most musical theater composers. Alan is a pop composer with incredible musical theater savvy. Andrew thinks in terms of the big fabric of the piece being written, while Alan thinks about what would be a good pop song here and what would be a good pop song there.  And he is smart enough to tie them all together into a unified sound and feel. These approaches offer unique challenges for a lyricist.
CJN: Recently, Lloyd Webber helped orchestrate the Broadway revivals of his musicals "Sunset Boulevard" and "Cats." Any idea why "Love Never Dies" bypassed Broadway?  
Slater: Andrew opened the show in London, which he has done with previous shows. But all of us felt that the show could have used more time and work before opening. While it was running, we made small changes, but then Australian director Simon Phillips approached us about doing a production in Melbourne. He noted that all the design components that allowed the audience to get lost in the world of the original production were missing here. We were so focused on the story that not enough attention was paid to the storytelling. Simon created something in Melbourne that is exactly what we all saw in our heads. We continued to make upgrades, which led to a production in Hamburg, Germany. We changed it some more, which led to the U.S. tour.  
CJN: This is an unusual trajectory, no? 
Slater: Every Broadway showhas its own journey, usually including several lengthy out-of-town trial experiences, before opening. There are workshops to get an audience response in order to revise the show before taking it to Broadway. "Love Never Dies" opened live and naked in London, where its first preview audience happened to be on the largest stage possible. We're sort of doing this journey backwards, having opened prematurely.
CJN: Is a Broadway run in the future? 
Slater: The cast we have on tour – the one appearing in Cleveland – is the kind you open on Broadway with. So, we're all watching this tour closely and paying attention to the critical and audience reaction it receives. 
---
Bob Abelman covers professional theater and cultural arts for the Cleveland Jewish News. Follow Bob at Facebook.com/BobAbelman3. 2017 Ohio Media Editors best columnist.