Ohio Gov. Mike DeWine noted a shift throughout the state as 11 counties move from "yellow" Level 1 to "orange" Level 2 on the Ohio Public Health Advisory System.
DeWine said the number of counties seeing significant increases in cases and exceeding the Center of Disease Control's threshold for high incidence has grown from 17 to 21.
"This means cases are rising steadily in a county," DeWine said. "Even if a county doesn't meet one of our other indicators, it still has a significant number of cases. Having high cases increase the chances of the virus spreading throughout the community if steps are not taken to slow this down."
New counties on that list are Athens, Delaware, Greene, Harrison and Pickaway.
Butler, Mercer, Montgomery, Portage, and Putnam counties were listed at the "red" Level 3 on the advisory system, noting a very high exposure and spread.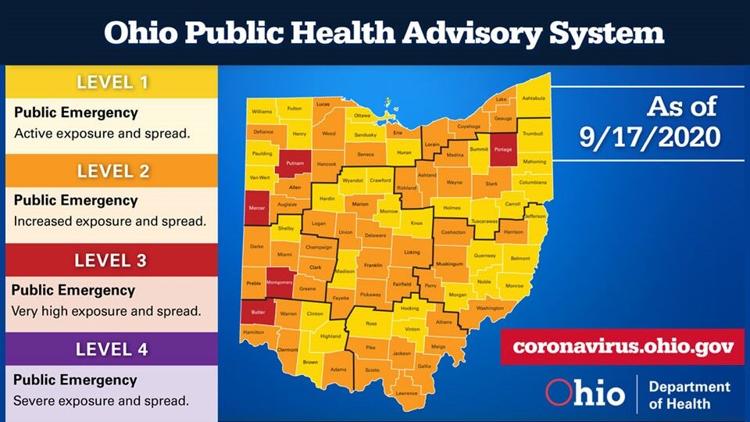 Preble and Summit counties dropped from the "red" level to the "orange" level since last week.
There were 69 counties that stayed at the same level from the previous week.
School, children dashboard released
A new school dashboard was released Sept. 17 to give parents and caregivers information to make decisions about their child's education and social interactions.
DeWine said the dashboard shows new and cumulative COVID-19 cases reported to schools by parents, guardians and staff.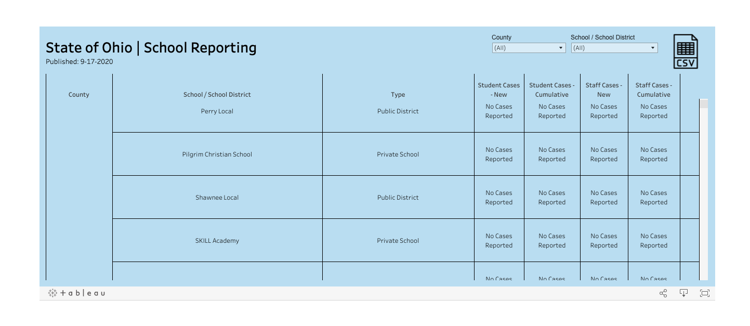 A new children and COVID-19 dashboard was also released, which includes information about cases, hospitalizations and deaths.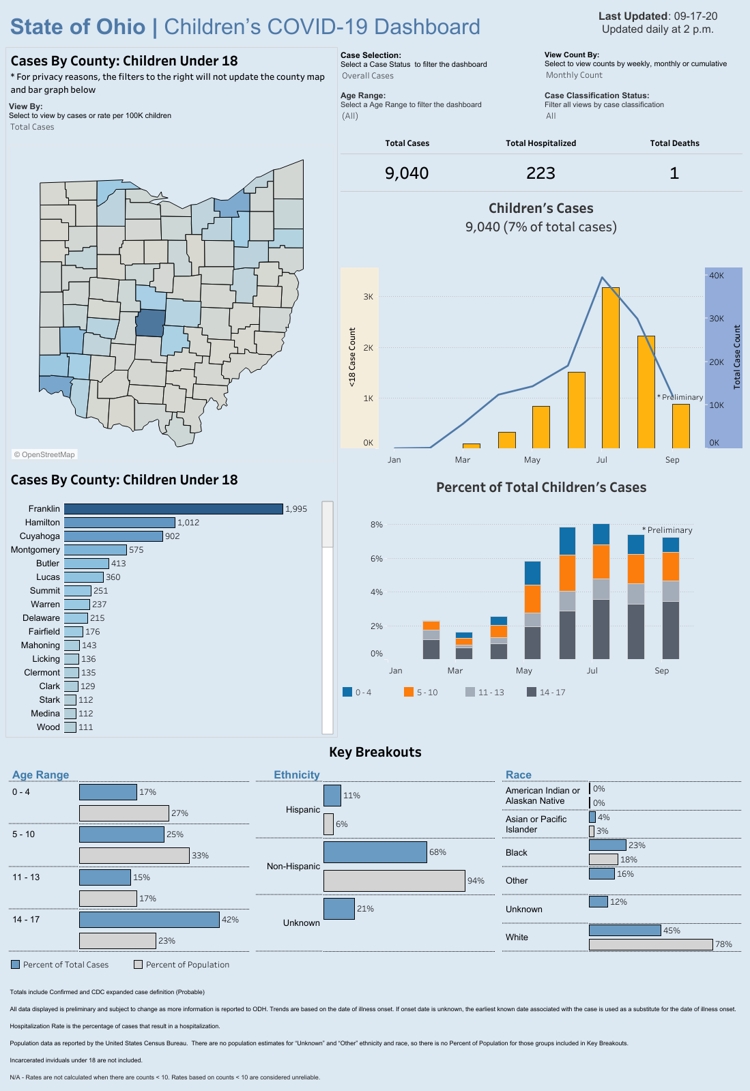 Dr. Petty Manning, chief of staff at Cincinnati Children's, highlighted the importance of this data as it can give primary care doctors and pediatricians a better idea of how to treat patients.
"This data is so critically important for primary care providers and pediatricians," she said. "Pediatricians always have their finger on the pulse of what is going on in the community. They're always aware of what's going around whether its strep or flu or things like that. Now this really enriches their knowledge even mores o that if someone were to go to their pediatrician and that pediatrician knew that (COVID-19) was occurring in different rates in that age groups or in that region, that would really impact how they practice with that family and with that child."
Migrant, seasonal farmworkers guidance
A rapid response guide for migrant and seasonal farmworkers will be released to support local health districts in developing a culturally appropriate plan to responds to COVID-19 outbreaks.
In addition to the guide, the Ohio Department of Health will award $2.6 million in CARES Act funding to agricultural camp operators to improve the health and safety of their worksites and camps to reduce COVID-19 transmission.
ODH is also partnering with Ohio Department of Job and Family Services to distribute face masks, hand sanitizer, disinfectant cleaner and digital forehead thermometers to workers and operators.
Wastewater surveillance network
Ohio is testing waste at wastewater treatment plants in more than 30 cities across the state.
DeWine said he expects the testing to expand to more than 50 locations next month.
The wastewater surveillance network has been monitoring incoming waste at wastewater treatments plants around the state to test for gene fragments of COVID-19 and indicate if an outbreak is occurring.
Lost Wage Assistance
Ohio Department of Jobs and Family Services has begun distributing $300 per week in lost wages assistance to eligible unemployment insurance recipients.
DeWine said the assistance is available to Ohioans who received traditional unemployment benefits, Pandemic Unemployment Assistance, Trade Readjustment Assistance, SharedWork Ohio or extended benefits for weeks ending Aug. 1 through Sept. 5.
"This is one more piece of information," DeWine said. "We think as this evolves it's going to provide better information."
Ohio has 141,585 total cases of COVID-19 and 4,580 total deaths, the Ohio Department of Health reported Sept. 17.
The number of reported cases increased by 1,067 from Sept. 16.
The total number of individuals who have been tested in Ohio is 2,682,008 as of Sept. 16. The new daily percent positive cases 2.4%, with a seven-day moving average of positive cases of 3.5%, according to data from Sept. 14.
The individuals who have tested positive range in age from less than 1 year old to 109 years old, with a median age of 41.
The ODH reported 25 new deaths Sept. 17. The median age of those who have died is 80.
The ODH reports 14,625 individuals have been hospitalized, and 3,149 have been admitted to the ICU due to the coronavirus. The median age of those hospitalized is 64.
The ODH reports 119,690 individuals are presumed recovered – defined as cases with a symptom onset over 21 days prior who are not deceased.
Cuyahoga County accounts for 16,907 of the cases, 2,533 hospitalizations and 638 deaths.
If you have questions regarding COVID-19, call 833-4ASKODH (833-427-5634) or visit coronavirus.ohio.gov.